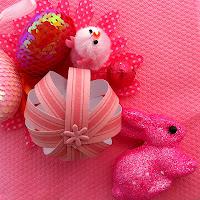 It's no secret that when you have two young daughters, pink is a part of life.  Whilst I rarely wear it, and can't imagine Happy-Husband living in a house with pink walls; I do so love crafting with it.  All shades from the softest blush through to the hottest look-at-me hue are fun.
Whatever party you're planning; whether it's a big thing, or even dinner with your immediate family for the upcoming holidays, why not get color co-ordinated.  Pick a color that you love, the family votes for, that suits your dining room, or selected from the view out your window right now, then get crafty.  Buy napkins, make paper balls (I'll post the how to in the April Newsletter), find accessories at your local Discount Store or your craft supplier.  If they all have the same color in common, you can pretty much put any item side by side; be they hand-made paper spheres, marshmallow bunnies, crafty chicks or fabric flowers... it'll work.
Go on; get colour-organised and have some rainbow fun... still not sure how to?  There's a guide on How to Choose Colour and more info in the Free How To Host a Themed Party on my 'other website'... so I'll say it again;
go on!