Hi friends, I am sorry I missed you on Wednesday, but I'm still trying to get acclimated to my new job and I have had no more than 30 minutes free since the day I started, it makes it hard to get a post written, hell, I haven't even been able to squeeze food in on most days.  I need to figure out a better way, but I'm just not there yet.  I do know that I am probably going to have to try to write my posts in the evenings, which kind of makes me cringe right now because by the time I get home, play with Ashton, have dinner, do our bath, teeth brushing, reading, sleep routine and get my stuff together for the next day, I am barely standing and can't create a coherent string of words, but we will see.  I know I am just working towards a new normal here, and I should cut myself some slack since it hasn't even been 2 weeks yet, but I have been in that limbo period and I HATE it!
Anyways, the second half of this week in Boston has been RAINY and pretty miserable.  Wednesday and Thursday both took me almost 2 hours in the morning to get into work and given that I leave my house at 5 a.m., you can only imagine my irritation and the number of expletives that have come out of my mouth this week.  Not cool weather, not cool!   This also means that our mason is unable to work on our stone walkway at the house and like the anal good project manager that I am, my head wants to explode with irritation as I just want it to be done so we can use it! Right now, if anyone comes to the house, we have to open the garage to have them come into the house because the front yard is all dug up. Hopefully I will have a good update for you in the next week or so.
I've been pretty much failing at all things these past few weeks, including my Mommy duties.  I kinda feel like crap about this especially since I am already the second favorite in our house so I have been making a really conscious effort to be more engaging with Ashton, especially since it looks like our park nights are numbered (or maybe even gone all together until the Spring.)  I never have a hard time rallying when fresh air is concerned but once I am home and changed into my comfy clothes, I kind of shut down.  I pinned a ton of different toddler art projects to do to get us through the Winter and this week we did our fist one, a ghost art project, which clearly works great since my favorite holiday is next week!!  It gave us a chance to talk more about Halloween, trick or treating, his costume, candy, you know, all the fun stuff in life!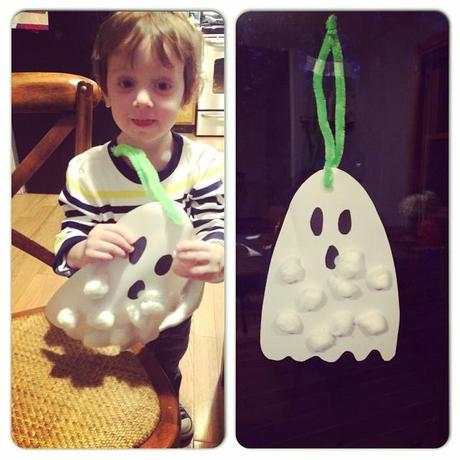 Ashton seemed to really enjoy it (and I did too).  Once we finished it, he wanted to hang it on our sliding glass door off the kitchen, so that is what we did.  It was a super simple project, but he was able to help cut and glue everything and it kept him engaged for 30 minutes, which makes me hopeful that we can continue fun projects like this throughout the Winter and have fun!  I'm calling it a win, I need all the wins I can get!
Lastly, I haven't been able to read/post on all your blogs this week and I'm sorry.  My Bloglovin feed is blowing up and a goal this weekend is to catch up. I miss you guys but I hope you will forgive me and stay with me while I work through this transition.
Have an awesome weekend…we have a few really fun things planned this weekend that I CANNOT wait to share with you next week!
—————————————————————
Questions of the day
Tell me how you guys manage your blog posts? On the fly? Pre planned? Help me out here!
How has the weather been in your neck of the woods?
Anyone racing this weekend?