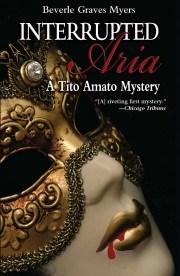 Interrupted Aria, A Tito Amato Mystery
I have a book to recommend to all you opera lovers who also happen to be readers of fiction.
I believe I found this lovely little gem on Bookbub, a free service that emails ebook deals to your preferred inbox daily.
When I saw the title Interrupted Aria (Poisoned Pen Press: 2012), it immediately piqued my attention. The demi-mask with blood dripping from a pair of gilded lips was also very compelling.
Here is the book blurb:
Venice, 1731. Opera is the popular entertainment of the day and the castrati are its reigning divas. Tito Amato, mutilated as a boy to preserve his enchanting soprano voice, returns to the city of his birth with his friend Felice, a castrato whose voice has failed. 
Disaster strikes Tito's opera premier when the singer loses one beloved friend to poison and another to unjust accusation and arrest. Alarmed that the merchant-aristocrat who owns the theater is pressing the authorities to close the case, Tito races the executioner to find the real killer. The possible suspects could people the cast of one of his operas: a libertine nobleman and his spurned wife, a jealous soprano, an ambitious composer, and a patrician family bent on the theater's ruin.
With carnival gaiety swirling around him and rousing Venetian passions to an ominous crescendo, Tito finds that the most astonishing secrets lurk behind the masks of his own family and friends.
But no matter what's on the front, or how intriguing a book's description, it is the text itself that matters, right?
Beverle Graves Myers' novel is a delight. History lovers will appreciate the lush period details. Opera lovers will adore the references to opera's earliest days and experiencing 18th century Venice from a castrato singer's viewpoint.
Graves Myers is talented author. Her self-confessed love of early opera is readily evident in this richly detailed work.
Why not give it a try? No matter whether you love opera, period fiction, or strong writing, you'll find something to love about this series.
Interrupted Aria is available in ebook, print, hardcover, and as an audio CD. You can learn more about the author at her website: www.beverlegravesmyers.com.