When men get breast cancer their concerns and fears, as well as their treatments mirror what many women experience. What follows is a one man's experience as a patient and a survivor. The following post is written by Liz Sims, for HazelwoodPatch 10/19/2011 (http://hazelwood.patch.com/articles/breast-cancer-in-men-e4d666b6)
Men Have Their Own Battles with Breast Cancer
Some argue the survival rate for men is not as good as it is for women because men tend to ignore symptoms. This is the story of a survivor who didn't.
Allen Wilson doesn't mind being a poster child for a pink cause. "Exploit me," he said.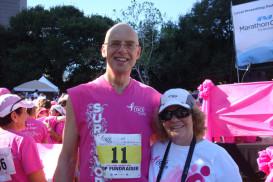 Wilson was diagnosed with breast cancer in 2003 when he was 51. Now he's using his experience to save other grandfathers, fathers, sons, brothers and uncles.
Wilson noticed a lump under his nipple, but didn't think much of it until the day he collided with one of his sons while playing basketball. He did some research and decided he needed to see his doctor. "Two days later, I had a mammogram," he said. "It's amazing what those technicians can do with so little tissue to work with."
Wilson had a mastectomy and chemotherapy. His hair was falling out, so his two sons helped give him a mohawk and paint it half red and half green for a family Christmas card.
Since then, Wilson has personally raised more than $68,000 for the Susan G. Komen Race for the Cure foundation. A runner, a skydiver and a mountain climber, Wilson loves to leave pink ribbons on mountain summits— such as Mount Kilimanjaro and Mount Everest.
Richard Roundtree, an actor best known for his lead masculine role as John Shaft in the Shaft, film was 51 when he was diagnosed with breast cancer. He said he felt a lump while in the shower in 1993. Roundtree has said that he initially "was in the closet" about discussiing the fact that he had breast cancer, but has grown to be comfortable as a spokesman for the cause.
A woman on an airplane once thanked Roundtree for saving her husband's life, he said, by inspiring the man to have a doctor examine him for the disease after reading an article on the actor's ordeal.
Some argue the survival rate for men is not as good as it is for women because men tend to ignore symptoms for longer, but the American Cancer Society (ACS) reports recent studies have shown some improvement. Men and women who are diagnosed at the same stages have similar outlooks.
By the end of this year, the ACS estimates 2,140 new cases of invasive breast cancer in men in this country will be discovered. It estimates 450 men will die from the disease. One in 1,000 men, compared to one in eight women, will face breast cancer at some point, according to the research and the average age of diagnosis is 68.
One of five of those diagnosed will have a close relative with the disease. ACS states that there is no known cause, but genetics, obesity and excessive alcohol consumption may contribute.
Men and women have similar treatments including surgeries, chemotherapy, radiation and targeted therapies.
For Wilson, the treatments were worth the life he's been able to live since.
"I have had two surgeries, two chemos and one radiation, and I am surviving just fine," he said.
Some of his treatments were rough, and the side effects weren't fun.
"But we got through it," he said.
Related Topics: Awareness, Breast Cancer Awareness Month, Men Suffer From Breast Cancer, Men and Breast Cancer, Richard Roundtree, and Susan G. Komen