Scarecrow's Garden Log: 17:01:2011: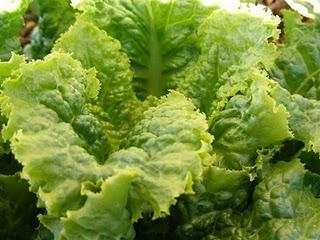 Goldrush Lettuce first harvest
from the Community Garden
just right for our Market Day salad sandwich!
Temperatures this week:
Lowest Min 10.4C
Lowest Max 22C
Highest Max 36.9C
12mm Rain

What's the weather been like in the garden?
Humid! Humid! Humid!
Followed by a bit of Rain!! Well a good amount for us but no where near what the Eastern side of Australia has been having lately!
Propagation:


Seeds:


Alyssum Carpet of Snow

Lobularia maritima

DT Brown
Broccoli Nutri Bud

Brassica oleracea

The Lost Seed
Broccoli Royal Dome

Brassica oleracea

Grower's Pride
Cabbage Early Jersey Wakefield

Brassica oleracea

The Lost Seed
Cabbage Verona Purple Savoy

Brassica oleracea

The Lost Seed
Celeriac

Apium graveolens var rapaceum

The Lost Seed
Celery Pink

Apium graveolens var. dulce

Eden Seeds
Coriander

Corriandrum sativum

Mr Fothergill
Endive Salad King

Cichorium endiva

Eden Seeds
Grandfather Sage

Salivia apiana

Cornucopia Seeds
Heartsease (Johnny Jump Ups)

Viola tricolor

DT Brown
Kale Lacinato

Brassica oleracea

The Lost Seed
Kale Tuscan Black (Cavalo Nero)

Brassica oleracea

Diggers
Kale Vates Blue Curled

Brassica oleracea var. acephala

The Lost Seed
Kohlrabi Super Schmeltz

Brassica oleracea Gongylodes Group

Phoenix Seeds
Lettuce Black Seeded Simpson

Lactuca sativa

The Lost Seed
Lettuce Drunken Woman

Lactuca sativa

The Lost Seed
Lettuce Miners

Montia perfoliata

Phoenix Seeds
Lettuce Red Coral

Lactuca sativa

Eden Seeds
Lettuce Salad Mixed

Lactuca sativa

Grower's Pride
Mustard Asian

Brassica juncea rugosa

(?)
Spinach Bloomsdale Long Standing

Spinacea oleracea

Eden Seeds
Tatsoi

Brassica narinosa

Diggers
Viola Edible Mix

Viola cornuta

The Lost Seed


Planting out:


Cherry tomatoes, Basil, Capsicums, Lettuce, Silverbeet into new beds (not mine) at the Community Garden


In the Garden This week:


Lots of seed sowing happening this week for later planting in Autumn. Many of those seeds have germinated within days with the humid weather!


New Plants:


Yarrow White

Achillea millifolium


Catnip Lemon

Nepeta citriodora


Blue Ginger

Alpinia caerulea


Lemon Myrtle

Backhousia citridora


Sage Pineapple

Salvia rutilans


Sage Tricolour

Salvia officinalis "Tricolour"


Plumbago White

Auriculata alba


Dusty Coral Pea

Kennedia rubicunda




At The Community Garden:



We have built 2 more Wicking Tank Beds up at the garden this week bringing the total to 6 so far!
Cherry Tomatoes to trail over the sides of the beds, Basil, Capsicums, Lettuce, Silverbeet and Zucchini were planted from my stock of seedlings along with a few a new member had grown herself!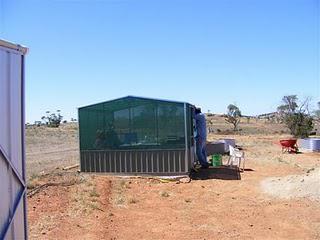 Doc has been trying to tell us the Shadehouse makes a great spot to share coffee, protected from the sun and the wind!!


Weekly Harvest Tally:


Doesn't include Greens fed to the chooks on a daily basis or herbs picked for use in the kitchen for cooking or tea making.
Lettuce Goldrush***20g (first harvest from Community Garden!!!)



Radish Long Scarlett***30g
Silverbeet Rainbow Mixed***30g
Tomato Black Russian***275g
Tomato Golden Sunrise***736g
Tomato Green Zebra***66g
Tomato Ida Gold***22g
Tomato Kotlas***1657g
Tomato Red Cherry***101g
Tomato Silvery Fir Tree***3514g
Zucchini (?)***596g
Strawberries***55g
Eggs
14 From the 5 Farmyard Ferals
6 From the 3 Barnevelders
16 From the 5 Faverolles
To see how the various Garden areas fit on our half acre block check out the newest Map of our place HERE