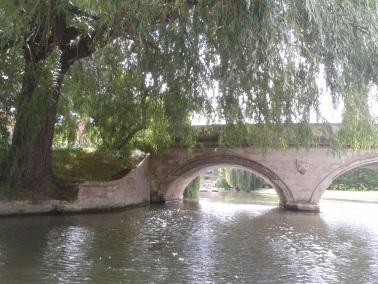 'Punting' down the river Cam.
Right. I don't normally write personal, me-centred blogs – so I thought I'd give one of them a go for a change.
[Yes, they're often laced with arrogant personality and opinion - but that's beside the point.

]
I've just started at a 6th form college (equivalent to, I think, 12th grade in the USA), and I'm loving it. GCSEs (the two years before A-level) ain't got nothing on the A-levels I'm taking. Don't like numbers? Skip the next paragraph.
I've chosen to study Maths, Further Maths, Physics, and Chemistry – the ideal choices for those interested in the Physical Sciences (in my humble opinion) – and every minute, so far, has been great.
The work's really making me quite childishly happy. I'm actually enjoying long library visits during my 'frees', and any work I bring home with me has been – again, 'so far' – interesting and engaging enough that it doesn't really feel like too much of a hassle.
Speaking too soon? Certainly. I'm barely a week in. (And I'm still at the 'poster-making' and 'name-learning' stage in one or two classes.) But I do, however, have a possible contextual comparison to make in support of my (hopefully long-term) cheeriness.
For two-ish weeks before college I was sat in Cambridge taking part in a phenomenal state school-centered summer program. The time I had in the city and around its university was immensely rewarding, informative, and really rather difficult.
Each day, when we weren't being given tours of some of the colleges, eating, or sleeping, we had 2-3 fast-paced lectures/lessons (some of which went on really rather late too); plus the occasional piece of homework; plus – for those of us now studying for our second year of A-levels (not me) – university applications to write; plus speeches to prepare for a debate at the Cambridge Union (also not me); and so on.
It was intense – a nice little Cambridge taster.
[And nothing more, of course... I mean, we actually slept! Who needs 'open 24 hours a day' libraries (apparently a feature of many of the colleges) when you can afford to sleep!?]
I never expected it to be anything but a fraction of a slice of the 'real thing', but it was more than enough, perhaps surprisingly, to drum the desire to apply, come the time, into my brain. Yes, the work was (and really is, once you're actually there) hard, but at the end of the two-ish weeks I felt – no exaggeration – lost without it. I couldn't switch off.
More than that, as I said on Twitter at the time:
https://twitter.com/CarnunMP/status/373520650423783424
It was strange. I love London, but the two places – the two sets of daily rituals and routines, more than the areas themselves – are just so different. I'd give a lot to be a part of the Cambridge 'world' for a bit (if only to bring a bit more state-school perspective to the place), but it would certainly take some getting used to.
So, 'the plan': continue to enjoy – and keep ahead of – A-level work. I want, if nothing else, the grades required for an interview.
What This Means for the Blog
As you may have noticed, I've recently been missing a week here or there – but never without reason. Last Friday, I was still in Cambridge, and as a result I had no real way of writing and uploading anything at the time. The post before it was scheduled a good few days in advance to account for the trip too, and to the best of my abilities.
It's hard work, blogging. Especially when you're the sort of person who probably spends more time proof-reading than actually writing, and especially when other callings are simply of greater importance than "unashamedly blogging for fun".
Don't get me wrong, I love doing this – it's just that, even if it hurts, I have to prioritise from time to time.
So please do bear with me over the next few years. Even if it gets erratic.
Carnun.

51.511214
-0.119824