Hyatt is a hotel that stands for everything luxurious and extravagant. And one such example of the perfect amalgamation is their Italian restaurant La Piazza. The restaurant isn't just there for as long as I can remember, but is also one of the front-runners when it comes to the food scene in Delhi. The Sunday Brunch at La Piazza with flowing champagne and sparkling wine, cocktails and mocktails, pastas and pizzas to kill for, grills and mains to make you drool, and so much more that only makes your appetite increase by manifolds just by its mention, is what I went for last Sunday.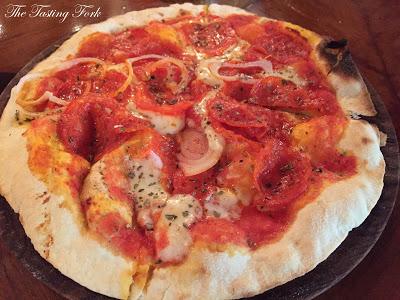 La Piazza, no matter what time of the day you visit, has such warm yet lavish interiors that you instantly feel like you're in a different kind of a place. One that exuberates a relaxed vibe to it, but is also classy at the same time. Yellow lighting, lamps on the walls, wooden furniture, huge window panes with a lovely view of the pool and the hotel- the interiors are really nice.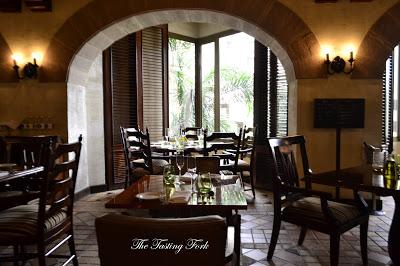 I started my brunch with antipasti. Potato Salad, Stuffed Bell Peppers with cous cous, Smoked Salmon, Chicken Roulade, Chicken Pie, Beetroot Apple salad, Prawn Fennel Salad, Chicken Sausage Salad, Tenderloin carpaccio, cold cuts, an array of differet kinds of cheese, a bread basket with the choicest breads,a  lovely olive dip, the list just goes on. The anti pasti was each better than the other one, all with a lovely balance of sweetness and sourness. Sipped on chilled Prosecco while devouring all these fresh proteins, greens and breads.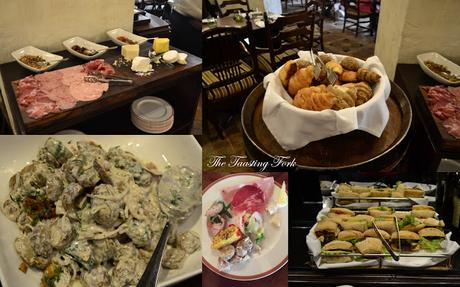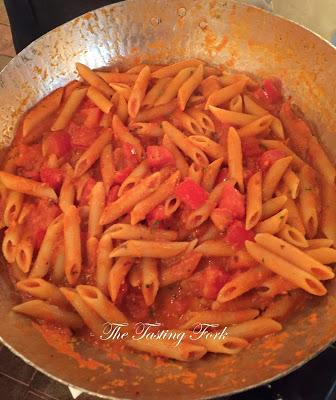 When the appetite had done enough justice to the anti pasti, we moved to the mains. So a Sunday Brunch in my opinion should be a relaxed, laidback one. And La Piazza ensures you get so lazy that you don't have to move a finger for anything other than the anti pasti and desserts. The concept of mains at La Piazza is 'from pan to table', and it quite literally means that. The menu for the day is put on a board, and the board is brought to each table when someone wants to see the main course menu and order. So a couple of boards spread across the restaurant, and you order off it. Your server ensures you get it to your table. For whatever you order, the server gets a truckload of that in a pan to your table, and you can take as much of it in your plate as you want. The food is piping hot, and of course, being a brunch you get unlimited helpings. How the restaurant excels here is by ensuring their guests get piping hot fresh food each time they ask for a particular dish, and they also minimise wastage with this practice of from pan to table.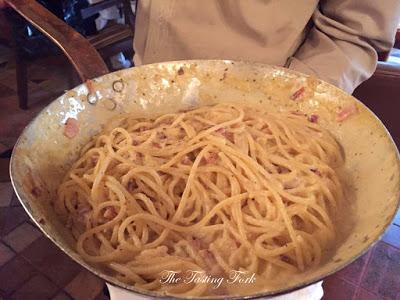 From that day's menu, I tried Spaghetti Carbonara, Vegetable Lasagna and Penne Arrabiatta from the pastas. The Spaghetti Carbonara wasn't too heavy, but was deliciously creamy with lovely bacon mixed in the sauce. The Lasagna was great! The vegetables were fresh and crunchy and the sauce in between the sheets of pasta was gorgeous!! I had a tough time choosing my favorite pasta between Spaghetti Carbonara and Penne Arrabiatta, but I go with the latter now. I don't usually like arrabiatta sauce. I prefer a mixed sauce of a cream sauce to it, but the arrabiatta sauce here simply blew my mind! Pasta cooked al dente in an incredible arrabiatta sauce. A sure shot winner for me! 
The chef also did a lovely tortellini stuffed with chicken in a butter sauce. Those three pieces of stuffed pasta tasted nothing short of brilliance with that beautiful fine-textured butter sage and truffle. Totally going back just for this!! The chef said it's his specialty, and the pasta totally justifies why it is so.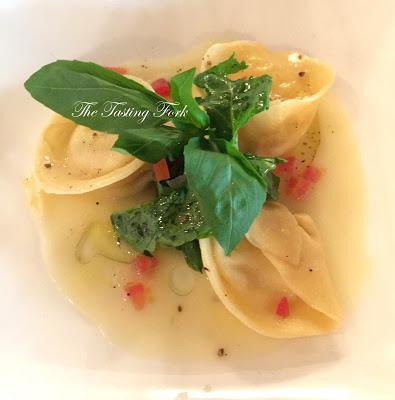 Their Stuffed Chicken Breast with mash on the side was super succulent and flavourful. The thick gravy it was tossed in tasted simply amazing! And the potato mash mixed with herbs was just what you needed to cut down on the rich flavours of the chicken. 
I didn't try any cocktail during the brunch but tried a sip of the Watermelon Martini, and damn, was it potent! Such a good cocktail! Prosecco kept me company all afternoon and the servers were very swift in refilling my glass.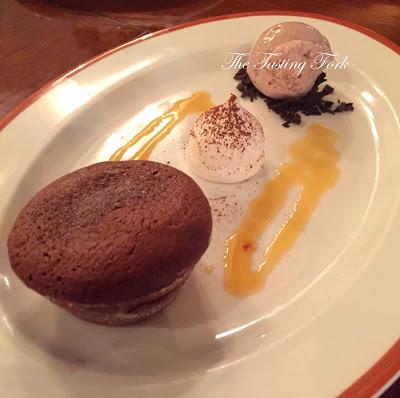 The dessert section saw Panacotta with Berry Compote as my most favourite, with of course, the Chocolate Mud Cake. There were cheesecakes, fresh fruit salad, apple crumble, and the star of all desserts- Tiramisu, which I've also had earlier. The chef did his sepcial Melted Chocolate, which was a molten chocolate lava cake served with banana icecream. The lava cake was like a dream! So so gooey on the inside, so soft and firm on the outside, with that thick luscious chocolate inside. And what a different take by replacing the obvious vanilla with banana flavoured icecream.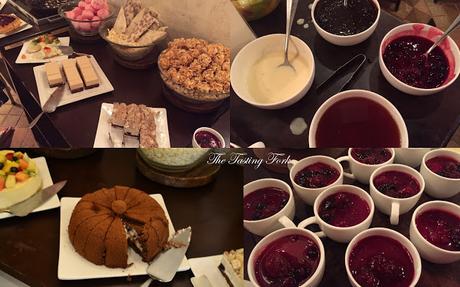 They don't have as much quantity as the other multi-cuisine buffets but they offer quality. The brunch here is all about luxury and relaxation, it's about sipping on your drinks and enjoying the fine Italian cuisine. Don't go here if quantitiy is on your mind, go if you want incredible Italian which is fresh and full of taste, completely unparalleled. Their brunch is superb value for money!! For someone who wants to try the place out for the first time, there's no better time to go here than on Sunday afternoons for their brunch.
The servers enhance your experience and take it a notch higher. They're always around to make sure your plate is never devoid of food and your glass is never found empty. 
I had a lovely experience at La Piazza, to say the least. Luxury at its best and a Sunday spent more than just well.
Price: 
Rs. 2350++ with fresh juices and soft beverages
Rs. 2950++ with red wine, white wine, prosecco and ciroc martini
Rs. 4050++ with moet brut, red wine, white wine, prosecco and ciroc martini
Rs. 5600++ with moet red, moet brut, red wine, white wine, prosecco and ciroc martini
Brunch timings: 12:30PM to 3:30PM
Disclaimer: The review was done on an invitation from the restaurant. All views expressed are unbiased in nature but readers are advised to exercise their own discretion.
Connect with me on:
Twitter: 

@sahibagursahane
Instagram: 

@thetastingfork
Facebook: 

www.facebook.com/thetastingfork
Snapchat: @thetastingfork