Samana, Dominican Republic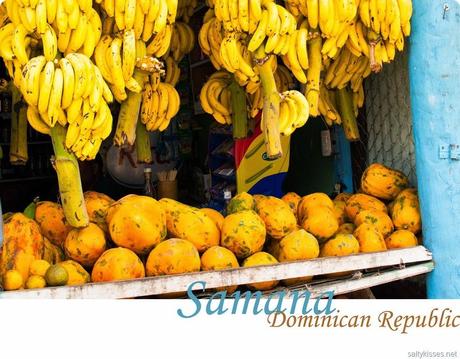 Samana has made us both happy and sad at the same time. The area is full of lush rainforest and naturally growing palm trees everywhere. There isn't a manicured beauty here, it's a natural one. The people here are extremely friendly and don't mind that we barely speak any Spanish. I think having kids with us goes a long way, our little ambassadors. Just from our afternoon in Samana we can see how poor the DR really is. If you can believe this is actually a tourist town boasting waterfalls, whales and 24 hour electricity. We decided not to see the waterfalls because it would be a 5 hour journey, some of it on horse back. The kids are all still sick and being out in the heat for that long would probably make them pass out. I think the girls have Croup and the baby has conjunctivitis in both eyes.
We are staying in an extremely fancy hotel marina on the outskirts of Samana. At $1/ foot we can afford to stay here for a couple of nights. They have the most amazing infinity pool that looks out on the Bay of Samana. In February hundreds of whale enter the bay to mate, I haven't seen any yet but I hear they're out there.
We arrived at the marina at 1am and met by Spanish speaking security. They helped us dock with flashlights and hand signals. We had to check in straight away at the hotel all red eyed and tired. We're still not too sure why but they held out about $600 USD on our card but promised not to charge it. Maybe they thought we looked dodgy and would steal there fancy ornaments in the lobby. The next morning we had to hang on the boat and wait for the DEA, Customs and Immigration. They were very pleasant and the boat got a quick look around for drugs. We paid $130 USD to clear in. They said that this is the initial cost and when we check in at other ports we would not get charged.
Just before lunch we were driven in town by the hotel's car. They said we could get one free ride into town because we were new guests. Woo-hoo! We got let off in town at the bank to get some peso's. Of course the ATM wouldn't accept our card. We had some USD on us and a little bit of peso's we had bought off some friends in the BVI. With that we got icecream to keep up moral in the heat, few bags of groceries and a ride around running our errands with a local and his rickshaw. On our way back to the hotel I had to hang on for dear life sitting on the back with the baby strapped to me, if we hit a bump we were done for. We came back to the hotel and spent the arvo in the infinity pool. Bliss.
It's so lovely here and I would recommend it to everyone passing through. The hotel is amazing, town is fabulous, the locals are extremely helpful and the fruit is wonderful. If we weren't on such a tight schedule we would love to rent a car and drive the country side. You get a lot of bang for your buck here so we try not to argue with the locals about prices. We pay what is fair, if we can make their day by paying a little extra so their family can enjoy a good meal than so be it.