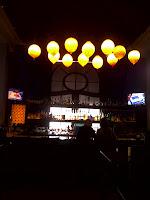 The Bar
I had to be in Boston today for business, so I took advantage of an opportunity to visit with my awesome sister and headed north yesterday afternoon.  We are 5 years apart but close as could be so spending time together, especially just the two of us, is a gift.
At times we're perfectly content to chill in front of a great movie (which we did) but we also love to go out and have a good time (which we also did.)  At
City Table
in The Lenox Hotel in Copley Square we found the perfect mix of clever cocktails, chic atmosphere and delicious food ~ and they have a vegan menu!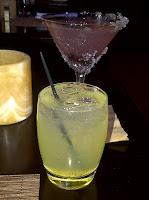 I admit the first thing we did when we were seated was to check out the cocktail menu.  I ordered a Cool Hand Cuke: Rain cucumber and lime vodka with muddled blackberries, lemon and a champagne float.  My sister had a tequila cocktail with white pepper ~ talk about spicy (well, by the end of the night she had two!)  My drink was particularly beautiful and the glass was not only chilled but sprinkled as if by snow.  We spent a moment admiring the look of it before we took a sweet, bubbly taste.  Later on I ordered the City Bar Metro: Absolut Kurrant, lille blanc, chambord and lime juice...it's ok.  We were walking home :-)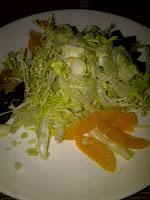 My sister's not a vegan, so she enjoyed the duck spring roll appetizer.  As for me, I started with the heirloom beet (& no goat cheese) salad with segmented citrus, brunoise of English cucumbers, fennel, and frisee lettuce. It was a bright, spring-looking plate and the flavors were bright as well, drizzled lightly enough with the dressing that you could really taste each ingredient.  My other starter options were the house chopped salad with diced cucumber, cherry tomato, red peppers, radicchio and mesclun greens in a champagne vinaigrette and the ratatouille style pizza with roasted red and green peppers, vidalia onion, sicilian eggplant, roasted garlic, roma tomato (leaving off the mozzarella.)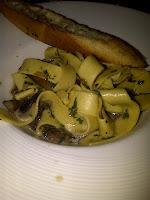 For entrees, my sister had the grilled veggie sandwich with zucchini, squash, tomato, mushrooms, mozzarella and pesto on ciabata bread. The seasonal vegetable risotto almost got my attention (as it can be made vegan, like the sandwich could) but instead I went with the wild mushroom pappardelle.  I am a sucker for pasta and mushrooms!  The sauce was a light white wine infused with fresh herbs...it melted in my mouth and I couldn't resist dipping the crusty bread in the remaining sauce once I had finished the noodles - a classier equivalent to licking the bowl clean...I'm not sure a restaurant could ask for a better review.
Next time you find yourself in Boston, be sure to make this one of your dining destinations!