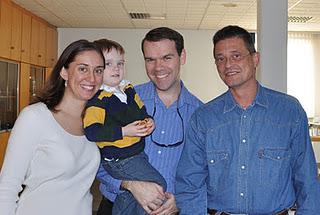 Us with the birthday man!
Last weekend our dear friend and next door neighbor turned 50!  To celebrate his family had a surprise party for him at the fire station in town.  Our fire station is almost 120 years old and is really neat!  He knew he was having a birthday party but didn't know they changed it to a surprise.  His wife blind folded him and took him to the car.  She drove around and stopped at the fire station.  They led him upstairs to the party room where everyone was lined up to surprise him and sing "Happy Birthday." 
The fire station was a great place for a party.  We even got a tour of the trucks.  Blue Rock loved that!  We all got to go inside them and look at the equipment.  Our neighbor's son is in the fire brigade and gave everyone a grand tour.
Germans celebrate birthdays a little differently than Americans, which I actually like.  The two biggest differences are: the birthday person provides food for everyone and secondly the party lasts longer than 1-2 hours.  For example, our friend catered a yummy lunch and a few hours later provided a variety of cakes and coffee.  His children provided some entertainment by having him play a game of guessing some famous Broadway music.  They also created a beautiful slide show of his life.  We had a wonderful time.  We were only able to stay for about 4 hours because Blue Rock started getting restless and tired.  I'm not sure when it was really over.  He was just starting to open some presents from family when we needed to leave.  Happy birthday to our awesome neighbor!  We felt very honored that you invited us and had a wonderful time!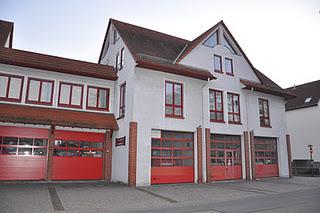 Our town's fire station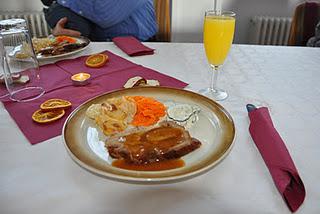 Delicious lunch!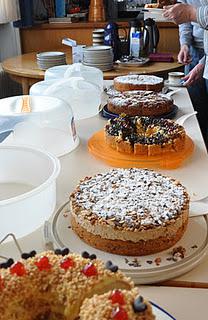 Yummy cakes!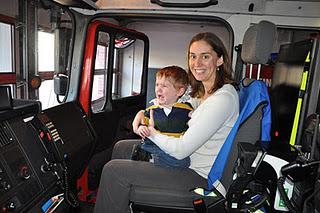 Sitting in the big fire truck - Blue Rock was a little scared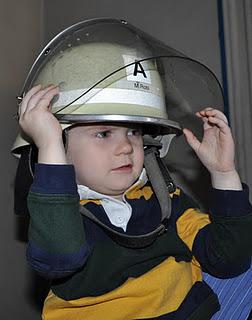 Blue Rock trying on a fireman's hat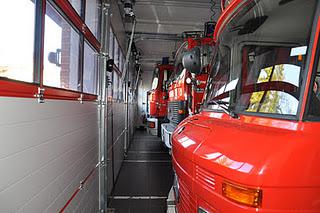 These were just a few of the trucks at the station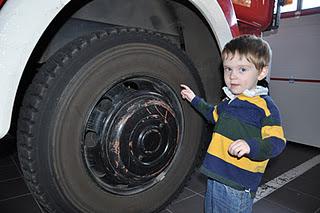 "Look, this tire is as tall as me!"