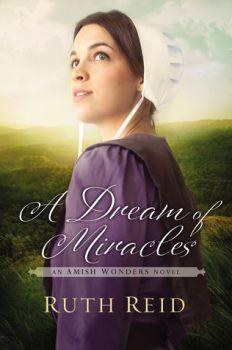 A Dream of Miracles by Ruth Reid
Published by Thomas Nelson Inc on April 12th 2016
Genres: Amish & Mennonite, Christian, Fiction, Romance
Pages: 336
Format: Paperback
Goodreads


Amish widow Mattie vows never to love again. . . until a suspicious outsider with a shadowy past comes crashing into her fragile world.  Mattie Diener can barely keep it together. A young Amish widow and mother of two young children, she faces the lingering heartbreak of lost love, her son's mysterious illness, and a torrent of accusations that threaten to undo her.  Bo Lambright is a fast-rising social services investigator whose high-society mother won't rest until she finds his Mrs. Right. Despite Bo's worldly success, the raw ache of a shadowy past and a series of unsettling dreams have left him reeling.  When Mattie and Bo cross paths, all signs point to disaster. Yet as they face a crucible of trials and tragedies together, longings begin to stir that seem destined only to end in more heartbreak. Is a miracle possible—not only of healing but of forbidden love? 
A Dream of Miracles is the third book in The Amish Wonder series by Ruth Reid. The first book was A Miracle of Hope and the second book was A Woodland Miracle. Each of those books would probably have helped in creating the backdrop to the characters in this book, but nonetheless, my favorite Amish book reviewer, Gloria (aka Mom) says that this book can be read as a stand alone very nicely.
This story takes place in a small community made up of Old Order Amish in Michigan. The two main characters Mattie Diener and Boaz (Bo) Lambright become so real that you think they are your best friends.  Mattie is a young widowed woman with two young children, Nathan and 18-month old Amanda, to raise without her husband Andy, who is deceased.  Mattie is having a rough time running a herb and honey business with the help of the community especially her next door bachelor neighbor Alvin.
Mattie's oldest child, Nathan, is three years old has been a sickly baby with several health issues since his birth.  Nathan is ill and Mattie takes him to the doctor and her worse nightmare begins. Her regular doctor is not available and another doctor, Dr. Wellington, is filling his place but he knows nothing about the Amish.  Nathan has a fever and blisters in his mouth and Dr. Wellington suspects' abuse.
The doctor has Mattie take Nathan to the hospital and calls Child Protective Services on her.  She meets Boaz Lambright, a fast-rising social services investigator whose high-society mother doesn't seem to rest until she finds her son's "Mrs. Right".  He does not think there is any abuse and sets out to prove her innocence. Things keep happening and the plot continues to twist and turn, and all the while Mattie has your heart because of struggles she is going through.  Bo was haunted by dreams with flashing from his current life into his past life.
I love the twist that Bo experiences and I found it hard to actually put this book down because I wanted to find out the outcome. There is so much emotion in this story and both the characters and the plot are so powerful that it just carried me away with them.  Toward the end of this story things are explained. I loved this story and I look forward to other books by Ruth Reid.
Ruth Reid is a CBA and ECPA best-selling author of the Heaven on Earth series. She's a full-time pharmacist who lives in Florida with her husband and three children. While attending college at Ferris State University in Big Rapids, Michigan, she lived with retired dairy farmers and had the opportunity to meet many of the Amish in the area. Ms. Reid never forgets skipping classes one day to watch a barn raising and was amazed at the craftsmanship without use of power tools. She loves learning about the firm devotion of the Amish community to God and to each other. and she feels blessed for the friendships formed in the process of writing her books. 
I received a paperback copy of this book without cost from the publisher through The Fiction Guild, a Thomas Nelson/Zondervan book review bloggers program. I was not required to write a positive review. The opinions I have expressed are my own.
~ ~ ~ ~ ~ ~ ~ ~ ~ ~ ~ ~ ~ ~ ~ ~ ~ ~

It would be great if you would stay connected with me!! You can follow me on Twitter @DebiL1611, like me on Facebook at 2014 and Beyond, circle me on Google+, follow me on Tumblr, Instagram and Bloglovin', subscribe on YouTube, or connect with me on LinkedIn and Pinterest.

Please make sure to visit my homepage and subscribe to my blog for more great posts on running, fitness and lifestyle topics as well as food, product, music and book reviews, and more!