I've had a few people who have e-mailed me, asking about how Mike and I manage to juggle life with a toddler, 2 high-energy dogs, a horse in a self care facility, his demanding job, and a baby on the way so I thought that it would be fun to do a "day in the life" type of post. Our routine isn't the exact same every day, but it keeps the same basic pattern. I'm obviously not going to give out locations of where our daily adventures take us, because that's a little weird.

Mike gets up first in the morning, lets the dogs out, and gets ready for his day. He brings the dogs back upstairs and heads out to the barn to feed and see if he can squeek some turnout in for Willow. We are having a hard time finding a group for her to go out with at the moment, since everybody has hind shoes on their horses and I'm not comfortable with it. She mostly prefers her fan and hay net anyways.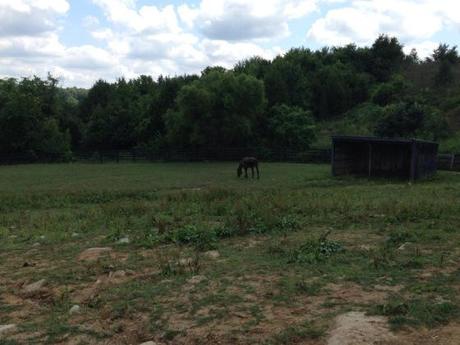 I get up with Shannon, let the dogs out to play, and depending on the weather, we'll have breakfast out on the back deck so I can throw the ball for the pooches. If we're having a hot or rainy day, we'll come inside to have a little breakfast picnic in the living room and watch her favorite show, Super Why.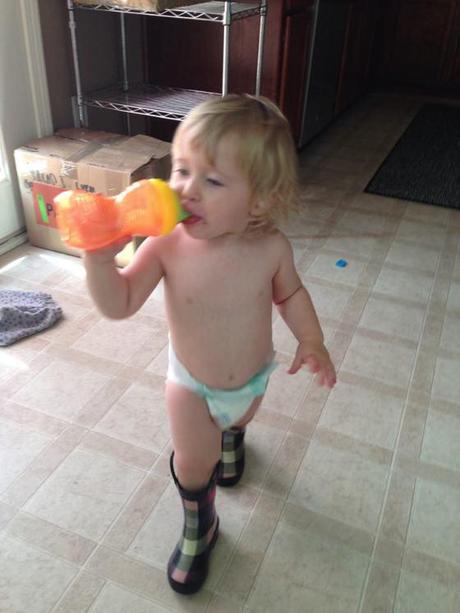 We put on our barn boot regardless…
At some point between wake up and breakfast I'll get a text from Mike letting me know if he was able to get Willow out in the morning. If he was able to get her out, we normally go out to the barn after breakfast so that I can bring her in before it gets really hot and the bugs get her pacing. Shannon loves to run around, trying to find barn cats, and shoveling cookies as fast as she can into Willow's face.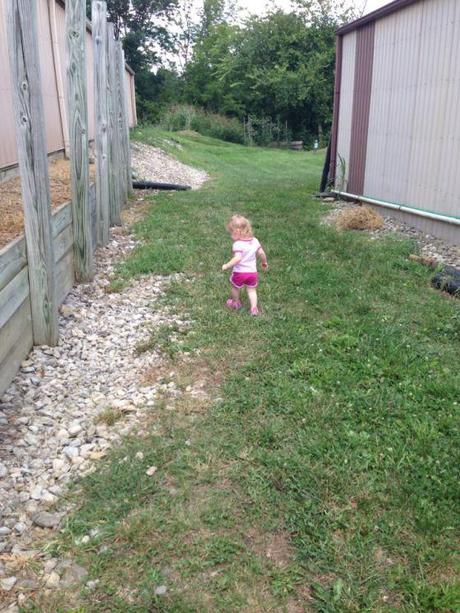 If Mike wasn't able to get her out, we hang around the house, read books, and just generally have a great time. 1100 is naptime and its usually a pretty non-negotiable thing. I usually get about 2-2.5 hours of time that I use to get the dogs out again, clean up from breakfast, answer e-mails, and type up a blog post or two. Lately I've been so exhausted that I do the basics and then hang out on the couch and try to get my toes to unswell.

Naptime really stresses Dixie out too.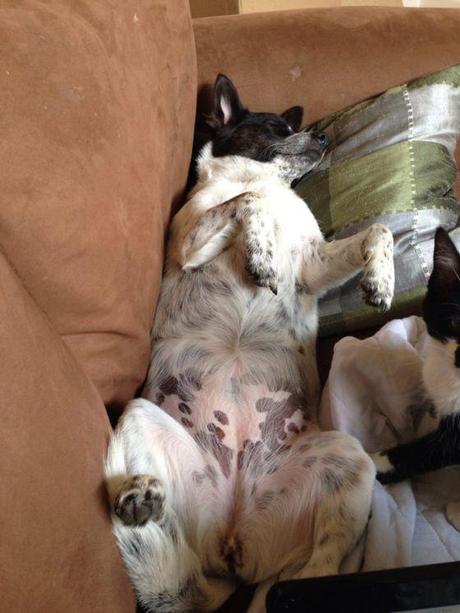 When Shannon gets up, we have lunch and then set out to do any errands I have planned for the day. I discovered that it's easier to take her out in public after her nap, as opposed to trying to squeeze things in before and rush all around to try to make the 1100 naptime. If we weren't able to get out to the barn in the morning, we'll go in the afternoon to give Willow some time in the indoor or outside, if a paddock is open and it's not too hot. I'll pick out her stall and chuck her another flake of hay for the afternoon. If the weather is reasonable, sometimes she'll stay out for the afternoon. Sometimes Dixie comes too. She's the best little barn dog, but Jax has a really hard time being home alone.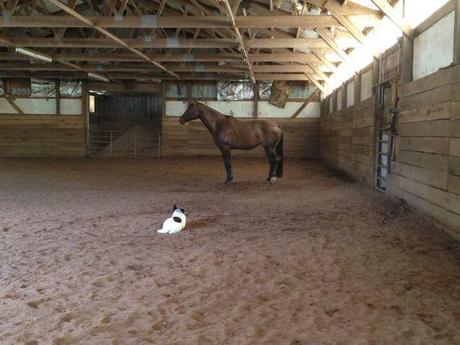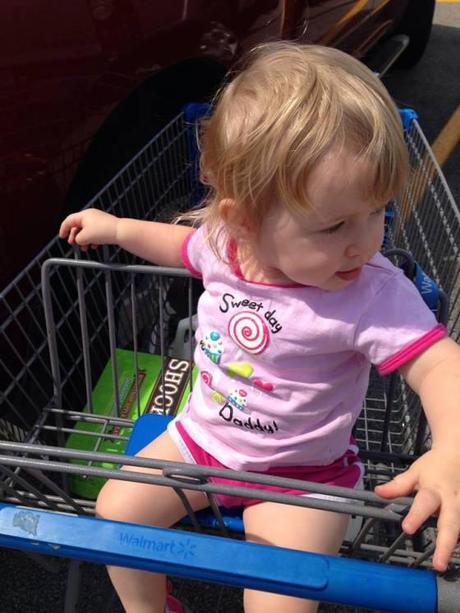 We don't do stuff everyday, but it's really nice to get out of the house! Once errands and the barn are all taken care of, we'll come home and take the dogs for a walk or throw the ball in the backyard so they can stretch their legs after being in their crates. Usually it's around 4 and I'm ready to be DONE for the day, but we still have some time before Mike can get home so I'll use that time to have quiet playtime with Shannon or watch a movie, usually with a snack! The dogs usually alert me around 530 if Mike isn't home yet.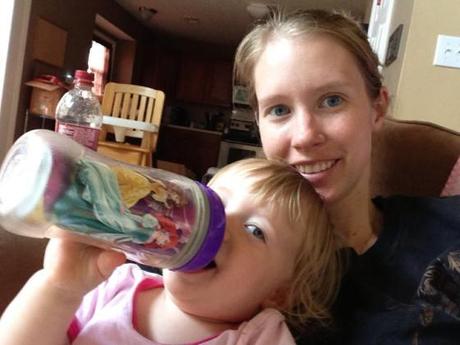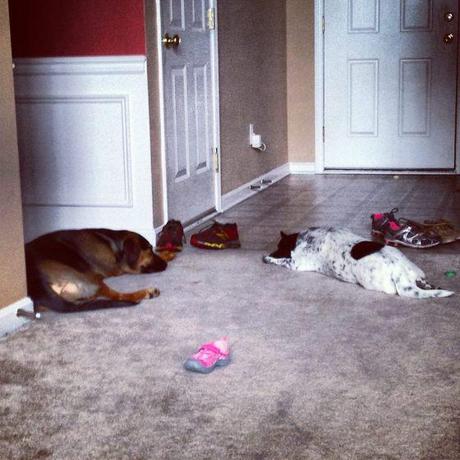 If I haven't heard from him, I'll usually shoot him a text asking his ETA. If he's going to be late, I start getting things ready to bring Shannon out to the barn to do chores for the night. He tries really hard to be home by 6, but it usually doesn't happen. If he does get home, we'll have dinner together and I'll head back out to the barn. If not, then we go first so I can have Shannon home by 7 for a quick dinner and bed time by 8-830. Usually in the evenings I can get Willow out again for a few hours, and go back to the barn around 9 to bring her in. If I don't have Shannon with me, I'll lunge or ground drive her instead of turning out, while Mike handles the bedtime routine. Evenings are also when I scrub her buckets, bring up hay, add more shavings to her stall, run a brush over her or give her a bath (once a week), and do other little odds and ends (read: gossip with the barn ladies). I don't do those things if I have Shannon with me, though.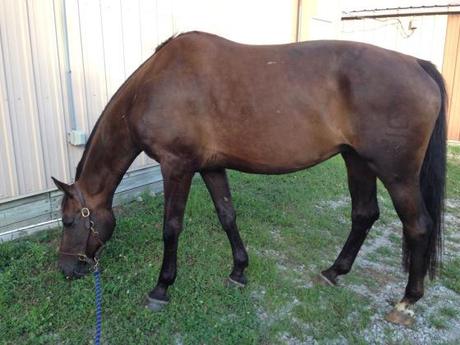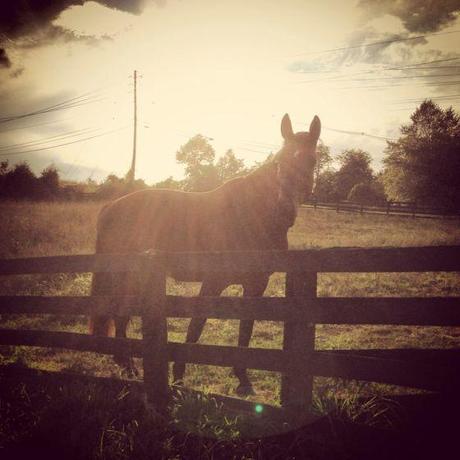 I'm usually home by 930-10 regardless. Mike will have Shannon in bed and will have finished his end of the day stuff for work. I'll take a quick shower, grab something else to eat, and we'll curl up in bed to watch some trash TV or read for a bit until I'm ready to crash.
So there you have it! Our day in a nutshell. We stay pretty busy, but I enjoy getting out and about as much as possible! It's nice to have a routine in place, for when we add our next little bundle of joy in October!
Hope y'all are having a great Tuesday!