I landed in Bangkok, Thailand with just 24 hours before we flew to bask on the white sands of Koh Samui.
So what can you do in 24hours in Bangkok?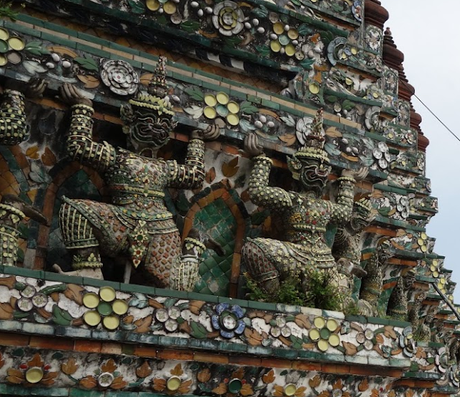 1. Climb the steps of Wat Arun (The Temple of Dawn)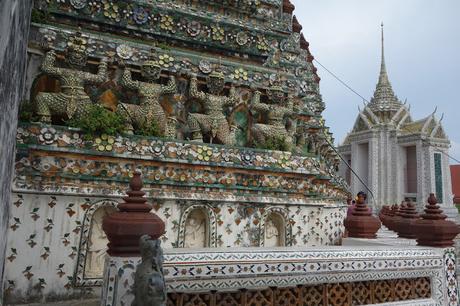 Hearing whispers that Wat Arun is one of the most stunning temples in Bangkok, not just because of it's riverside location, but because the design is unlike all the other temples you can visit in Bangkok. What makes it so special, is that it is partly made up of colourfully decorated spires and stands majestically over the water.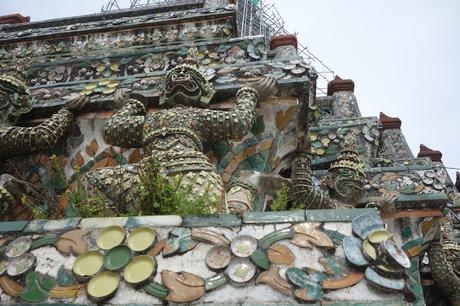 Unfortunately, I came here whilst Wat Arun was undergoing maintenance on the central prang, so the scaffolding hindered me from marvelling at it's true splendour.
You can climb up the central prang, and when you reach the highest point you can see the Chao Phraya River, the Grand Palace and Wat Pho.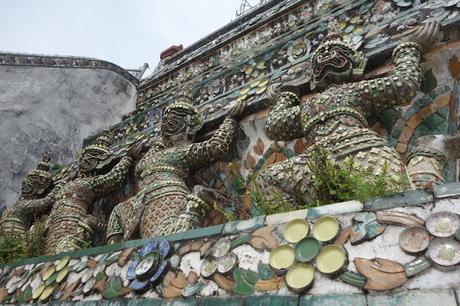 History
King Taksin envisioned War Arun in 1768, and it is believed that after he fought his way out Ayutthaya which was then taken over by the Burmese army at the time, he arrived at the temple just as dawn was breaking. He then had the temple renovated and renamed, The Temple of Dawn (Wat Chaeng). It used to be the home of the Emerald Buddha, before the Palace and the capital moved to the other side of the river.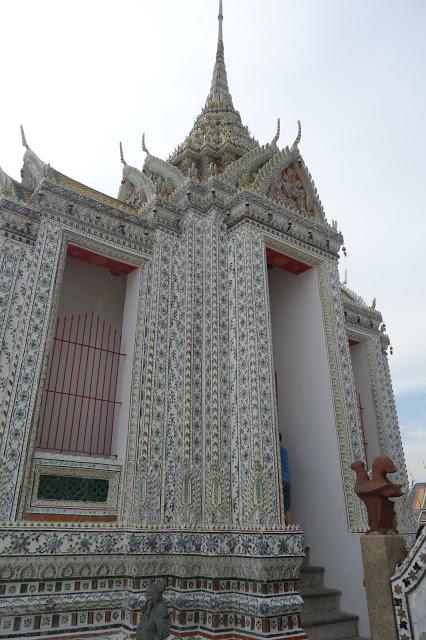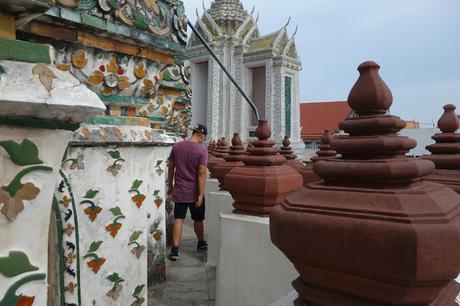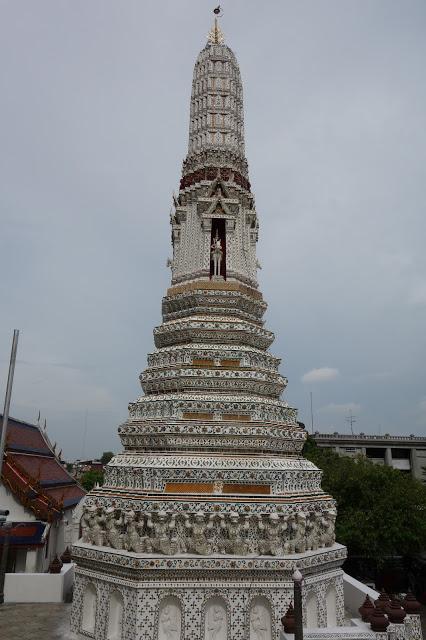 The temple is open from 8am - 5pm daily.
You are expected to cover up in the temple, but you can borrow a shawl there if needed.
 2. Take a Long Tail Boat Tour Around Bangkok (1-2hrs)


Just a stone throw away from the temple, w
e took a private-chartered long tail boat tour through the Klongs.
Never leave Bangkok without a ride through the Klongs. This is a great way to experience a different side to Thailand, and see how the Thais adapt their lifestyle, activities and culture along the Klongs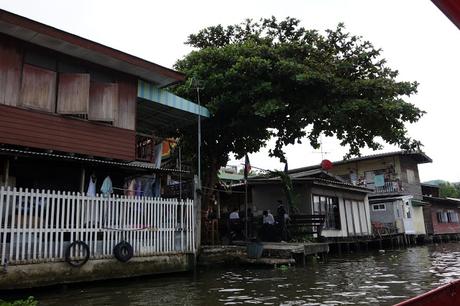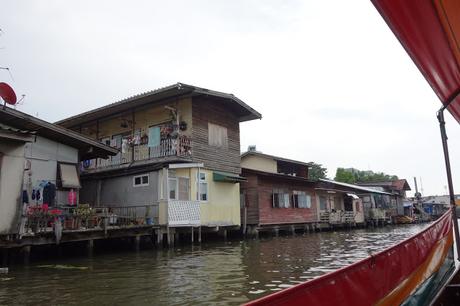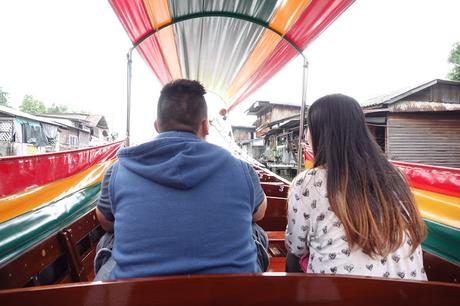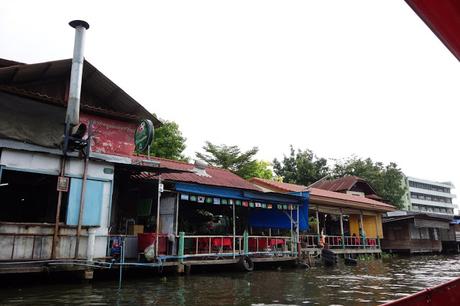 As you navigate through the canals, you start to really undestand the functioning and essential working of the canals for every day life. Not only is it an easy way of transportaton, but it is also used for fishing, washing and at some places the canals become a floating market. During the tour you will notice the different styles of housing, whereby almost each house will have their own mini-temple.
It's an amazing way to see how the local thai people live, and gives a difference perspective to Bangkok life than you get from just staying in the city area.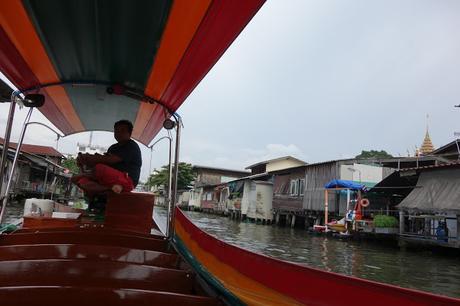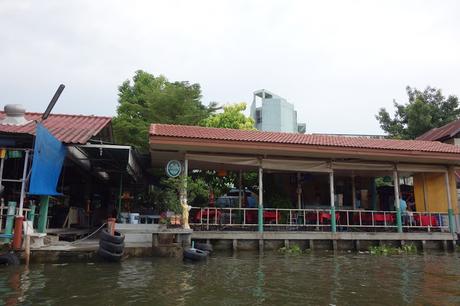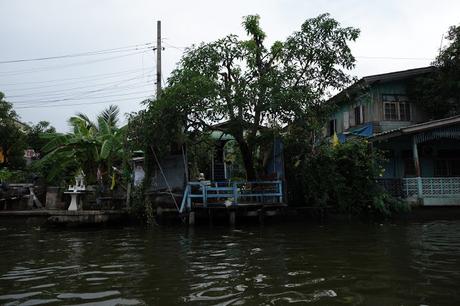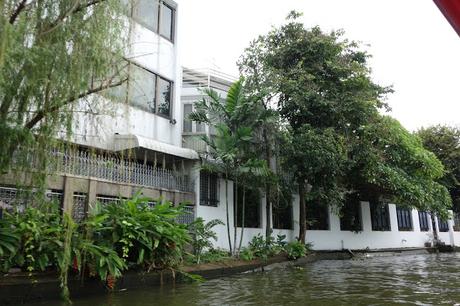 3. Sample Street Food - Eat like a Local

Wandering around Bangkok, it's not hard to find a street corner with rows upon rows of carts lined up dishing up authentic Thai meals like Pad Thai, baked salt fish, curries, noodle soups and much more.
Drooling much? I thought so ;]
Eating Thai street food is also incredibly cheap, so cheap you will start pondering why you should ever want to leave this country.
For instance, grilled honey glazed pork skewers are 10 baht per piece (20p), grilled fish cakes 20 baht (40p) and a prawn pad thai 50 baht (less than £1). Unreal.  Let's relocate to Thailand right now.
If you've never tried Thai street food before, and are a little unnerved by the food carts by the streets Sukhumvit Soi 38 is a great initiation into Thai Street food. Plus it's located just a few steps from the BTS Thong Lor making it super easy to find.
The street is alive from 6pm until the early hours of the morning, you can sit at a table, order from the various different store and most of menus are in English; making choosing your feast easy as pie!
Also unlike some street food stalls the one on soi 38 are relatively clean, and the ingredients are fresh.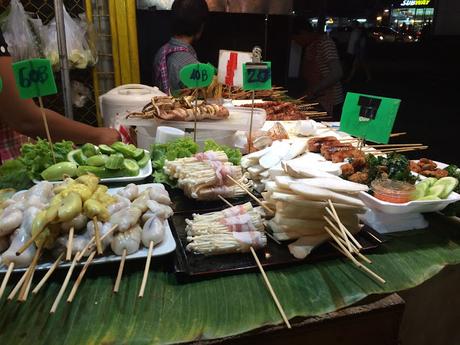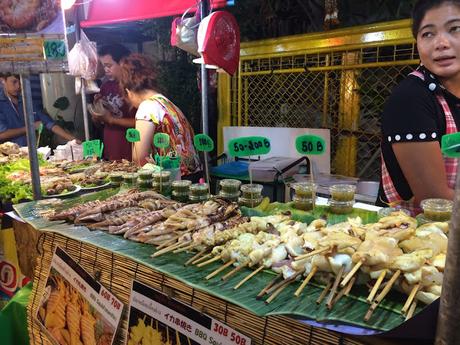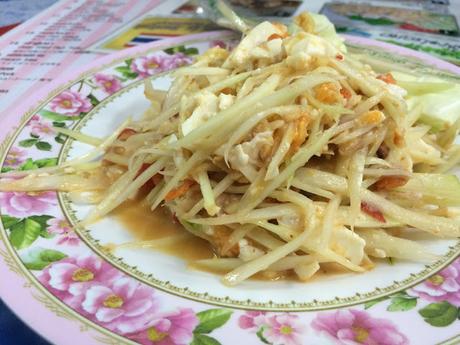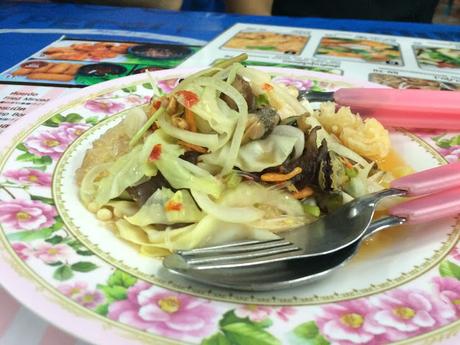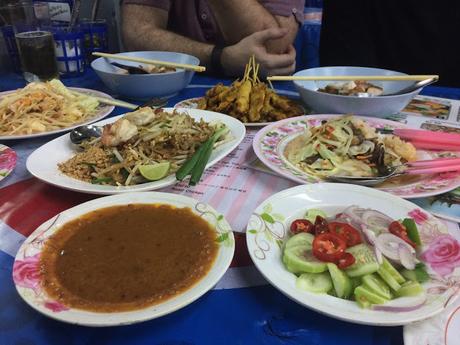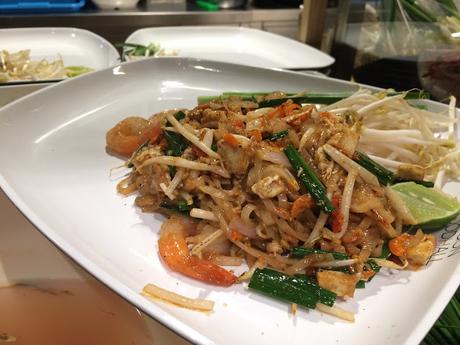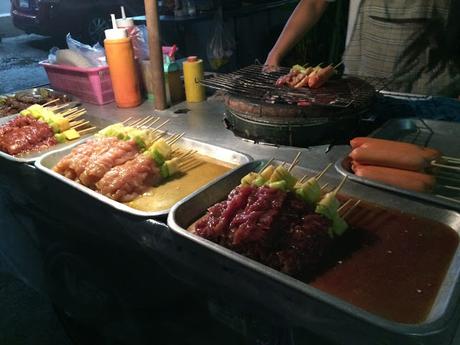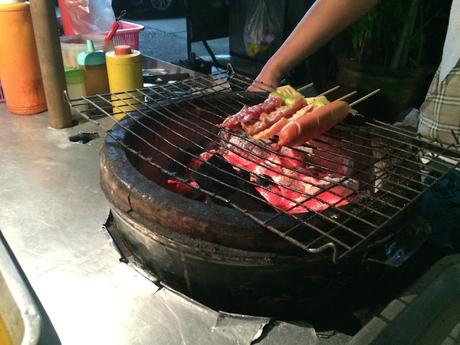 4. Eat in Shopping Malls
Asian food courts are AMAZING. The west seriously need to take note.
Everything is made to order, service is fast and the food is incredibly tasty and prices are so cheap, you're going to do a double take.
To make paying pain free, and easy you normally have to go any get a money card that you top up with as much money as you want to spend and what you don't spend can be refunded back to you.
Expect to see offerings such as oyster omelettes, papaya salads, pad thais, hainanese chicken and rice and much much more. Food paradise all under one roof.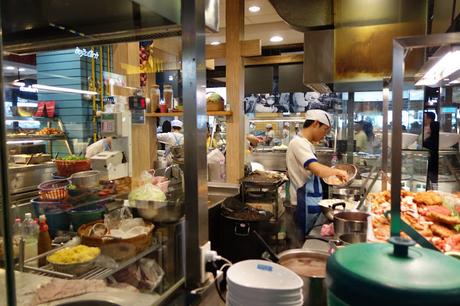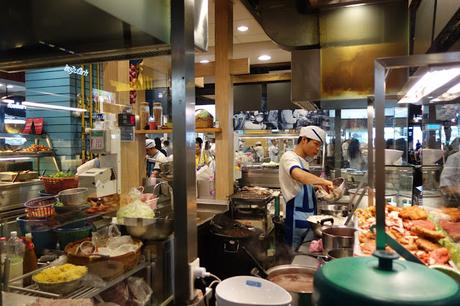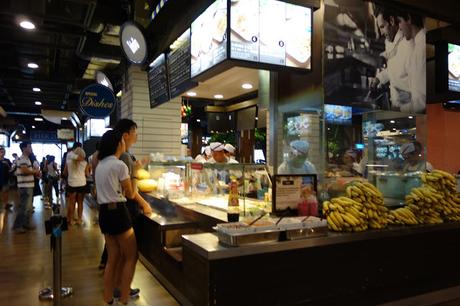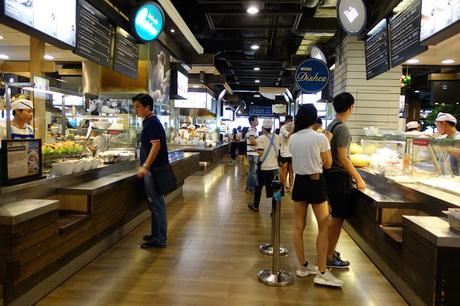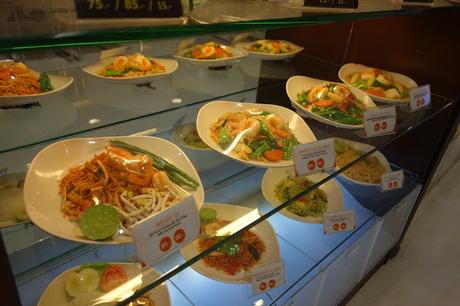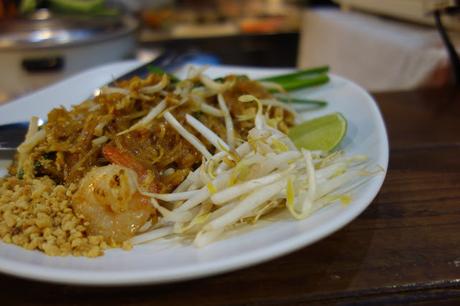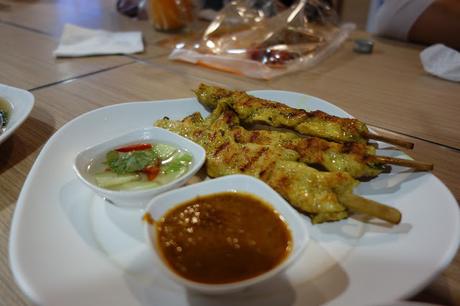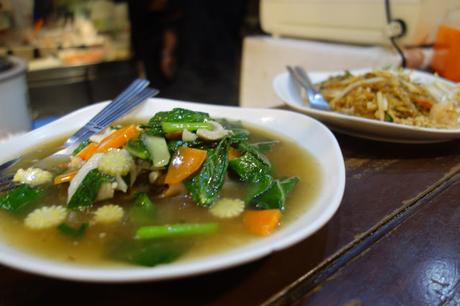 5. Try Thai Desserts
The Thai's love their sweets, quite commonly you will even see Thais adding sugar to their pad Thais.
Since you're Thailand it's time to take advantage of being able to consume your body weight in exotic fruits like mangosteen, mangos, rambutans and langsats.
You can get your hands on typical thai desserts like mango sticky rice, which is essentially sweet steamed rice smothered in coconut cream with slices of mango over it. So simple and so delicious. You can grab a plate of this for 40p in almost every shopping mall food hall.
Or you can try Woon Bai Toey, which is essentially different types of flavoured gelatin layered with coconut cream jelly and coconut cream.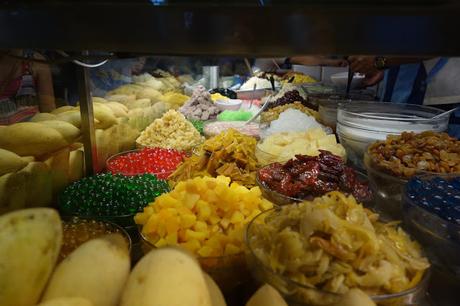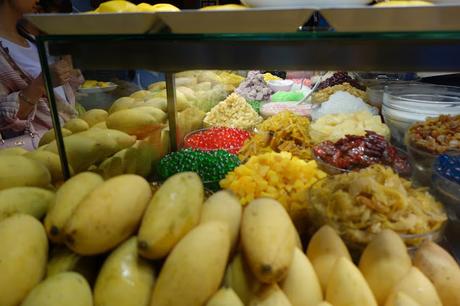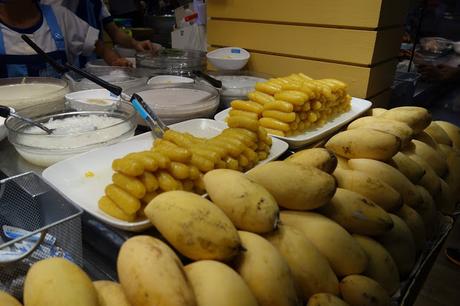 Mango Shaved Ice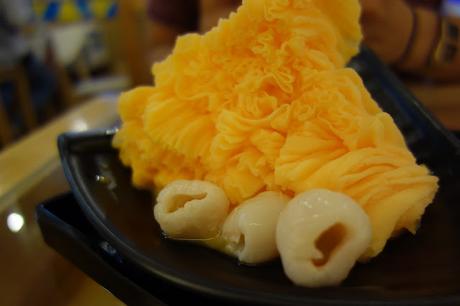 Mango Sticky Rice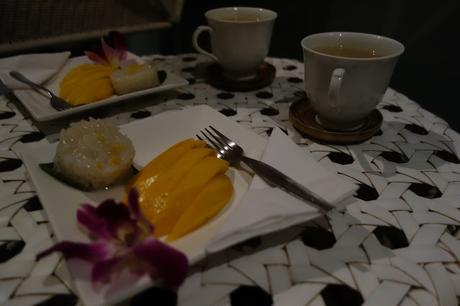 6. Go Shopping
Thailand is a shoppers dream, and there are quite a number of different shopping malls to choose from offering super cheap fashion, accessories, gadgets and beauty salons for you to choose from.
My personal favorite malls was the MBK.
It is Bangkok's legendary shopping mall and is popular with the locals as well as tourists. There are over 8 floors that sell everything from clothes, fashion accessories, handbags, leather products and luggage to furniture, mobile phones, electric appliances, cameras, stationery and DVDs PLUS there is air con. Hahhaa a serious MUST.
If

you want to experience a typical 'Thai' shopping mall, this is the one to go to for sure.


MBK
Opening Hours

: 10:00 - 22:00


Location

: Pathumwan Intersection, diagonally opposite Siam Discovery Centre


BTS

: National Stadium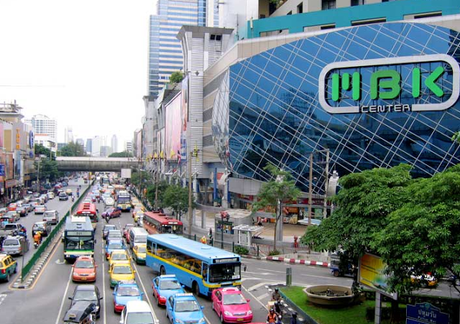 7. Have a Hot Oil Thai Massage

You simply HAVE to go experience a Hot Oil Thai Massage in Bangkok.
It is a fraction of the price you would normally pay, and the masseuses are well-trained and will have you feeling zen in no time.
I went to Let's Relax spa, a chain spa all over Thailand and they are known for their 'relaxing touch.'
Let's Relax has recently also been voted to be The Most Admirable Thai Spa Brand at the Best of Thailand Awards voted by Chinese Tourists Award 2015, and as been selected as Thailand's Most Popular Day Spa.
This is because the prices are affordable, and every spa is exquisitely designed, with the staff friendly and professional.
I paid about £16 for an hour long Hot Oil Thai massage, and have never felt more calm and relaxed.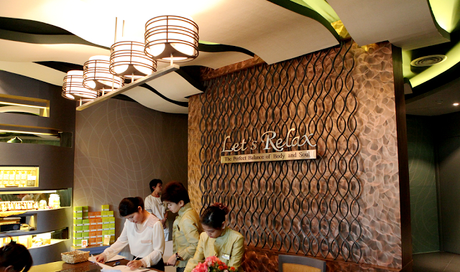 AAAND did I mention that you get mango sticky rice after your massage? Talk about being pampered.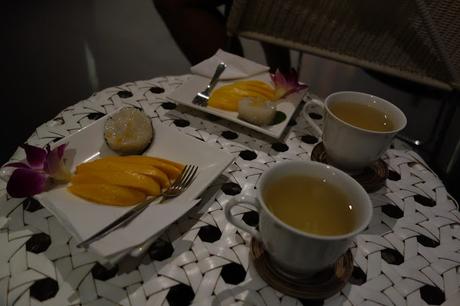 Someone take me back to Thailand STAT!