Laura and Jamie were mar­ried at Gate Street Barn in May. Their wed­ding style was old Eng­lish shabby chic. The lovely Sam Clay­ton was their wed­ding pho­tog­ra­pher, and she did the most amaz­ing job. I saw this wed­ding on face­book and — well, let's not be shy about this: I begged Sam for the images to show you on Eng­lish Wed­ding Blog. She said we could have them… It made my week!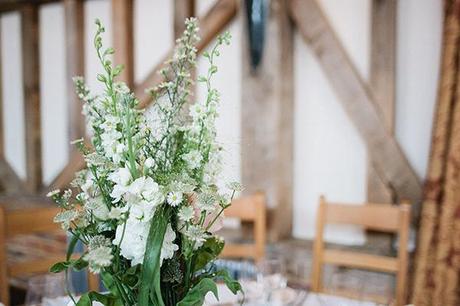 Sam sent quite a lot of beau­ti­ful pic­tures from Laura and Jamie's big day for me to share. There are so many incred­i­ble moments, fab­u­lous details and stun­ning images I'm shar­ing this wed­ding over two days. I couldn't share any fewer than 100 (and spook­ily whit­tled it down to exactly this num­ber!) Today I'll show you 'before the wed­ding' — Laura's Jesus Peiro wed­ding dress, Hetty Rose bespoke shoes, that wed­ding ring smug­gled over from San­torini… this is all so exquis­itely beau­ti­ful. Enjoy. x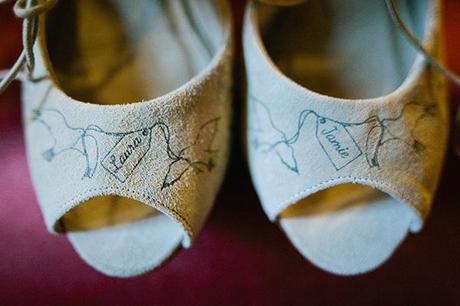 Laura and Jamie: before the wedding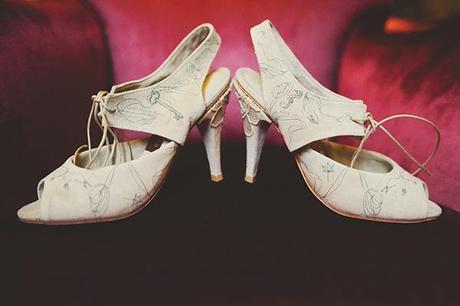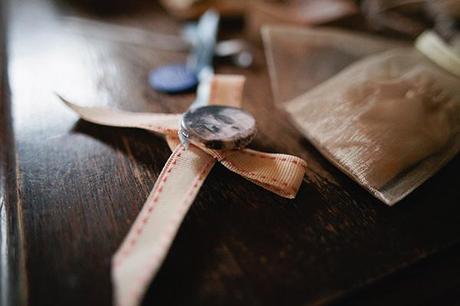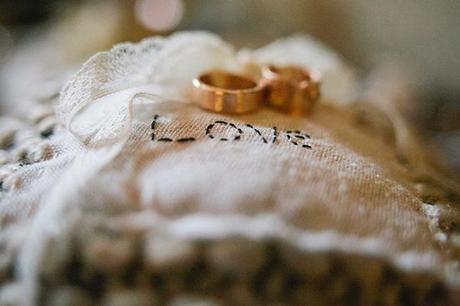 Who pro­posed, and how?
Jamie got down on one knee, in our restau­rant, in front of every­one when Spain won the world cup 2010! He was watch­ing the game with his friends and fam­ily whilst I was all sweaty run­ning around serv­ing tables, so not very attractive!
He always joked that he would pro­pose if they won, but I didn't think he meant it! It was a com­plete shock. He had also bought the ring I had fallen in love with whilst on hol­i­day in San­torini, which I had seen in an art gallery, in secret and smug­gled it back. I was really touched, he is a secret roman­tic!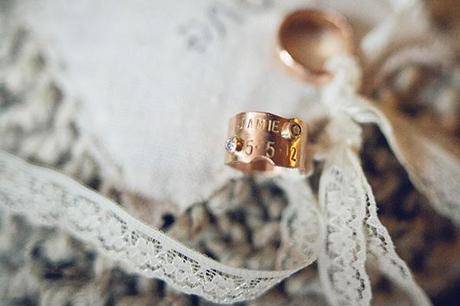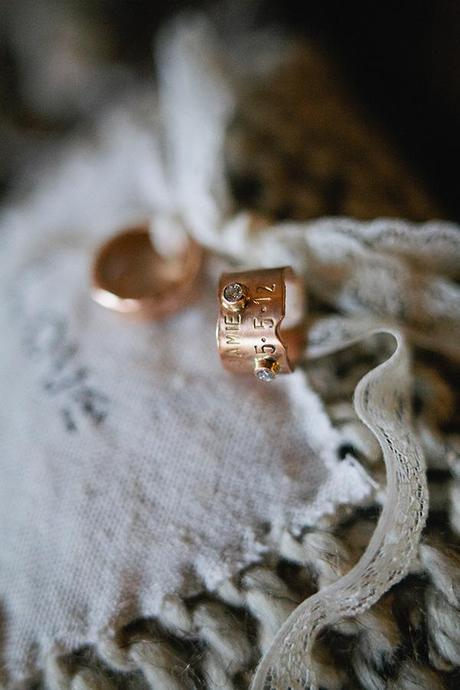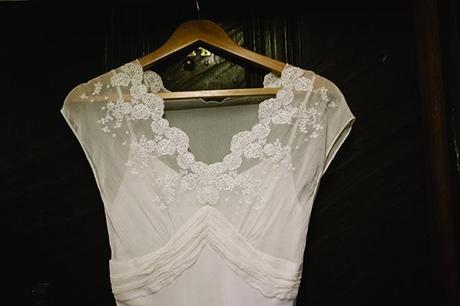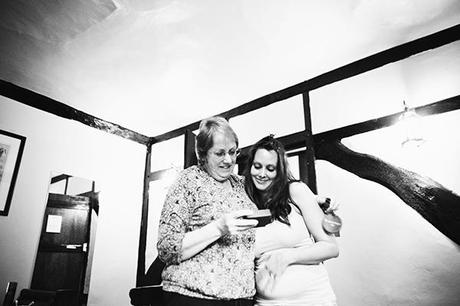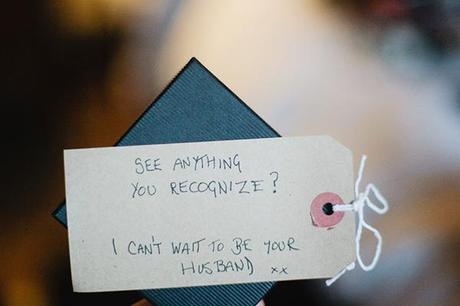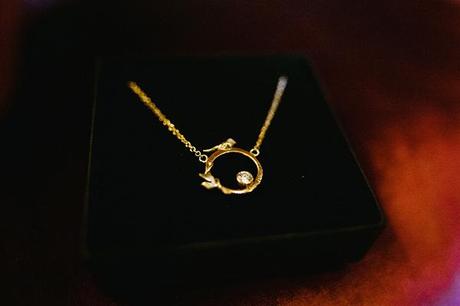 When I opened up my present from Jamie on the morn­ing of the wed­ding, I couldn't believe what he had done.
The engage­ment ring he had bought from San­torini sadly broke, and when fixed never looked the same, so we bought a dif­fer­ent one.
I had kept it, not know­ing what to do with it. He had secretly taken it to Jessa at Flux n Flame (where we made our wed­ding rings) and asked her to make it into a neck­lace for me. It was so 'me', I knew Jamie knew my taste, but jew­ellery is such a per­sonal thing. I was blown away by it.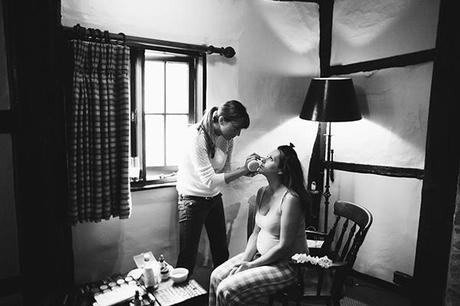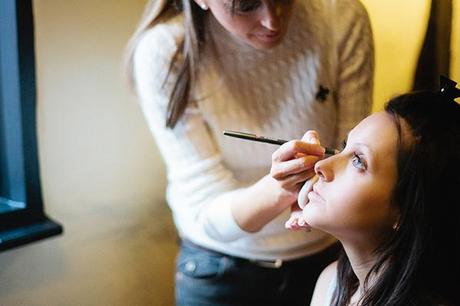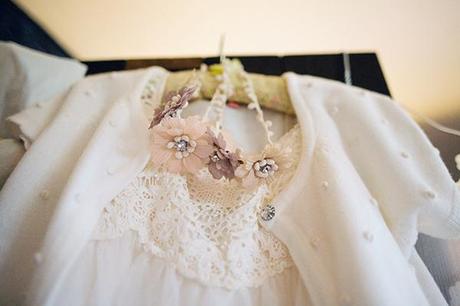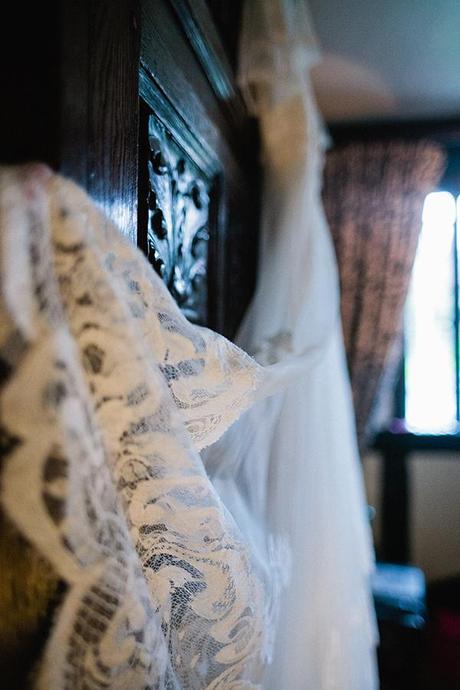 My wed­ding dress is by Span­ish designer Jesus Peiro. I bought it before I became preg­nant, so there were a few addi­tions to it on the way!!
Shay Har­ris who I bought my dress from was so patient and kind, and was a bril­liant seam­stress to boot.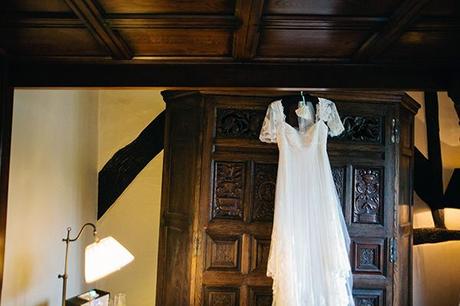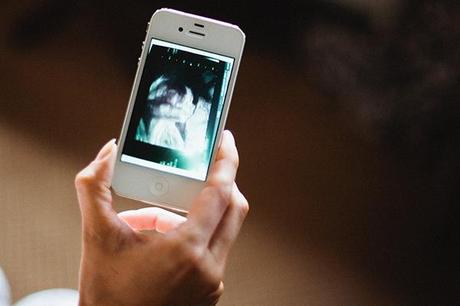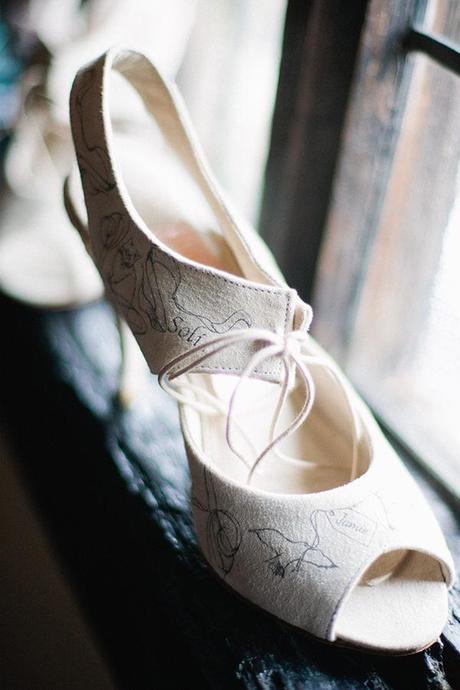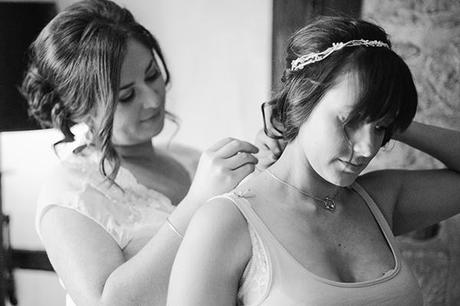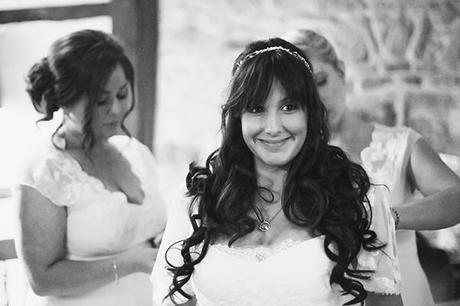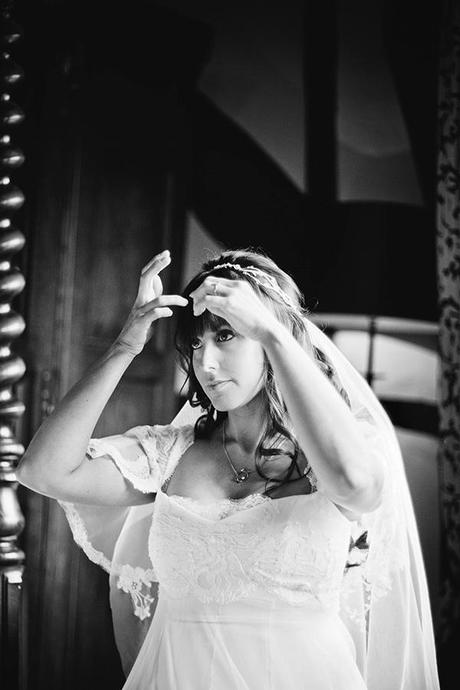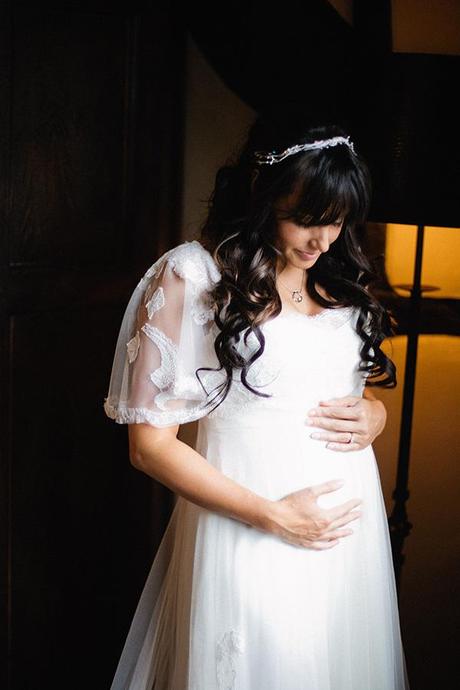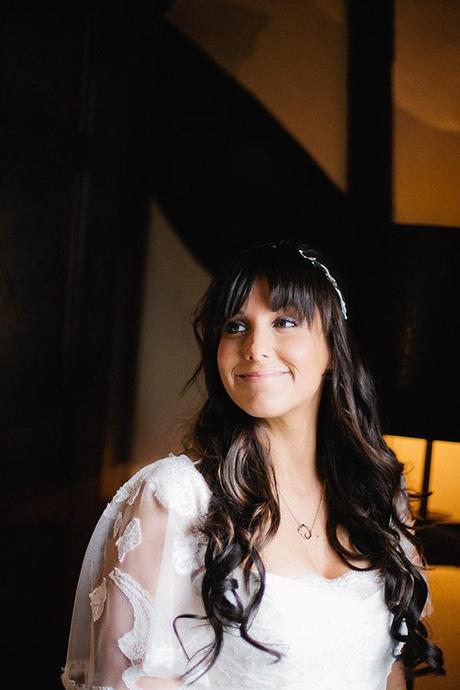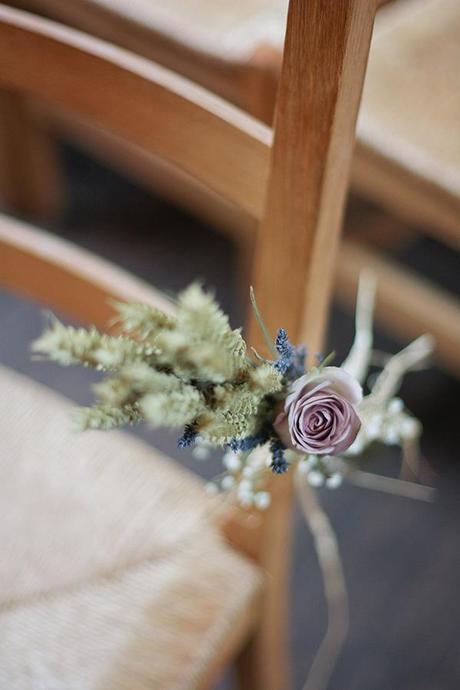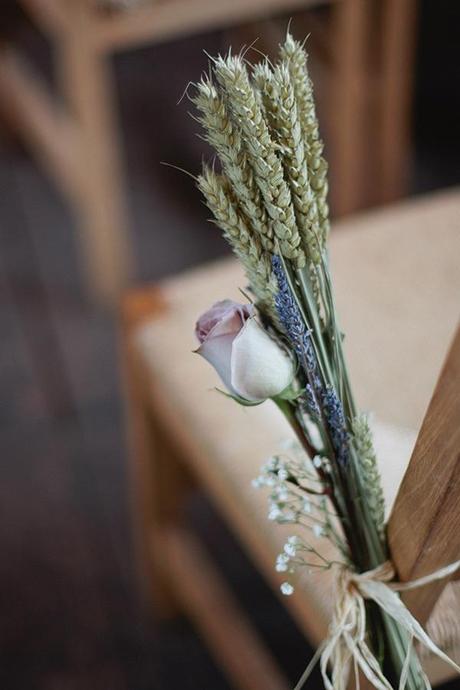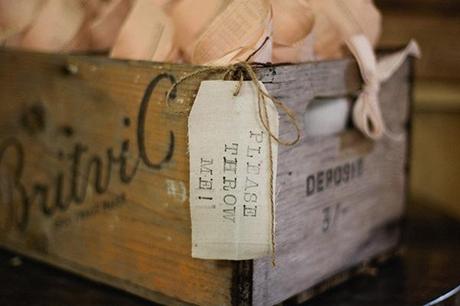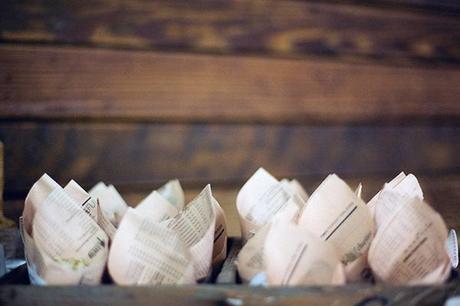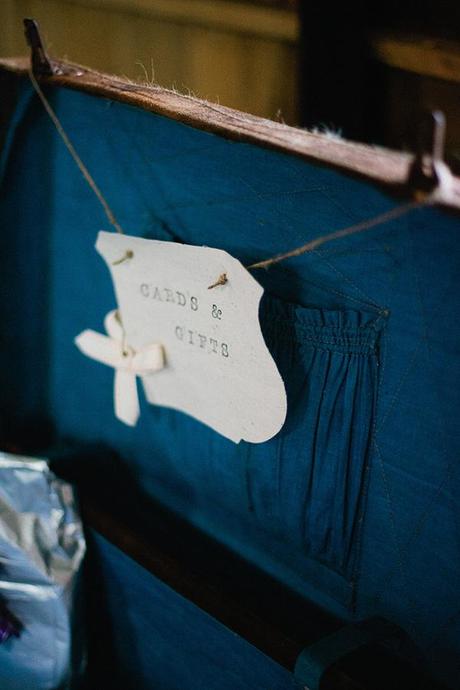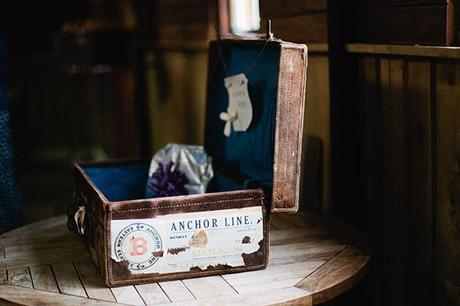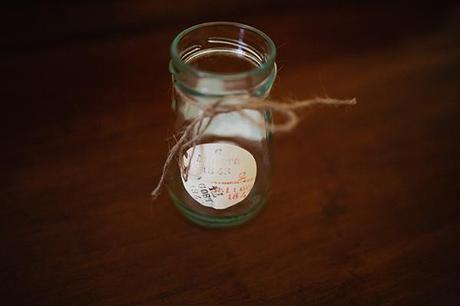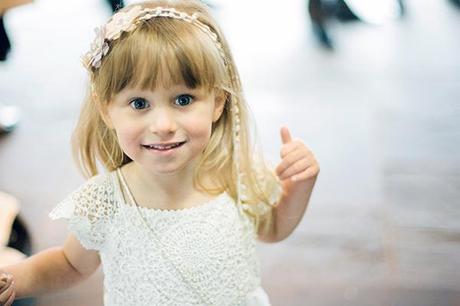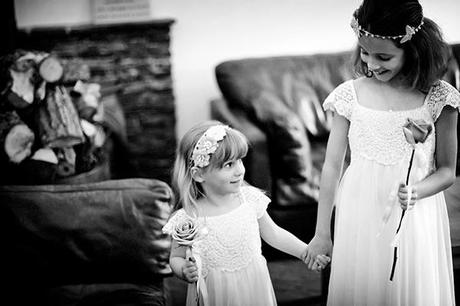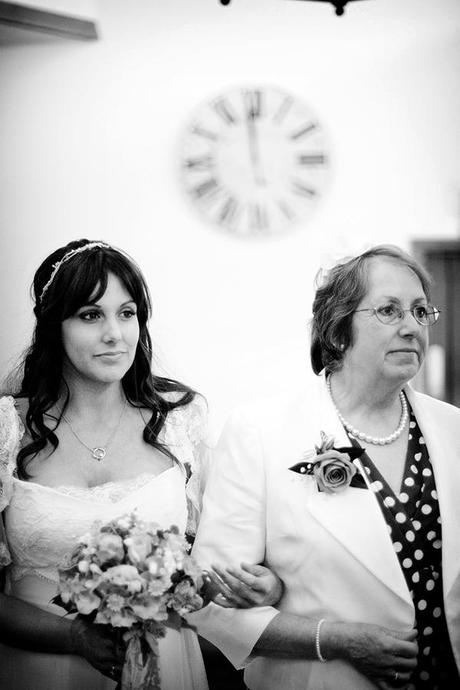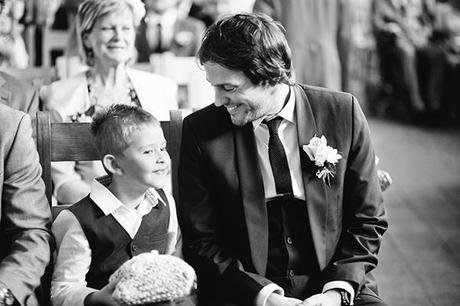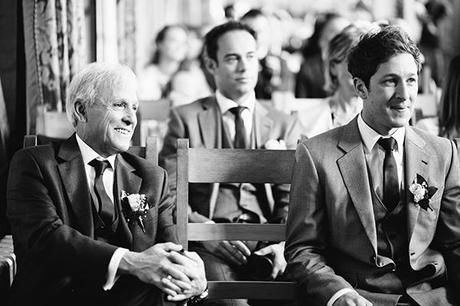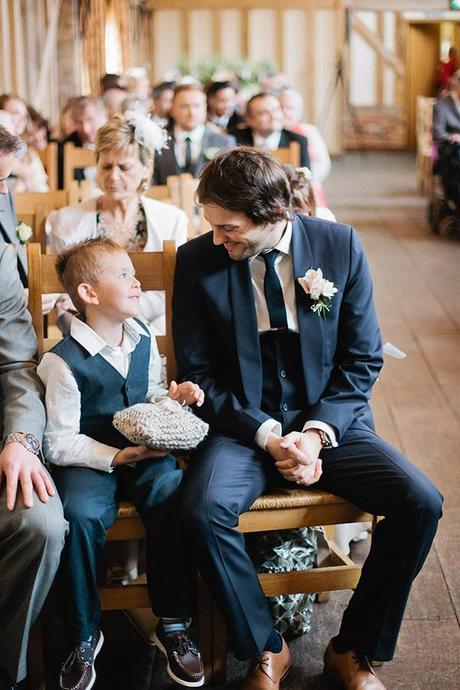 Wed­ding venue: Gate Street Barn
Wed­ding pho­tog­ra­pher: Sam Clay­ton (she was amaz­ing, I love my pictures)
Rec­om­mended wed­ding suppliers: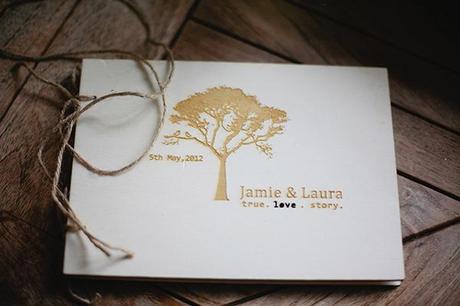 All of Laura and Jamie's details are com­ing up tomor­row on Eng­lish Wed­ding Blog — from the wed­ding cer­e­mony through to all of Laura's beau­ti­ful cre­ative
DIY
bits and pieces… and I promise you won't want to miss those!
Pop back at 11 in the morn­ing — hope I'll see you there

Have a gor­geous day and keep smiling.
Claire x