Zest Air (IATA: Z2) is the fourth largest airline in the Philippines in terms of passengers flown, after having carried a total of 1.23 million in 2010. Formerly called Asian Spirit, the airline now operates a fleet of relatively new six Airbus 320's and four Xian MA60's.
In the many miles I have flown, I haven't tried Zest Air mainly because their offers aren't tempting enough to lure me. I also had a dissatisfying experience of having a flight canceled with no satisfying compensation but a refund, so I didn't try too eagerly to book with them anymore. Yet I finally had a chance to ride with them on a promo fare from Cebu, and I write what my Zest Air experience is like from booking to landing. Read more…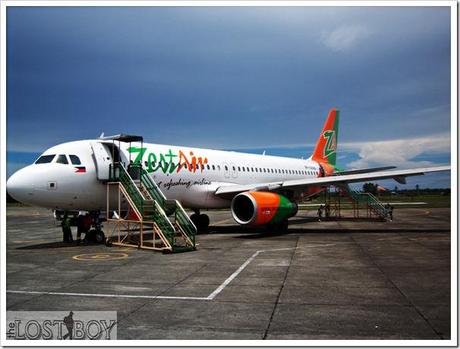 ONLINE BOOKING
As in any of the other major airlines in the Philippines, their online booking engine, managed by Sqiva, is secure and user-friendly. However, I cannot help but compare their limited payment options, Visa and MasterCard only, to the multitude of payment options offered by competitor, Cebu Pacific, which include credit cards, ATM cards, online banking, and over-the-counter payment centers. Filling up all the information is easy, but a field for connecting flights is unnecessary, since they won't be liable if you misconnect anyway.
I would also like to note more importantly that while the e-ticket says that a copy of the terms of carriage is attached, Zest Air does not provide a copy nor is a link easily found on their site. The only chance you could read through them is before booking, but you are given no chance to review after you book. They should understand the importance of this document, as it states their policies and liabilities and our rights and responsibilities as passengers.
RESERVATIONS HOTLINE/CUSTOMER SERVICE EMAIL

I was surprised at how my schedule is not included anymore in their timetable, and they did not try to notify me. I called up reservations to check what options are available around 4PM on a weekday, and it took me around 20 minutes to get through. While friendly, the representative I had the chance to talk with had very limited knowledge about policies regarding post-booking transactions, like what options can be given if a flight has been canceled beforehand. She referred to her manager, and I was given the option to rebook only the affected flight. I deferred my decision.
I emailed customer service regarding my situation and requested that I be given the option to rebook both flights, since that is the common practice with airlines. I received no response and decided their customer service email is nonexistent. Why post it on the website then?
TICKETING OFFICE
In an unexpected turn of events, I was stranded in Cebu without a ticket going back to Manila. I went to Zest Air's non-agent ticketing office in Mactan-Cebu International Airport and asked if my flight can be rebooked with fees waived because of the cancellation. Good thing, the supervisor permitted my rebooking without hassle. I recommend visiting their ticketing offices should you have any queries regarding your booking, instead of waiting on the reservations hotline or contacting them via their inexistent customer service email.
AIRPORT CHECK-IN
I checked-in an hour before my supposed time of departure and was surprised at how kilometric the line was. Even with two counters serving a singular Airbus 320 flight, I was wondering how it was taking too long to check-in. My turn came and I got my boarding pass with my front row/bulkhead window seat request accommodated to seat 1F with no charge.
On a related note, I would like to underscore that they really require passengers to show a clear copy of the credit card by which the ticket was purchased and an ID of the cardholder per their policy against fraud. Even though I bought the ticket with my credit card, I had to repeatedly scramble through my bag to look for my credit cards, since I can't remember what card I used. Avoid the hassle and secure those copies.
FLIGHT DELAY
I soon found out that my afternoon flight is delayed. I overheard a passenger saying that the aircraft was delayed in Tacloban. Zest Air, from what I've heard and read, is notorious for delays and cancellations, thus I feared that I might suffer the same. A Mactan airport employee alluded to my fear, noting that before, six hour delays with Zest Air used to be common on evening flights from South Korea. However, the same employee said that they are now starting to recover and be back on track.
Our flight departed 50 minutes after the scheduled time of departure. I was thankful the delay wasn't that severe, although an hour could have meant a lot to others.
BOARDING
Unlike their competitors, Zest Air does not have a systematic way of boarding their guests. Once the boarding call was announced, it was a free-for-all. The aerobridge was stuffed with people, and they were only using the front door instead of having the other passengers use the tarmac to board using the rear door. We were delayed, and it could have helped us depart faster. It took a while for me to get in.
AIRCRAFT CABIN INTERIOR
The relatively new Airbus 320 I rode had red leather fitted seats, which in my opinion, is a bad, cheap-looking choice of color. My front row bulkhead seat had the usual comfortable seat pitch and I was able to stretch my legs. The cabin temperature was cold enough to impress me.
INFLIGHT SERVICE
I noticed that they had one cabin purser and only two regular cabin crew. While usual aviation laws require one cabin crew per fifty seats, that is rather off, as the common practice among airliners on Airbus flights, be it 319 or 320, is a total of four cabin crew. However, the service was commendably all smiles and friendly.
A limited choice of food is available also at the typical budget carrier price: 50php for a soda and 60php for coffee. What I took note however is their excessively wide selection of souvenir items from bags to flip-flops to shirts.
INFLIGHT MAGAZINE
I took Zest, their inflight magazine home, so I can peruse the material and comment on it. Published every two months, it has little lifestyle and focuses more on featuring destinations on their route network. I like how they allow contributions from travelers. At the back is a list of Philippine festivals.
ARRIVAL AND BAGGAGE CLAIM
The flight was uneventful, and we landed at the Ninoy Aquino International Airport in Manila at 7:40PM. Zest Air is one of the two major airlines, the other one being SEAIR, that use the old Domestic Terminal of the said airport—a blessing and a curse at the same time. It is a blessing because only two airlines use the terminal, thus congestion is limited, while it is a curse because the other two Philippine budget carriers use NAIA Terminal 3, the most modern one.
Baggage claim was prompt. I believe it helped that my flight was the only one the terminal and the airline were handling.
RECOMMENDATIONS
It has been confirmed that Zest Air will be adding four more Airbus 320's this year, as part of their Php10-billion expansion program. However, before they expand to a fleet of ten Airbus 320's, I hope their management would read the following coming from a passenger:
The management should understand that a delay is a delay, and a delay is always unacceptable. I didn't mind the 50 minute delay, however they should understand that a 50-minute delay could have meant a lot to others. I hope they improve and streamline operations, so delays and cancellations would be avoided. They wouldn't and shouldn't always get away with a scripted apology from their cabin pursers.
Moreover, they can't just cancel flights without or at late notice. I just let it slip because as a frequent traveler, I am accustomed to checking and confirming my flights beforehand. But not every passenger is like me. Let me compare them again with their competition, Airphil Express and Cebu Pacific, who would repeatedly notify their customers to the best of their ability and at the earliest opportunity. Canceling and changing schedules may mean rebooking of connecting flights, cancelation of hotel reservations, and sudden change of travel plans.
They should also try to be more consumer-centric. I've read online a lot how people were frustrated and sometimes even wildly infuriated with their service, delays, and cancellations. Even if it is not their fault, they should be a little giving with their passengers. I understand that as passengers we have agreed to their limited liability, but they should throw a free meals or free flights here and there. Since the trend seems like whoever offers the cheapest fare wins the peso of the passenger and Zest Air isn't usually the cheapest, they should excel in passenger satisfaction instead.
I find their online promotions to be not as enticing as the other carriers. Throw in more gimmicks and remember that passengers do not book only promo fares. I would most likely check first a carrier who I know offers the best promotions, even if I were booking a full fare. In the process, they will be able to build a loyal consumer base, which would be useful in their planned expansion.
VERDICT
I think Zest Air could do well sans the delays and cancellations, as I've observed that it's their biggest detriment. I understand that with their small fleet, delays cannot be prevented, hence aside from streamlining their operations, they should also aim to please their passengers. If the two other budget carriers are aggressively battling it out to giving out the lowest fare, then Zest Air should instead set aside itself as a budget carrier that will go above and beyond to please their passengers.
I was satisfied with my experience overall, and I would definitely ride with them again if the fare is cheap. But should I experience a six hour delay or a cancellation due to their fault, I would most definitely rethink this.
Hope we'd see major, major improvements Zest Air.
How was your Zest Air experience? Would love to hear from you. Please leave your comments, good or bad, below.