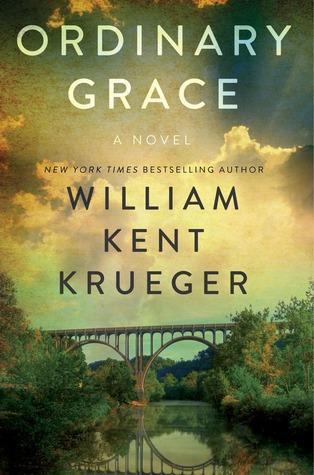 Ordinary Grace
by William Kent Krueger
Published by Atria
On March 26th, 2013
Genre: Fiction, Literary
Pages: 307
Source: purchased
Visit Goodreads
Buy the Book from IndieBound
This is a book I've been trying to get to for over a year and finally finished it on the plane to Virginia.  Let me preface by saying if you get embarrassed easily sobbing on planes then this is not the book to read in public!
Twelve-year old Frank and his younger brother, Jake, are on the cusp of adolescence in the summer of 1961 New Bremen, Minnesota.  Their adored older sister, Ariel, just finished her last year of high school and is preparing to enter Julliard in the Fall.  Their father is a much-loved Methodist minister who was going to be a hotshot lawyer until the war changed him.  Their mother married the hotshot attorney but ended up as a minister's wife, something she didn't sign up for and did not relish.
The summer begins and ends with death and the curiosity of the son of a well-informed minister has ample opportunity to do his own investigating.  The novel is about growing up, miracles and tragedies and how God figures into one's life.  There are those who rail at God, some who don't believe and others who find the smallest miracles make the most difference.
There was a playwright, Son, a Greek by the name of Aeschylus. He wrote that he who learns must suffer. And even in our sleep pain, which cannot forget, falls drop by drop upon the heart, until, in our own despair, against our will, comes wisdom through the awful grace of God.
More literary and character-driven as opposed to action-packed, though with four deaths that is pretty darn action-packed.  A coming-of-age novel for those who question where God is when bad things happen.  Ordinary Grace is mainstream fiction, not marketed as Christian Fiction and rightly so, but it IS a novel that grapples with faith in a very human way.  At times the description was so, well, descriptive, and I wanted to know what happened next, that I got a bit frustrated with the pacing.  Still, well worth the time to read and the strange stares of those on the plane!
Ordinary Grace spins us into the inner-workings and outward actions of man and is a great read for anyone who likes The Art of Fielding by Chad Harbach, Those Who Save Us by Jenna Blum and A Thousand Splendid Suns by Khalid Hosseini.
Let's Discuss!  Do you read more character-driven or plot-driven novels?