December 5, 2013, admin, Christmas, Food, Reviews, , 0
It is always nice when I get offered some treats for Big Mr A and I to review so when Hotel Chocolat asked if I would like some of their Christmas chocolates I didn't hesitate in saying yes!
I have to confess I have never actually tried any before but I had heard good things so was excited to give them a try.  I can honestly say we were not disappointed!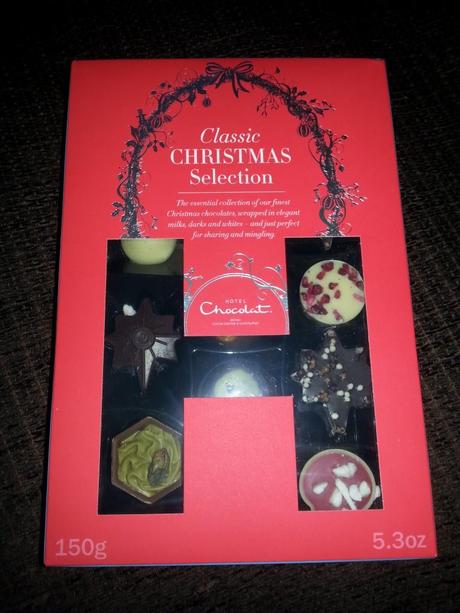 We were sent the H-Box Classic Christmas Selection which includes 14 indulgent milk, white and dark chocolates….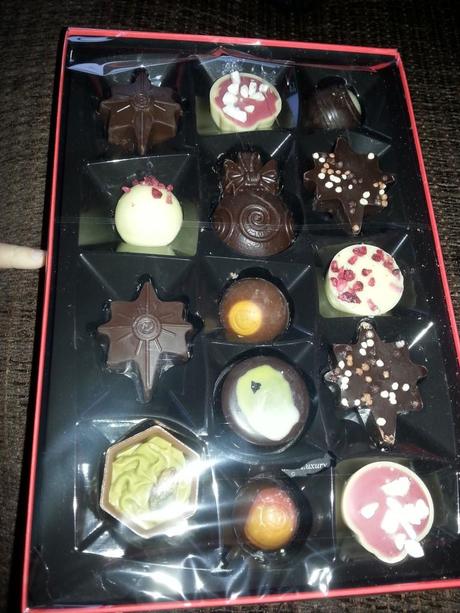 Chambord Royale – A real Champagne truffle blended with black raspberry liqueur.
Christmas Mess – Fabulously fruity cranberry ganache and strawberry mousse with meringue sprinkles.
Cranberry Cup – Invigoratingly tangy cranberries blended in a more-cocoa white chocolate ganache.
Rum Punch -A creamy milk truffle with ginger and orange and lashings of premium Jamaican rum.
Nutmeg & Almond Praline – A creamy milk truffle with ginger and orange and lashings of premium Jamaican rum.
White Chocolate & Vanilla Bell – Cast in our exquisitely creamy more-cocoa white chocolate with vanilla essence and seeds.
Dark Christmas Tree – Cast in our classically smooth dark chocolate with deep aromas and punchy cocoa notes.
50% Milk Bauble – Deeply chocolaty but still gorgeously milky – made with less sugar and more cocoa.
Pistachio Praline Crunch – Pistachio praline with cherry pieces and a hint of rose crowned with a whole pistachio nut.
Mulled Port – A deliciously warming truffle with our own ruby port, spiced with Pimento leaf and bitter orange.
Marzipan & Amaretto Truffle – Fine almond marzipan softened with a splash of mellow amaretto.
Caramel Supernova – A star of oozingly soft caramel paired with our 70% dark chocolate.
Praline Crisp Star – A rewarding contrast of smooth, mellow praline and masses of nibbly feuilletine.
The chocolates are suitable for vegetarians.
All of the chocolates were delicious – very creamy and indulgent.  They would make a great gift for any chocolate lover or just as a really nice treat to share with someone special.
Priced at £12.50 I think they are great value for the amount of chocolate you get and the quality of them and the price is certainly in keeping with the more premium boxes of chocolate on the market.
Next time we are out shopping I won't just be walking past Hotel Chocolat, I will be going in!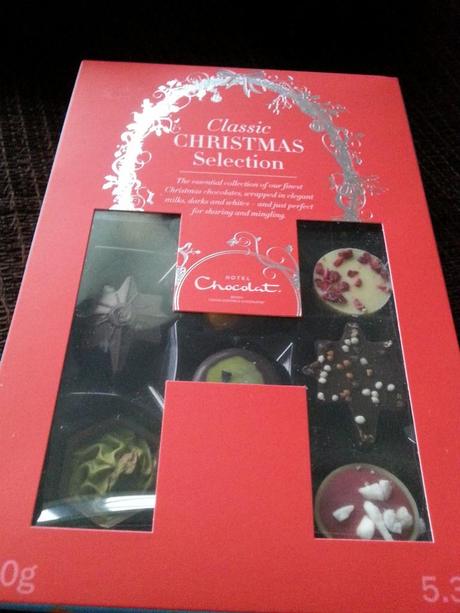 Disclaimer – We were sent the above box of chocolates in return for our honest opinion.  All photographs were taken by me and are not to be used without my permission.