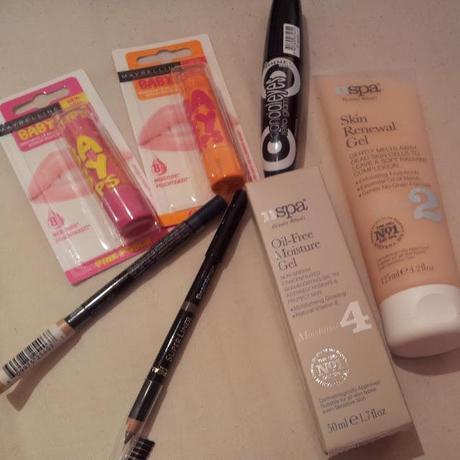 Life had been so busy recently and I have been lacking in the post department again. (bad blogger) Though not too busy that I didn't have time to quickly pick up a few things at work today. (plus a couple of bits from Asda yesterday)
We had a huge delivery of make up at work today and some of the new lines arrived. This of course made me squeal with happiness and my bank account run into hiding.
The first things I grabbed was two of the new Maybelline Baby Lips which have been causing quite a stir with bloggers. These were launched in the US ages ago and are finally available here. I picked up Pink Punch and Cherry Me and I am already seeing why they get so much hype as they are lovely.
I then picked up the new Rimmel Scandaleyes Retro Glam Mascara as I seem to be a little mascara obsessed at the moment and I want to try them all out. I am not usually a huge fan of Rimmel Mascaras so we will see if this changes my mind.
Revlon are bringing out some dual ended Photo Ready Kajals that have a nude color one end and a coloured liner the other. I picked up the shade Emerald Empire and I can not wait to try it out.
Lastly from Boots I got one of the new L'Oreal Super Liner Brow Artist Pencils in 02 Blonde. This is another dual ended pencil, with a wax at one end and a the brow pencil at the other. I will be giving this a test run first thing tomorrow as it seems like such a great idea.
Lastly I picked a two things up from the nspa Range in Asda yesterday. I have heard fab things about this range and they were on an offer of 2 for £8 so I of course picked up two items. The Oil Free Moisture Gel and the Skin Renewal Gel. I am going to give these a go tonight and like with all these products will get back to you with a full review.
Let me know if you have tried any of these or what you have been buying recently?