Circumstances–namely a full day's work and a luncheon engagement,  followed by church choir practice–have prevented me from writing a review of the splendid Butterfly I saw at the Kennedy Center yesterday presented by the Washington National Opera (WNO) today. Instead, I'll offer a piece of information on a tidbit from the opera program that intrigued me mainly because of its incongruity.
According to the program notes in the playbill, Madama Butterfly was not well received when it premiered in Milan, Italy, in February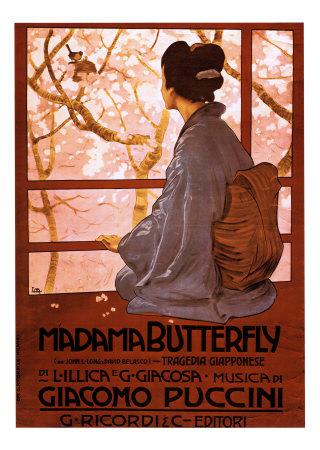 of 1904. Not well received? Really? In fact, it is said to have flopped.
What a surprise to learn this about the premiere of this opera, especially since Butterfly followed two great successes for Puccini in La bohème and Tosca. I consulted several of my favorites sources as to why this would have been so.
No one is quite sure why it was a resounding failure. Paul England suggests the following reasons:
the Italians didn't like Japan as a stage setting–too unfamiliar;
the original cast of singers was inadequate;
originally the opera was only in two acts;
Pinkerton's role was too thin–eventually Puccini added an aria for him in Act II.
Only a few months later, a revised work, slightly shorter with Act II  now in two parts, was presented in Brescia, and was a resounding success, and would continue to be regarded as such ever after.
According to Opera America, Madama Butterfly is the most performed opera in North America today. With performances like the WNO's yesterday at the Kennedy Center, it's no wonder.