Friday February 22, 2013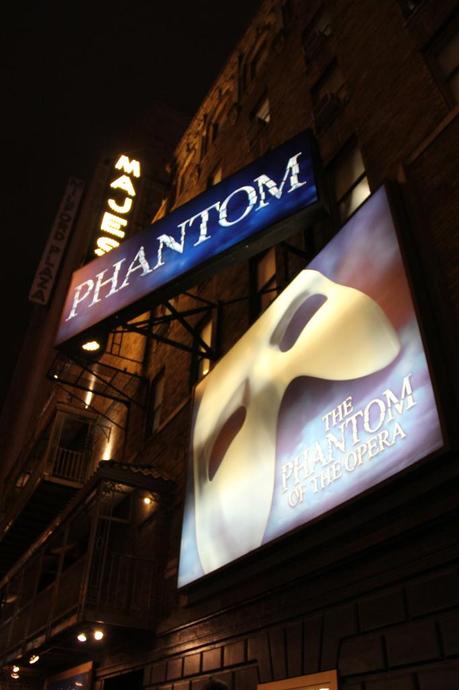 When I was a little girl, my parents went to see Phantom of the Opera, and they came home bearing a soundtrack of the performance.  My sister and I started listening to it, and we quickly grew addicted.  We played this soundtrack day after day, memorized all the songs, sang them around the house, and fantasized about the day that we would get to see this show ourselves.
Fast forward to about a month ago.  The hubby and I now live in the Big Apple with Broadway at our fingertips.  We decided that we were going to check this item off my bucket list, and we bought tickets as our Valentine's Day present to each other. To say I was excited would be an extreme understatement.  I skipped around the city for the past month giddy with anticipation.  I played the songs around the house to get Zack as equally pumped up for the show (well maybe not equally.)  I counted down the days until I would finally be able to see the show of my dreams.
Well, let me tell you.  It was everything I had dreamed of and more.  The sets were absolutely stunning.  The acting was superb.  The music was phenomenal.  You know how you wait for something for so long (almost your whole life), and the excitement builds up, and then when it finally gets here, you are just overcome and overwhelmed with emotion?!?!  Well, that was me on Friday night.  Blubbering in my seat to all of my favorite songs that I had been waiting to hear live for all these years.  I almost felt silly for tearing up at a Broadway show, but I just could not believe that I was actually there seeing Phantom on Broadway.  Before Friday, I only knew the music.  Now I could put faces and emotions and stories to the tunes.  It all came together, and it was just perfect.
I cannot believe it took me that long to see this show, but I will say that it was worth the wait.  I will also say that I am pretty sure there will be a "second time" of me seeing this show.  So Angela, (my little sister) you better get your butt up to New York.  You have no idea what you are missing!