A well organized wedding resembles a roof that is hold by strong pillars. Removing the pillars the roof will collapse. Not building consistent size pillars makes roof collapse. The pillars are as important as the roof itself. Lets explore the 9 pillars of a successful and happy wedding: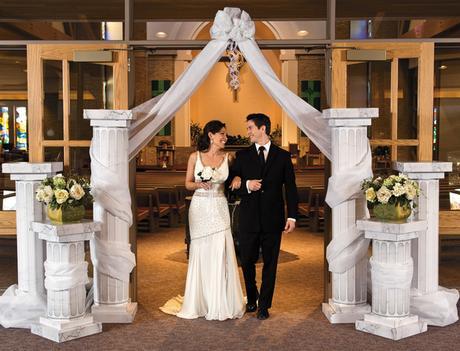 cc:image source
Wedding Planner:
A wedding without the wedding consultant and planner is compared to a soccer game without a talented coach. The coach manages the team, organizes strategies, and plans every forward move to make the winning game. A professional wedding planner is the wedding coach and consultant who manages every angels of predicted and unpredicted events. These important role players also help hiring other important pillars we discuss below and negotiate a great rate to the wedding budget.
Caterer and Food:
Wedding guests always remember what food was served at the wedding. This is an opportunity to gain an unforgettable wedding day combining a good time and good food. Specialized wedding caterers provide a variety list of menus, taste, and culture to fit with the wedding theme and budget.
Entertainment and music:
No wedding is complete without dancing and having great time with family and friends under one roof. Wedding entertainers are coming in many ways.
* Dj
* Live music band
* Dancers and performers
* Magicians
Most wedding entertainment companies offering individual or combined packages of these professionals.
Venue and accommodation:
The place where the wedding is hold and booked is as important as any other pillars on this list. Whether having a small wedding at a private house or a large banquet service venue, it must match the budget, theme, and distance of the guests to accommodate every needs. It is also important to consider outdoor or indoor venue for the wedding planner to manage the rest of the professional pillars.
Decor and floral design:
All weddings regardless of their theme and culture are glamorous and beautiful. Most of the wedding glamour is based on the wedding decor and floral arrangement.
Beauty and Makeup:
Makeup, hairdo, manicure and pedicure are crucial and super important for every bride. Without a professional and specialized wedding beauty professional, results can be horrendous and disastrous.  They can make or break these most important day of bride's dream.
Transportation and limousine:
No bride and groom can walk to their chapel. The require assigned transportation. Depending on the culture, even in the far east, bride and groom use beautifully decorated traditional animals like elephant and horses to get to the main event. Limousine companies are specialized in many taste and culture and depending on your theme and budget can offer the best solution. It is important that the limousine company works with direct relation with the floral design artist.
Wedding dress and outfit designer:
From the young age every bride dreamed of having the best, the cutest, and the most beautiful wedding dress. Their dream is also covers grooms handsome look and his and her brides maids and best men. A professional wedding tailor or wedding dress designer can make this long awaited dream to come to reality.
Photographer and videography:
A beautiful dreamy wedding must be captured in the memory frames for years to come. A professional wedding photographer helps makes this memory lane to live for many years in the best way. A lost frame can not be repeated. An skilled wedding photographer is a must to produce the best result since no photographer can ask a lost moment in wedding to be repeated.

Axel Ziba
Axelan Ziba is an author and researcher. He is specialized in business marketing, development and is a small business owner. He learns as he writes by researching and interviewing experts and professionals in many categories and topics. Join him in Facebook and become part of his pro network in LinkedIn All Axelan Ziba article's authored exclusively for BidsByPros.com All rights reserved. If sharing, credit Bids By Pros in article source.