I have been to the Golden City a total of three times in my life, and the last two times were over a span of 25 days. A visit to the Golden Temple took me to Amritsar but my love for food took me to 10-11 places in the first visit itself (which was for about 20 hours in Amritsar).
A problem that I faced was to narrow down on 3-4 meals from the best places in Amritsar. I researched a lot, read so many blogs, spoke to so many people, and made a list of 12 places that I aimed at covering. When I visit a new city/town, I make it a point to be thorough with my research, but a research on Amritsar is of no use if you don't spend at least a week here. It's only then that you can come close to doing justice to the brilliant food here. 
I have still attempted to make a list of places that you should blindly go to when in Amritsar. And considering how most people only go for the Golden Temple visit and have a thing for going to Wagah Border too, they have a hard time in deciding those 2-3 places that are a must visit in their short span of stay. Hopefully, this list should help you with that.
I went to each one of these places and tried their food over 2 different occasions, and I can confidently say that for me, all of these were nothing short of crazy. So here are the best places in Amritsar to eat at, in no particular order.
1. Kanha Sweets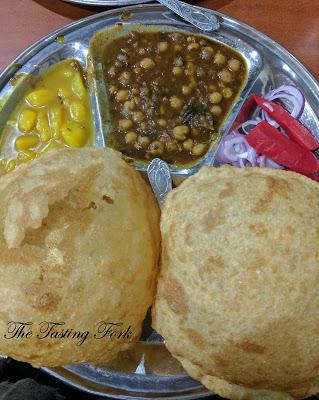 The shop that's famous for its crisp and light pooris, served with chhole and kalonji. Kalonji is an aloo ki subji that's sweet and tangy, and this was the first time I had kalonji somewhere. Try having all three together or separate bites with chhole and kalonji respectively. You're not allowed to share your plate of poori here because the subji is served as many times as you want. School kids, locals, tourists, everyone frequents Kanha Sweets and it justifiably so should be your first stop in Amritsar!! The pooris are so thin and light, and the chhole nothing like you get in the cities.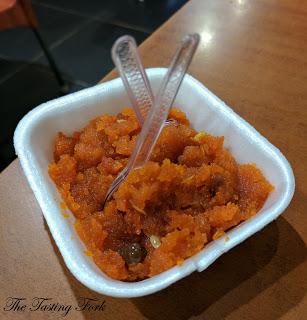 Kanha Sweets has a decently sized indoor seating area, and right before you enter, you can see two men working on the pooris and frying them. Do not come back without having their famous Halwa which is essentially suji ka halwa with a red color put in it, but is so so good in taste. For those of you who like Lassi, they do an incredible lassi too.
Address: Shop 1, Lawrence Road, White Avenue
Timings: 8 AM-10 PM
Contact: 0183-2211518, 0183-2222855
2. Kesar Da Dhaba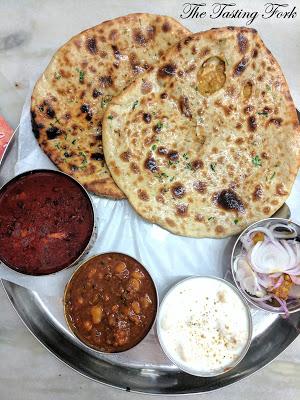 My most favorite pick out of the plethora of dhabas that are famous in Amritsar. Situated inside an extremely narrow lane, they have seating both on the left and right side of the narrow street, and a kitchen right next to one of the seating areas. Choose the seating with more light, as that's for families. The moment you enter you should order their thali!! Take your pick- parantha thali or kulcha thali. Both are irresistible and the subji is the same in both too. Chhole, Dal, Raita and salad is what you get in the thali, with two paranthas/stuffed kulchas. The thali is sufficient for 2 people if you have a decent appetite, but of course you should overeat when you come here.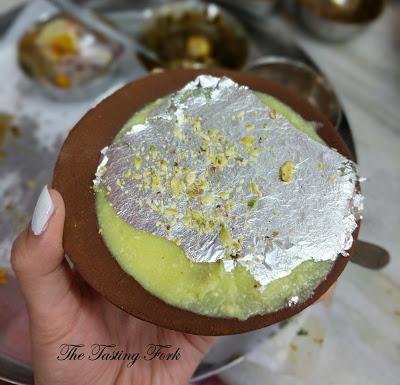 Apart from the thali they do dishes on ala carte too, both in half and full quantities. You cannot miss out on their Palak Paneer!!!!! The craziest Palak Paneer I have ever had! End your meal on a sweet note with their insanely famous Phirni
Address: Shastri market. Frankly there's no address that you can stick to. Ask the locals and keep walking, or take an auto rickshaw and he'll drop you right outside
Timings: 11:30 AM-11 PM
Contact: 0183-2552103, 0183-25322227
3. Beera Chicken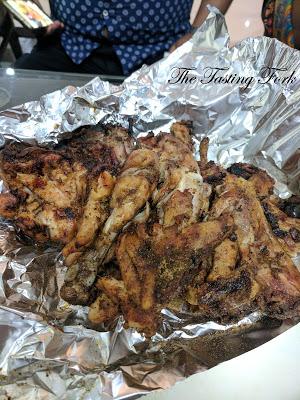 Beera Chicken deserves all the praise in this world. My life changed the day I had their Tandoori Chicken, also known as the Beera Chicken. Tandoori Chicken with a margination that's indescribable. God will not forgive you if you're a non vegetarian and you come back from Amritsar without having this. Period.
They serve in the car and also have a restaurant that is again divided into two floors- ground and first. Right next to Beera Chicken is Makhan Fish, which I didn't like at all, and this is when I visited them twice. So no, my taste buds can't be so screwed both the times. Overhyped and overpriced- can be easily given a miss.
Address: Majitha Road, opp Bandari Hospital (use google maps- takes you right there)
Timings: 3 PM-10 PM
Contact: +91 8566914747

4. A-One Kulfa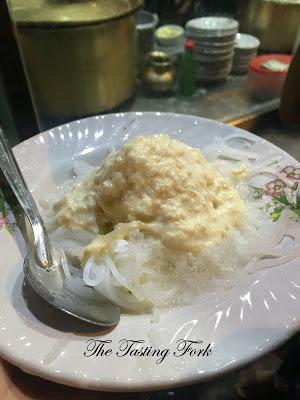 What is a kulfa? It's kulfi with gondh, kewra, phirni, falooda and sugar syrup. Don't go by this description, go to my Instagram page and see the video of the person making this kulfa from scratch. No description, no video can still do justice to what I'm trying to explain here. This kulfa is heavenly! You would have never tried anything like this in your life before, and there's a reason why it's called 'A-One'. Because it really is A-one. It's pure bliss, and I can go back to Amritsar only for this kulfa.
There are long queues of people here everyday, but weekends are even more maddening. People recognize his pictures on portals and social media with his exclusive plate that he serves the kulfa in. Please notice it when you go. It's quite royal for a kulfa for 60 bucks. Legendary in every sense!
Address: Queens Road, right before the red light on your right-hand side
Timings: 3 PM-11 PM
Contact: +91 9872101109
5. Sharma Sweets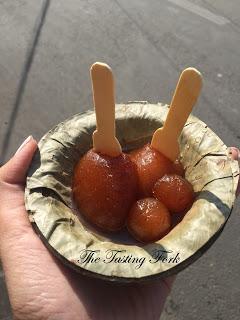 Sharma Sweets has always been famous for its gulab jamun and now for its jalebis too, but you have to be very careful of going to the original Sharma Sweets. The street bang opposite DAV Girls College has this shop, but the original one is towards the middle of the street. The one that sits on the right hand side of the beginning of the street is the guy who used to work with the original Sharma Sweets and then opened his own shop.
Have their Gulab Jamun that comes in two sizes, it is simply melt in the mouth! But don't go here as soon as the shop opens because they may serve you the previous day's stock. Go anytime after late afternoon.
Address: The lane opp. DAV girls college
Timings: 10 AM-10 PM

6. Gurdas Ram Jalebi Wala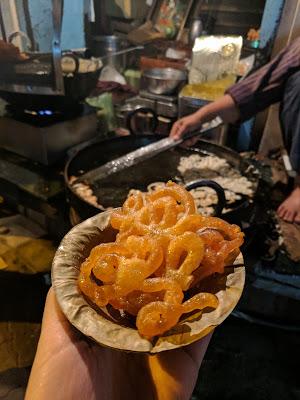 When you go to Golden Temple and come out and take a stroll in the market, also known as the townhall now, you simply have to take a left turn and go to the Jalebiwala Chowk. Why are we going here but? To have jalebi from Gurdas Ram's shop! This sweet shop has been so iconic, that the chowk (crossroad) was named after this shop. There are a lot of chaat shops and hawkers that have set shop at this chowk now, but the major crowd-puller still remains Gurdas Ram's jalebi. The best part about this sweet shop is that it hasn't let fame affect its operations. The jalebi you get here is always piping hot, because no matter when you go here, they're always making fresh jalebi. That's what makes this place so desirable. And the jalebi isn't overhyped. It really is good.
You may also want to go here for the legendary value it holds. There's a well dug up inside the shop that was used for taking out water for the sweets back in the day. It isn't operational now, but you can still see the well if you go in broad daylight. It's right behind where the jalebi is dipped in chaashni.
Address: Jalebiwala Chowk, Town Hall
Timings: 8 AM-11 PM
7. Kulcha land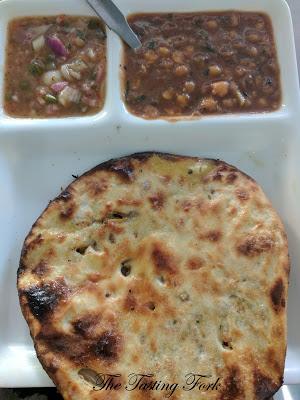 Situated right opposite MK Hotel, Kulcha Land is the most famous kulcha place in Amritsar, and that's exactly why you will see the tourists only coming here. You cannot describe the kulchas you get in Amritsar. They're flaky, they're crisp, they're extremely soft yet firm, they retain their crispness and have a tandoor char on them, they're stuffed with mix veggies and they come with lots of butter. There, I attempted a description, but they're beyond all these words. They're brilliant! And the chhole and imli ke pani wale pyaz are absolutely perfect! Something to note- places in Amritsar don't do variations of kulcha stuffings. They only have one stuffing and that's aloo. Unlike Delhi where you get aloo, paneer, gobhi and mix options, over here there's just one and it's out of this world! But at Kulcha Land you get an option for aloo AND paneer.
For someone who doesn't get this food in cities, Kulcha Land is insane. But for someone like me who likes to explore the smaller and local joints more, I preferred the other kulcha place I went to but my mom preferred this one. This is more hygienic, has a proper seating, the service is good, and so on. Hence, maybe why my mother liked this more. But Kulcha Land still remains mind-blowing good. And for the sake of people not falling sick from the kulchas at roadside dhabas, I will stick to Kulcha Land. 
Address: Opp MK Hotel entrance, Ranjit Avenue
Timings: 9 AM-5 PM
Contact: 0183-5050552, +91 9815078652
8. Durga's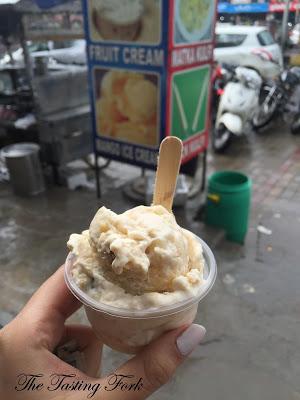 Situated towards the end of Lawrence Road when coming from the Kanha Sweets side, Durga Icecream is an icecream parlour that also has a lot of video games for kids. I went here only for one reason- to have their Fruit Cream. Creamy, velvety, slightly froze with crystals of ice coming in each bite, fruits diced and mixed in the cream. This isn't fruit cream but fruit icecream, but it isn't made with only icecream. The creaminess comes from the cream and like most things on this list, I do not have words to describe how different this tastes. A must must try!
Address: Close to the red light, main market, Lawrence Road
Timings: 10 AM-12 Midnight
Contact: 0183-2226766

I am yet to explore a gazillion more food joints in Amritsar. After all, there can be no comparison with the food you get here. It's pure, it's soulful, it's unparalleled. I already look forward to my next trip to Amritsar and this time it is going to be all about the hidden gems.Connect with me on:Twitter: @sahibagursahane
Instagram: 
@thetastingfork
Facebook: 

www.facebook.com/thetastingfork
Snapchat: @thetastingfork