We've tried to eat at 777 on Georges Street a number of times. They don't take reservations for groups of less than six people, just first come first served. One particular attempt to gain entry comes to mind. We arrived at 7.30pm looking for a table for three. The hostess looked at us rather apologetically and said she might have something if we came back at 10.30pm. That night we had a lovely meal in Havana!

There has been so much buzz about the place and so many great reviews that I was determined to try it out. So last week we did something we've rarely done before, we arrived at a restaurant for dinner before 6pm! When I walked in the door I was relieved to see the place was more or less empty. This time the hostess apologetically told us that they only seat groups of two at the bar. I loathe sitting at the bar, it's uncomfortable, awkward and difficult to chat. But, as I said, I was desperate to check this place out so we accepted.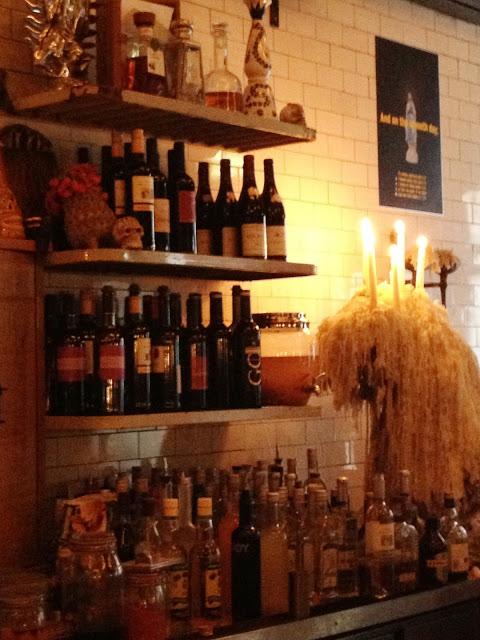 The interior is funky and utilitarian. Tequila bottles line the walls.
The music though entertaining is just a little too loud to be relaxing.
We looked at the menu even though I had perused it many times online, I practically knew what I wanted to order. The cocktail menu grabbed my attention more, it was a difficult decision but I opted for a Violencia Rojo while M had a Pirata Toxica.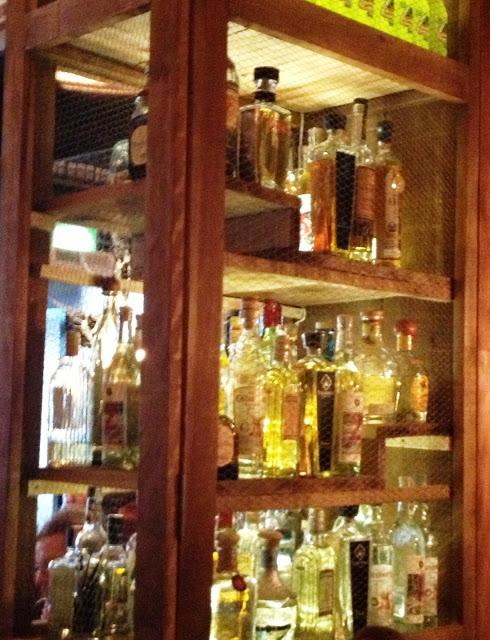 Just some of the tequila on offer in 777. I briefly threw my eye over
the tequila menu, it seemed to run into the hundreds! 
Perhaps I could have paid more attention to the menu or perhaps I should have left my assumptions about Mexican food at the door but I was very surprised when my starter and main course arrived together. I was doubly surprised when my main course turned out to be quite meager!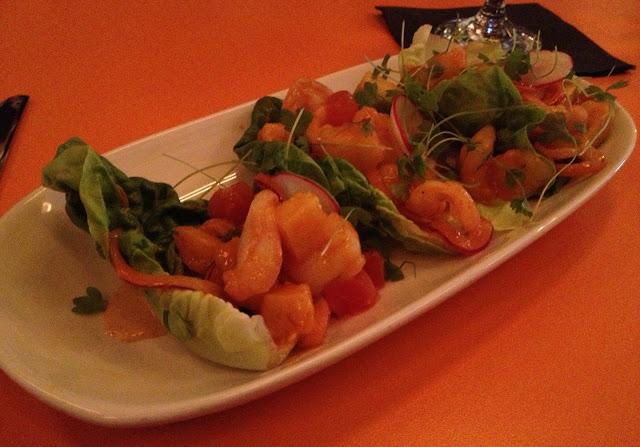 My beautiful and tasty Camarones a la Diabla.
Yes it tasted every bit as good as it looks! 
To start I went for the Camarones a la Diabla, a prawn dish with a chilli and garlic sauce. It arrived really well presented, a veritable rainbow of colours. It tasted every bit as good, the prawns were succulent and the sauce was tasty. It left me with a taste of more!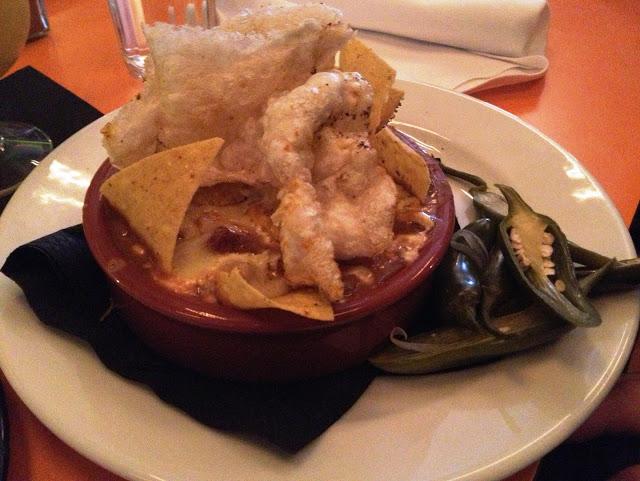 M's Borrocho Beans. While the puffy rice thing doesn't look that
appetizing I thought it tasted pretty good! 
M didn't fare so well with his starter. He'd opted for Borrocho Beans, a bean and chorizo dish which came with a couple of tortilla chips and what looked like styrofoam. I think it was a deep fried rice cake. The beans had a good flavor though it was more an essence of chorizo as there was no meat in sight.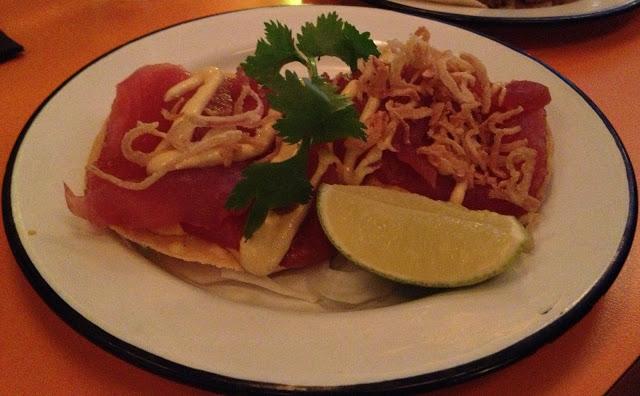 Ever so fresh yellow fin tuna on tostados.
On to the main course (or our second starters as I like to call them!) Everywhere else I have eaten Mexican food, including Mexico City, a tostado is quite a substantial dish. My two Atún Tostados were small and dainty. The tuna was supremely fresh, I would have loved some more! It's served with a tasty horsehardish sauce which was on the verge of overpowering the tuna. I liked the dish but it was far too small!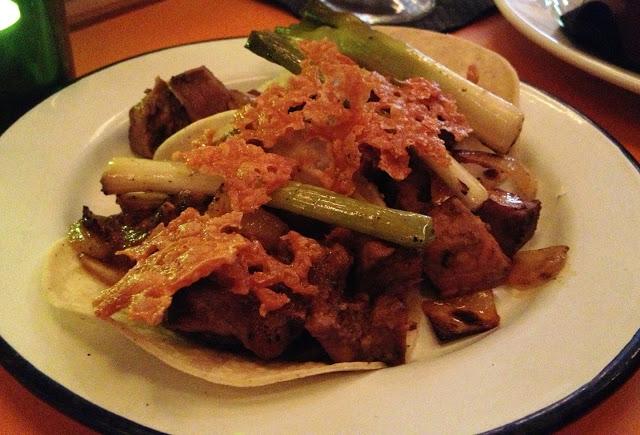 M's well seasoned beef topped with spring onion and manchego cheese.
M was slightly disappointed with the size of his main dish of Beef Taquitos too. Though he did declare the beef to be perfectly seasoned and the overall dish to be very tasty. With the meal over he was already wondering where we should go next for something else to eat!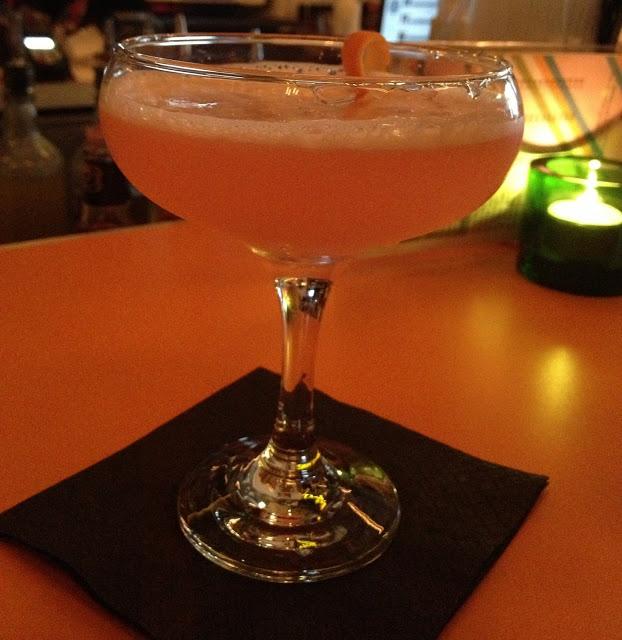 My beautiful Violencia Rojo. I've no idea what that translates to but it
tasted fantastic! 
Let me return to the cocktails for they were the star of the show! My Violencia Rojo was so near perfect it nearly made me cry! I'd never had a cocktail with rosemary in it before so I was really curious. The flavours melded together well. It really was a thing of beauty.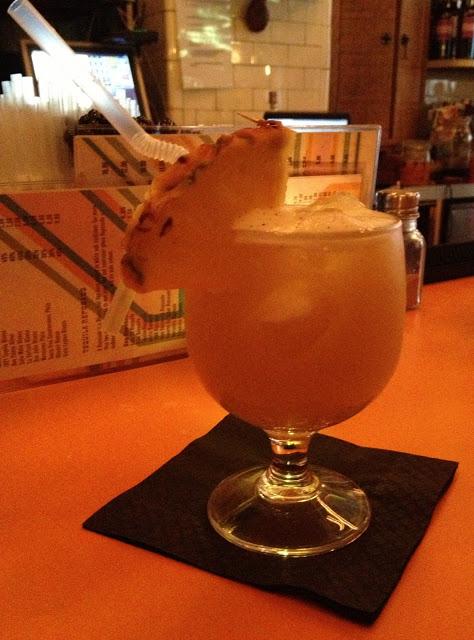 M's Pirata Toxica, as you can see there was eating and
drinking on it! 
M's Pirata Toxica looked fantastic with a wedge of pineapple stuck to the glass and it tasted every bit as good too. I'm not a huge fan of Mezcal but this was smooth and light, it was a joy to drink. Without doubt I'd happily order these two again, and perhaps a few others!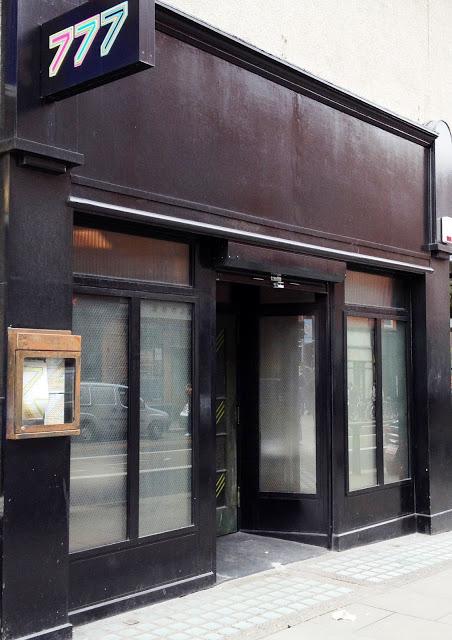 Exterior of 777. Very hip! 
My overall feelings about 777 are a bit mixed. Perhaps my expectations were too high given the buzz about the place and everything I'd read about it? Although I can understand why, I was still disappointed to be relegated to the bar, especially as my view over the counter was of two buckets of what appeared to be dirty water, not to mention the fact that the bar was sticky. While the food was delicious it was sparse and a bit on the expensive side. For four starters and two cocktails the bill came to over €60.00. With prices like this I just expected a little bit more especially given that we went elsewhere to fill up.
I'd only go back for the cocktails, in fact, forget about the bar, I'd happily sit on the footpath outside to drink them again!