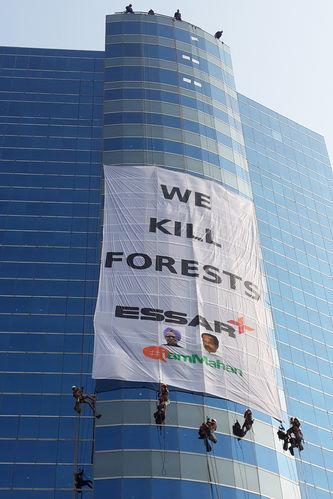 by Kareshima Goenka / DNAIndia
Activists of the environmental group Greenpeace and farmers from Madhya Pradesh on Wednesday draped the head office building of a multinational company in Mahalaxmi with a giant banner that read "We Kill Forests" in protest against the proposed destruction of Mahan forests in Madhya Pradesh where a joint venture of Essar Power and Hindalco Industries has been allotted a captive coal block.
The activists were up in arms against the mindless clearing of the coal mining project by environment minister Veerappa Moily.
"They have been cheating and threatening us to get these clearances. The collector had called a gram sabha meeting last year which was attended by just 184 people whereas they showed 1,125 signatures on the resolution document, including mine, which were forged," said Kripanath Yadav, a farmer from Amelia village of MP.
A statement released by Essar said, "In a blatant act of trespassing, some people, at the behest of Greepeace, masqueraded as building cleaning agents and gained access to the Essar  office.
In this illegal act, they endangered lives of those working in the building."
At least 75 Greenpeace activists and farmers were detained by the Tardeo police late in the evening.