One woman approached me as she walked past and, pointing to her four children who were manfully helping the smallest ones over the rough ground, whispered: 'How can you bring yourself to kill such beautiful, darling children? Have you no heart at all?' One old man, as he passed me, hissed: 'Germany will pay a heavy penance for this mass murder of the Jews.' His eyes glowed with hatred as he said this. Nevertheless he walked calmly into the gas-chamber.

– Rudolf Hoess, Commandant of Auschwitz: The Autobiography of Rudolf Hoess, 1951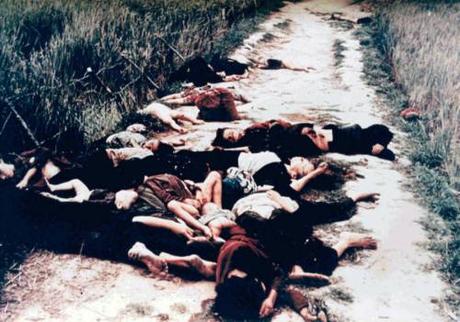 Bodies lie on the road heading out of the village of Son My, South Vietnam. There was not one military aged man in the entire village. All military men were no doubt either in the ARVN or even more probably in the Viet Cong.
50 years ago today, the My Lai Massacre took place at Son My, South Vietnam.
RIP to the 504 Vietnamese villagers, mostly women and children, who were murdered by US and South Vietnamese forces that day. It is not often reported that ARVN soldiers were involved, but looking at photos of the massacre, there were a number of soldiers with obviously Vietnamese faces mixed in with the Americans. US and ARVN soldiers often fought in mixed units.
My understanding is that My Lai was just the tip of the iceberg. There were many more murders of South Vietnamese civilians that were committed by US troops during the Vietnam War. Entire areas were termed "free fire zones." That meant that you could shoot at any persons, Viet Cong and civilians, seen in that zone. Helicopters used to fly over rice paddies shooting at villagers in their rice fields. Anyone not directly associated with the US or South Vietnamese governments was considered to be an enemy in these free fire zones.
No one was ever really punished much for this war crime. Lieutenant Calley was convicted and sentenced to only three years of House Arrest. Colonel Medina was much more responsible, but he got off completely, not to mention other higher-ups who directly ordered the massacre. Soldiers were told that everyone in the village was VC and the orders were to kill everyone in the village. US troops had lost 40 men in the area in the previous months and they were out for revenge.
One Black US soldier was wounded in the massacre. He accidentally shot himself in the foot. He later claimed that he did this intentionally to get out of the killings. A US helicopter crewman who watched the massacre unfolding below landed his helicopter and got between the villagers and the soldiers and said they would have to kill him if they wanted to keep killing villagers. Incredibly, the entire event was recorded by US combat photographers.
The next day, US newspapers carried reports of a battle in Song My, South Vietnam in which 128 Viet Cong had been killed. Mysteriously, US troops suffered only one slightly wounded.
The day of the My Lai Massacre is now an annual holiday in Vietnam.