Planning weddings needs to start early in order to avoid any problems. Getting the dream location and the other essential wedding things like the band can require to start looking at least a year before the big day. Just like in other fashion trends the wedding trends of 2014 are being set out already.
If planning the big day, themes and styles can be really important. Here are the biggest trends of 2014 to consider when making plans.
Dramatic
2014 wedding trends will be all about dramatic weddings. This sort of theme is created by having jaw-dropping venues and dresses. Unusual wedding venues will be very sought after next year so get looking early on. It will be all about creating something that is different and unique.
Dramatic scenes can be created by windows, curtains and over-sized decorations. Wedding Ideas Magazine has topped dramatic themes to be the biggest trend of 2014.

Romance And Flowers
This is one theme that has been away from wedding trends for a while now. But romance and especially flower themes are back with a bang. Romance is not downplayed at all, in fact is almost brought to weddings in very dramatic style.
Traditional romantic scenes can be created by flowery decorations and by adding a lot of candles to the location. Romance also shows in the bridal dresses next year.
Vintage
Vintage has held its place among the best wedding trends for the upcoming year as well. This theme is showing in not just the bridal dresses but also in choosing the venue decorations and wedding cars for instance.
Incorporate vintage in great way by adding for instance old family heirlooms and history to the big day. The Jewelry Depot for instance recommends using old family jewels as part of the big day.
Festival Fun
Another great theme for weddings in 2014 is a festival quirky theme. Weddings are about fun not just an official ceremony. Add quirky and festival feeling to the wedding by having the venue set out this way.
Have popcorn machines or fun games that guests can participate in at the wedding. Bridal Guide has some great wedding ideas around quirky decorations.
Symbolic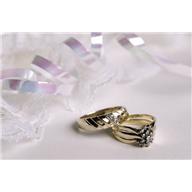 Hot wedding theme for 2014 includes adding a lot of symbolism to the weddings. Add symbolism through the wedding dress and the music, while tungsten rings for weddings are great symbolic ideas.
Another way to create symbolism to the wedding is the have certain ceremonies; for instance sand ceremony is something that will create a long lasting memory to the couple as well as the guests. Give out small symbolic wedding gifts to the guests and include them into the special day.
The main thing of course is to choose a theme that really describes the couple and their wishes. Always pick a theme that makes the couple feel natural and one that is achievable with the wedding budget as well.
Featured images:
 

License: Royalty Free or iStock

 

source: http://officeimg.vo.msecnd.net/en-us/images/MB900442405.jpg

 

License: Royalty Free or iStock

 

source: http://officeimg.vo.msecnd.net/en-us/images/MB900177798.jpg
Aisha Malik is avid fashion blogger who is interested in all things fashion. She follows all of sort of fashion trends and wants to let the world know about them as well.