If you haven't noticed yet, My Girly Parts is now MGP Magazine! We're excited about our new Look and new Branding and hope you enjoy the changes we've made! Without further adieu, let's kick it off with
5 Ways to Update Your Look! 😉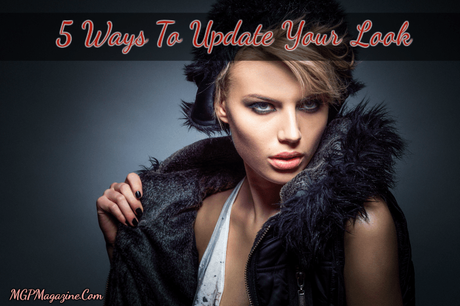 Getting stuck in a rut is a big fear most of us will have at one point or another in our lives. It doesn't have to be a relationship or career rut. Some of us may feel like we're stuck in one when it comes to fashion. So it's a good time to switch up your style from time to time. Not only will this give you a chance to get creative, but it could also give you a fresh boost of confidence. How do you mix it up when it comes to your look? Here are five great ways.
Accessorize
Adding accessories to your outfit can help you go from drab to glam in no time at all! It also saves you from buying a whole new wardrobe of clothes. Fancy a change from your regular clothes? Simply jazz them up with a cool scarf or elegant handbag. One amazing way to accessorize is with glasses. It's possible to buy non-prescription ones, so you can wear some chic frames even if you can see perfectly well. Already wear glasses? How about getting contact lenses! These useful optical information tips can help you decide what's best for your eyes.
Change Your Brows
How long have you had the same eyebrow shape for? Maybe it's time for a rethink. Even though the shape of your face will largely dictate the shape of your eyebrow, it's still possible to change your style slightly. One eyebrow style that is very much on-trend right now is the scouse brow. This thick eyebrow is often very angular and is good at adding shape to a face.
Dye Your Hair
It is easier than ever to dye your hair at home. There are many over the counter dyes in a variety of colours available in most drug stores. They are usually very reasonably priced too! Gone are the days of having to traipse to your local hair salon for a new colour; you can do it just as good yourself!
Change Your Parting
Another hair related tip, change your hair parting. If you want a new 'do, but aren't quite sure about dyeing your locks, simply move your parting. If you have one on the side, swap it to the other, or go for a centre parting. Similarly, if yours is already in the centre of your head, think about moving it over to one side. Try it out for a couple of days to make sure you like it before getting a hairdresser to cut your hair to match the new parting.
Upgrade Your Manicure
You may think your nails are just one tiny part of your look, but you'll be surprised how big an effect they have on your whole outfit. A French manicure can be a bit predictable, so add some glam to your look by painting your nails with glittery varnish. It's a great way to spice up your style ready for a night out!
So don't settle for a boring style. Create a new you today!
Don't Settle 4 Boring! Create a New YOU today! #beauty #MGPMag
Click To Tweet
Did you like this post? If so, look below to find more like it! Better yet, Subscribe to our Newsletter and Never Miss a Thing!
Email *

Brenda
I have over 28 years as an Administrative Assistant, including at the Executive Level. I also have over 5 years experience as a Blogger,Web Manager, Web Designer, and Social Media. If you're in need of assistance, please
Send me an email
and let me know how I can help.

Latest posts by Brenda
(see all)
5 Ways To Update Your Look

- March 29, 2016

Web Hosting Sale-A-Bration!

- March 25, 2016

10 Failsafe Moves To Rekindle Romance

- March 23, 2016
Related
Tweet
Share
1
+1
1
Pin
1
Share
Stumble
Total Shares

3