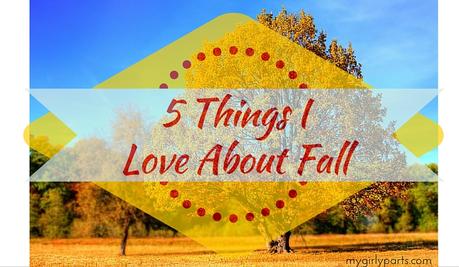 First of all, I'd like to Congratulate Ravi Chahar on being randomly chosen as the Grammarly Winner! Ravi will receive 1 Month Free of Grammarly's Premium Service! I know he'll absolutely love it!
If you were chosen as a Winner, you can still use Grammarly's Free Version or Sign Up for the Premium Version.
5 Things I Love About Fall
In honor of the cooler temperatures that recently hit the Eastern Shore, it made me stop and think of all the reasons why I love Fall. Fall is interchangeably known as Autumn. It's also marks the transition from Summer into Winter.
In the Northern Hemisphere, Fall generally hits in September. This is when we start to feel cooler temperatures and notice darkness comes a little sooner than usual.
Autumn, the year's last, loveliest smile. William Cullen Bryant #fall #seasons
Click To Tweet
In the Southern Hemisphere, March brings on the cooler temps as well as the tree leaves begin to turn colors. Generally turning from their usual greenish color to a red, orange, or yellow shade.
Let us not forget, whether in the Northern or Southern Hemisphere, not only do the leaves change colors but some trees also begin a shedding process of the leave.
Cooler Temps
I am such an anti-summer baby, although I was born in August. I love the cooler temperatures and earlier darkness because it indicates to me, the change of my wardrobe. Fall is the time of year that I start breaking out my hoodies, leggings, jeans, and boots and make sure they still fit after a long hot summer.
Sports
I'm a huge National League Football (NFL) Fan so Fall marks the start of watching my favorite teams and my favorite players in their tight little football uniforms! Where else can you find big, brawly men battling it out on the field with head-to-head combat?
Let me not forget to mention, the hotties in the tight nylon pants! 😉
Bugs
Fall also marks that time of the year when those bastard snakes begin to hibernate. I usually find them lurking around in my backyard during the summer when I'm walking my furkids. Trust me, it's truly a shocker when you round the shed and see a big honking 6-foot black snake staring you and your furkid down!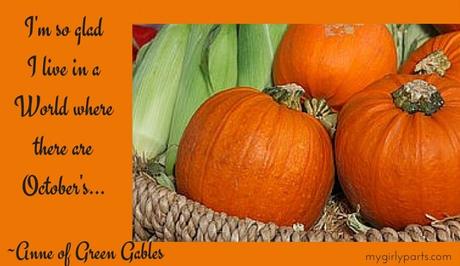 Those pestering flying insects try their hardest to find safety within your home, yet only to find their demise after a night of buzzing by your head during you sleep. The wasps, bees, flies, and other critters slow die off or fly South for the Winter.
Good ridden's!
Snow
Did I mention my dislike for summer? It's odd, but some people get Seasonal Affective Disorder (SAD) in the winter time, however mine kicks in when Summer hits. Fall is always welcomed wherever I am because I start doing my "snow" dance. I love to watch the snow fall on the ground. Freshly falling snow is so picturesque, so soothing, so peaceful.
Besides the autumn poets sing,
A few prosaic days
A little this side of the snow
And that side of the haze.
~Emily Dickinson
However, not everyone feels this way, even in my own household. Snow days are the best when I'm notified that my office is closed due to the amount of snow we received. I love this because it means my furkids and I will spend a bit of time outside playing in the snow! The rest of the time cuddled up inside watching a marathon of horror movies!
Holidays
Halloween is my favorite time of the year. Not because of the abundance of candy that is out in the stores, nor the little trick or treaters that greedily come banging on your door even though your porch light is OFF, but because it's is ONE MONTH FULL OF HORROR MOVIES!
The scariest and the classics hit the channels at all hours of the day and evening. Mid-October is the best time to take vacation days because you can have marathon sessions of Halloween (all 20 versions). I can't forget all the Dracula movies starring Boris Karloff or (RIP) Christopher Lee.
Yes, these are all good reasons
Let's looks at this cool infographic I stumbled upon. Ever wonder why leaves fall off the trees?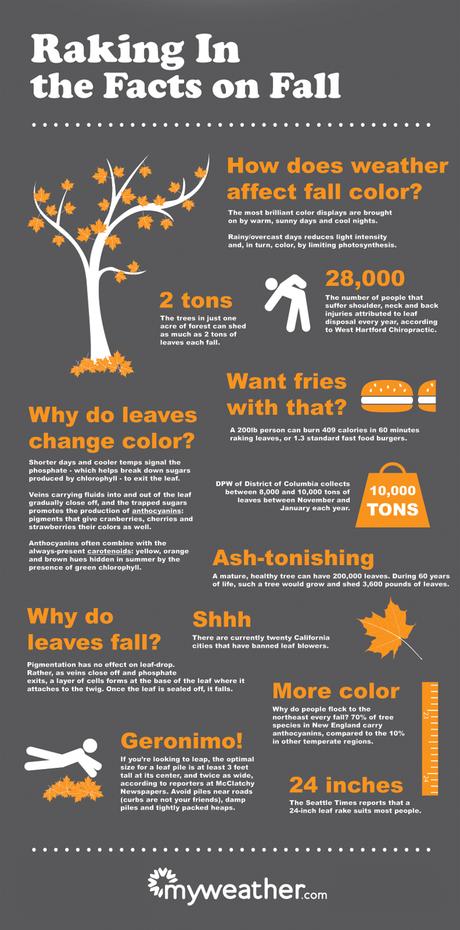 Click to Enlarge
Via
MyWeather.com
View Other
Infographics
Very educational, no?
There are many more reasons as to why I LOVE Fall but I think I blabbed enough about myself.
What is it that you like about Fall?
5 Things I Love About Fall #season #fall #autumn
Click To Tweet
Tweet
0
Share
0
+1
0
Pin
0
Share
0