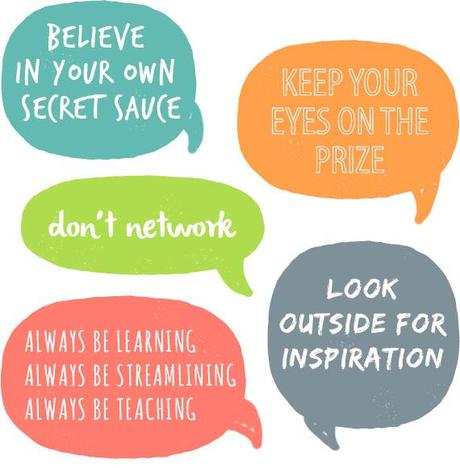 As promised, here are a few helpful tidbits I learned from my time at Alt NYC:
Believe in your own secret sauce
Don't be swayed from blogging about things that make you excited, out of fear that your readers won't like it or that it's not "cool" enough. I've posted gigantic photos of spiders, for goodness sake. Trying to emulate others is an exercise in futility – having your own voice is what will draw others to you, so speak up!
Keep your eyes on the prize
Set a goal, and don't let yourself be distracted from it. Every decision you make should help you inch a teeny bit closer to this goal. If it doesn't, you'll be forced to spend even more time and effort into getting yourself back on track, and who wants to do that??
Don't network
"Hmmm this is awkward" ran through my head when Garance Doré uttered these words at one of the largest networking events for bloggers, but she quickly stated her case, and I agreed with every word! Flinging your business cards around in room full of strangers can absolutely result in some great connections, but is it likely? Hard to say. A better method is to take the time to research people you would love to work with, who are aligned with your own vision, and start a dialog from there. Real and meaningful relationships with awesome people are what's going to make your business grow.
Look outside for inspiration
People tend to flock to the same sources of inspiration (I'm looking at you, Pinterest), which inevitably results in the same ideas popping up over and over again. Get off the beaten path and explore outside your bubble – new websites, magazines, neighborhoods, etc. – for fresh ideas.
Always be learning. Always be streamlining. Always be teaching.
Don't become placid when it comes to your work or business. When you achieve one goal, start thinking of the next instead of sitting on your laurels. Keep pushing yourself to make your content better and your process faster. And at the end of it all, share your experiences!