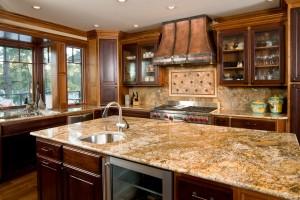 Image Source
Are you a king of the kitchen and want everything to be perfect – well if you are, we're quite sure that you'll appreciate a better home working area. So, how do you create the ultimate kitchen and what are the kitchen fittings and kitchen items you need – we take a look.
Granite Work Surfaces
Yes, MDF based surfaces can look the part, but only for a while. These tend to warp and leak and cause all sorts of issues. Harder surfaces such as granite and even quartz are something special and tend to really add a lot to the kitchen in terms of style and design. Granite is harder wearing, more attractive and also looks the part and comes in a whole range of options. Quartz is a lower cost option but a sturdy and very attractive alternative and comes in a wide range of styles and colors. Just be sure to check out whom you are purchasing from and that the quality of materials is high.
Extractor
The extractormay seem like a secondary thought, but it really shouldn't be. In the perfect world you want an extractor that is both capable and also looks the part. There are perfect of hoods out there nowadays that do just that. Chrome, stainless steel and other materials can really add to the kitchen area. If for instance you own an island worktop area, these can be especially attractive and really add a lot to the area.
Kitchen
The kitchen and the fittings itself are also pivotal to a kitchen remodeling projects. Sure you can purchase a budget kitchen, but it won't have the workmanship you should expect from a longer lasting one. Kitchens should be an investment rather than a cosmetic addition. They need to last the test of time and in a lot of cases will add to the value of the home. This is why it's almost a necessity to charge more for them.
Flooring
Just as with the work surfaces, the flooring is also something that needs to be taken care of. Good quality flooring will also be something that stands the test of time. At Best at Hire we believe that Lino is fine for the short term and carpet not ideal and so either quality tiles or stone flooring is often the best option. Take your time and also a holistic approach to design the area, as if you consider it all together you tend to get a far better overall creation.
White Goods
White goods finish a kitchen well and give it that overall quality appearance. Things such as large American fridges, quality hobs and decent microwaves will help here and give your kitchen the finish it requires. There are plenty of places online and across the web that you can cut costs from and will provide you with lower prices on high end items.
So, if you want to create the overall kitchen feel, these five things go a long way to benefiting your home's feel and also ensuring it's a good investment.
Searching for a local contractor or a remodeling service professional? Stop searching! Start selecting! Post your project and request in

BidsByPros.com

today.
Author Bio Box:
Cormac Reynolds has written a wide range of blogs in this area and has installed kitchen tool hire from Best at Hire

Cormac Reynold