Hey guys! I took this idea from Zoe at Sweet Electric where she did 5 beauty products for under £5, you can see her post here. I was going to stick with the under £5, but I had to include Models Own Nail Polishes so I thought £5 and under was still a good idea!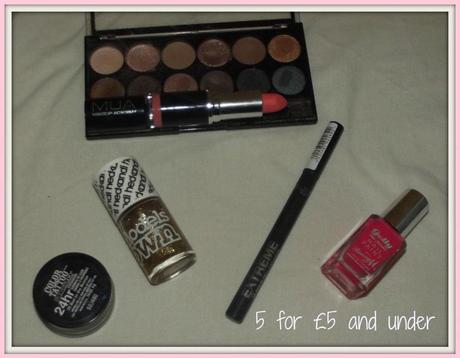 First up is MUA Cosmetics. I kind of cheated on the one, I was going to put their eyeshadow palettes and lipsticks in separately but I couldn't think which other product to cut so I thought I'd do MUA as a whole. I think their lipsticks are my favourite products from them, they are super pigmented and have such a gorgeous range of colours. I would definitely recommend as they are only a £1! Their regular 12 eyeshadow palettes come in at £4 and they are gorgeous pigmented and really easy to work with. Although, lots of their other products are great value these are the two that I would recommend!
My next pick is Maybelline Colour Tattoos. They only cost £4.99 and they are perfect as a shadow base, or a lot of them work really well on their own. They blend out really nicely, and give gorgeous colour on your lids. I love that Maybelline bring out different shades in these, and they recently brought out three more of which I'm dying to try Light in Purple. At the minute I'd have to say my favourite is On and On Bronze, of which you can see in an everyday look here.
Of course I had to show you Models Own nail polishes. They cost £5, but are constantly on offers like 3 for 2 or 2 for £8 at Boots. They have such a great range of colours, they have a lovely formula and they bring out new collections all the time!
I had to include this liquid liner from Collection. The Extreme Felt Tip Liner from Collection is amazing, it is perfectly pigmented and it applies so well on your lash line. I don't see it raved enough and at only £2.99 it should definitely be in your collection! I don't do eye liner all the time but when I do choose to do it this is the liner I grab for. The intense black line is perfect.
Last, but definitely not least, is a nail polish collection from Barry M. I was going to cheat again and say all of their collections, but to be fair my favourite by far is the Gelly Hi-Shine Collection. They only cost £3.99, which is just £1 more than their regular collection, and I think they are worth every penny. Out of all the nail polishes I own they Barry M Gelly Hi-Shines are my ultimate favourite formula.
And there we go, my top 5 for £5 and under! I shall also be doing a top 5 for £10 and under!
I hope you enjoyed!
Natalie Roseanne <3