FRAGRANCE
❤ ❤ ❤ ❤ ❤ ❤ ❤ ❤ ❤ ❤ ❤ ❤ ❤ ❤ ❤ ❤ ❤ ❤ ❤ ❤ ❤ ❤ ❤ ❤ ❤ ❤ ❤ ❤ ❤ ❤ ❤ ❤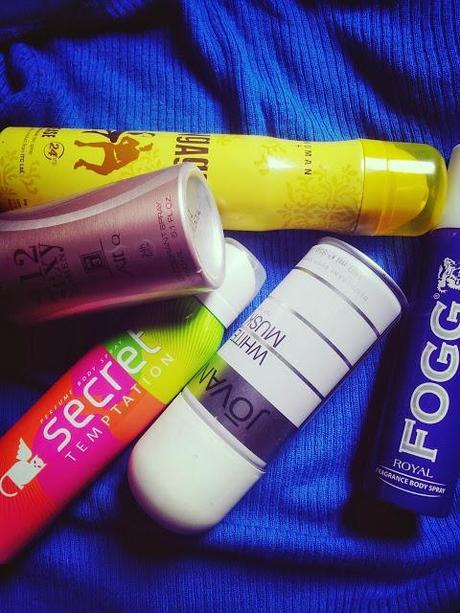 Here are 5 deodorants that I tried in last few months. I thought it would be good to do a quick review of these. I would start writing about the most favorite first and least would be my least favorite deodorant. Let me know if you have tried any of these...
1. Engage "Tease" : Rs. 160 for 165ml  :
This deodorant can be called an ideal deodorant that keeps the bad odour away and smells fresh all day long. The fresh, powdery smell lingers throughout the day and it would remind you of "lemon" tinged talcs or soaps.
Would I buy it again?
Totally
2. Jovan "White Musk" : Rs. 190 for 150 ml :
  It's a men deodorant and I am always ready to use soft fragrances made for men. They are rich, powdery and has good staying power. Jovan  White Musk has all that I just mentioned. This fragrance would make you feel that you just came out of shower.
Would I buy it again?
Yes.
3. 212 Sexy "A'lt Q" : Rs. 225 for 150 ml :
I am ashamed to admit that its name and packaging can qualify for fake Carolina Herrera's 212 Sexy MEN deodorants. But the fragrance is so good that I had to include it in this list. It lasts for almost 3 hrs, then starts fading and vanishes in 5th hour. The fragrance is sweet and rich.
Would I buy it again?
I don't think I am ever gonna get it again. If I do and fragrance is same, yes.
4.
Secret "Temptation" : Rs. 160 for 150 ml :
When first sprayed, it smells fresh and strong. But as the time passes, it becomes sweet. This deodorant keeps smelly meltdown away for more than 8 hrs. This fragrance is very common in deodorants and can be easily found in other brands too.
Would I buy it again?
Not really.
5.
Fogg  Royal in Blue : Rs. 80 for 150 ml :
Least favorite. I don't like the fragrance at all and longevity is awful. If I liked the fragrance, I find myself reapplying it every hour. So bad!
Would I buy it again?
Not at all!
Stay updated with more deodorant reviews by Shopping, Style and Us.
EMAIL   FACEBOOK      TWITTER      GOOGLE+ 
Disclaimer:
The product was bought by Shopping, Style and Us for review. To know more, please read my
Disclosure Policy
.