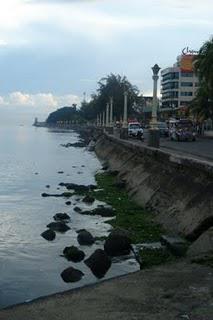 Boulevard
M is still in Dumaguete right now for work and won't be back til Friday so I thought I'd sneak in a post about my trip to Negros Oriental and Siquijor some 3 years ago with my dad, sister and a friend.  Costs/Prices mentioned in this entry I originally wrote back in November 2007, a day after we got back, could be outdated but I think all the places we went to are still intact.
Day 1:
Dumaguete City
We've booked this trip AGES ago hoping that more people'll be joining us. I ended up going there with just my sister, my dad and R. Cebu Pacific screwed up, moving our 7am trip to 2pm.
Buti na lang,
we haven't booked our accomodations yet. We were suppose to spend Nov 2 at Kookoo's Nest in Antulang but since Det had asthma, we decided to just stay in the city (we opted for Bethel Guest House (BGH could stand for Bethel General Hospital too you know..) which freaked me out at first... it used to be a hospital and it still looks like one inside, but I eventually got to love it because of how clean it is and its accessibility to EVERYTHING) and re-compose our IT.
We spent the rest of the day walking around town, checking out nearby places and other hotels, ferry schedules to Siquijor and scouting a place for dinner. We ended up having some pizza and usual Pinoy food at Lab-as.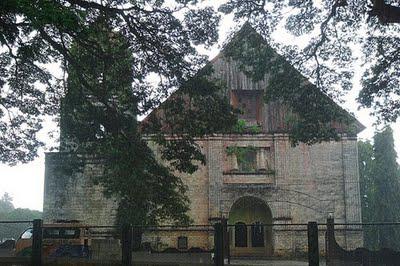 Lazi convent in Siquijor
Day 2:
Siquijor 
We were up by 4:30 am that Saturday (Nov 3). We left Bethel a few minutes past 5 and walked to the port. We got there before 5:30, bought us tickets then boarded the Delta fast craft to Siquijor. The trip was a quick 45-minutes. When we got there, we haggled for a trip around the island with the multicab drivers. We found one who agreed with P1k (we did give him extra though..) so at around 7am we were on the road. The driver took us to the Capilay Spring Park (which was pretty filthy to me), PASSED BY Coco Groove Resort, took pictures of the century-old Balete tree, checked out Lazi convent, museum and church, was going to take a dip at Cambugahay falls after waiting for the rain to subside but the people there told us that it wasn't safe that day since it rained. After that, we went straight to Salagdoong beach where we had lunch and spent most of the afternoon, swimming and snorkeling before making a quick stop at the market for some giant lansones, and proceeding to Tulapos to check out the treehouses. I wanted to go to Bandilaan Park and Cantabon Caves but the rain might have made the trail and caving too slippery, plus, dad was with us... I don't think he can crawl his way out of the cave. Anyway, we still had fun! We caught the last trip to Dumaguete and was back at Bethel before 7pm. We had dinner at our room that night.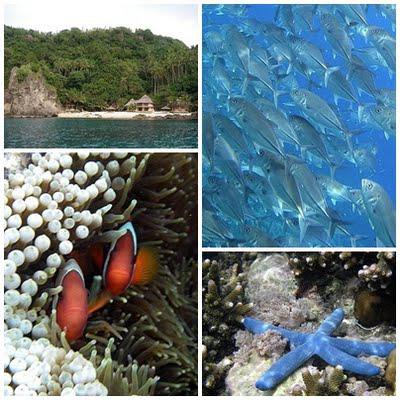 Apo Island
Day3:
Apo Island
Sunday, Nov 4. We woke up late, so we headed off to Apo Island first instead. I think we were able to leave Bethel a few minutes after 7. We took a tricycle to the Ceres bus station and boarded the first a bus bound for Canla-on. We were at Talipanan in less than an hour. Hiring a boat to Apo Island was a breeze too. We spent the morning snorkeling but after an hour or two, decided to get out of the water. The current was a bit strong that morning, visibility, not as good as the afternoon's, and I sort of figured into an accident aside from having to sneeze in my mask. ewww.. hehe Anyway, we had lunch at a nearby food house. We had corned beef (we had
baon
of course) and a huge parrot fish all to ourselves. After that, we returned to the Sanctuary, where R got a massage, I napped, dad waited, and sis took pictures. At around 2pm, a guy went snorkeling, then after awhile, he invited us to dive in so we can see the huge school of jacks feeding that afternoon. So ayon, even if we were suppose to leave at 3pm, I still went back in the water. R followed suit after a few minutes. We left the island before 4 though. We waited for a bit for a ride back to Dumaguete.. The first few buses were waaaay overloaded, and since we didn't want to get stuck out there, we boarded the first vehicle that could accomodate us, a jeepney. The ride was uncomfortable coz I had to stay in the aisle, had MORE stops and surprisingly, much more expensive than that of the bus!
Ayon,
we got back to Dumaguete
naman
in one piece so it was all good. We heard Mass after cleaning up, passed by a 'department store' for errands then headed off to Cafe Filomena for their buffet dinner before calling it a day.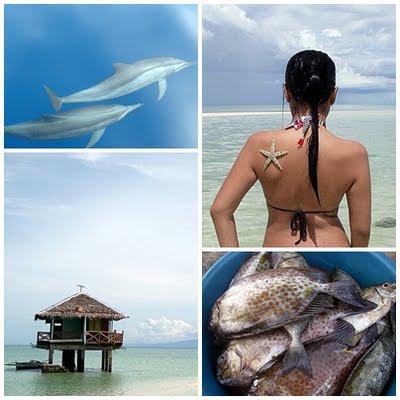 from bottom left: sandbar huts, dolphins, my sis, rabbit fish for lunch!
Day 4:
Bais City
Nov 5, Monday. We were able to wake up early and were off to Ceres bus terminal before 5am and found ourselves at Capinahan wharf in Bais City before 7am. Spent the morning dolphin watching and the afternoon chilling at some sandbar.  Another fun day! We were back at Dumaguete by 5pm. R and I passed by Sans Rival before cleaning up and watching tv. We had dinner at Jo's Chicken Inato. Loved the food! It could be the best meal I've had there. After dinner, R, my sis and I went for a full body massage. =D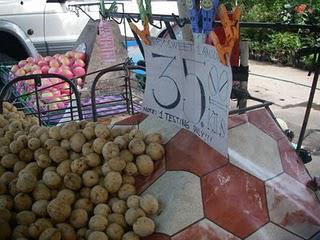 yummy Lansones for only 35 pesos per kg!
Day 5: Leaving
Negros Oriental
I woke up late (7ish) went to the market with R to buy some curacha, ice box, ice and tape. He bought shrimps and squid too. We went back to Bethel afterwards, then my sis and I went around for some pasalubong shopping. We weren't able to get anything though. It was sooo hot that morning! We bought a kilo of sweet and humongous lansones from Dipolog and placed our order at Sans Rival before meeting dad and R at Cafe Filomena for lunch. After lunch, we walked around boulevard, bought more lansones and hung out for a bit at Sans Rival and the hotel lobby before hailing a trike which took us to the airport.
It was a short vacation. I wish we had more time there.  It probably would have been nice to stay in Siquijor for a night, spend an extra day in Apo Island, check out Casaroro falls, maybe even climb Mt. Kanlaon... maybe I'll be back in the future, who knows.COPYRIGHT © 2011 JuanaTravels.