I
magine you decided to take a road trip.
Your car is up and running, with a full tank of gas, you picked the perfect vacation spot to drive to, packed up all the necessities, and even remembered to not leave your kids behind this time.
The only problem is you forgot the map.
How far do you think this "I'll figure it out as I drive" strategy will get you?
Now let's say the car, the luggage, the kids are your blog, content, and readers, and your vacation spot is your "why". In this scenario, Google Analytics can just be the map you need to get you from A to Z.
Google Analytics can give you the nitty-gritty on:
how many readers you currently have, where they are coming from, what they are reading, and even why they are leaving;
what is your best performing content is (so that you can write more of it and draw in even more traffic);
who mentions your blog and sends you traffic (so that you can say thank you to them and they send you even more traffic);
and much, much more.
Trust me, I understand the lack of time and knowledge limitations. I understand it looks intimidating and complicated.
That's why I went on a scavenger hunt to find the simplest ways for ANY blogger/site owner to use Google Analytics without the major headaches of learning it from scratch.
Google Analytics dashboards were it.
Dashboards give you an overview of how your properties are performing by displaying summaries of different reports as widgets on a single page.

With a dashboard, you can monitor many metrics at once, so you can quickly check the health of your accounts or see correlations between different reports.
Google Analytics also allows you to share customized dashboard templates with other users; and that's exactly how you and I can benefit from the work of some generous folks who set up useful custom Google Analytics dashboards for us to tap into.
All you need to do is download them to your Google Analytics profile.
To download these dashboards:
sign in to your Google Analytics,
click on the green "Add This Dashboard to your Own Google Analytics Profile" button located under each dashboard;
choose which Google Analytics profile to add it to.
You can use the links as many times as you like and customize them for each profile you add them to.
"Your Blog at a Glance" Dashboard
Who needs this "Your Blog at a Glance" dashboard?
Everyone really. This Google Analytics dashboard is right for you if you run a blog and want to know more about your readers.
What Actionable Stats Can You Track with It?
How do people find your blog?
Which links drive traffic to your website?
Which topics are your readers most passionate about?
Are you friendly to visitors who read your blog posts on their handheld devices?
and more.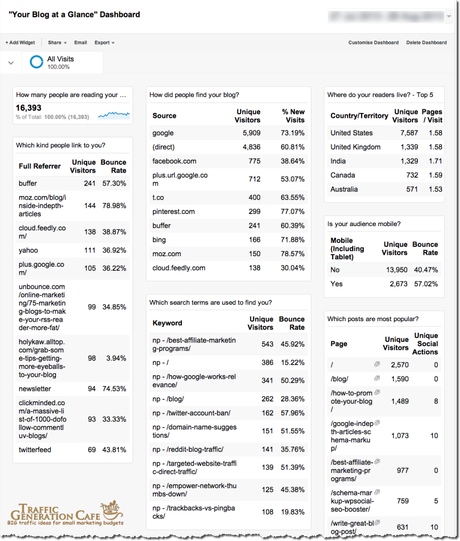 This dashboard was found at DashboardJunkie.com.
SEO Dashboard
Who needs this SEO dashboard?
Everyone who gets traffic from search engines
People who want to see which keywords bring the most traffic
Everyone who wants to see how various landing pages perform from search engine users' perspective
What Actionable Stats Can You Track with It?
See which search engines bring in the most search engine traffic (just a wild guess – it'll be Google for most of us);
Find out which keywords bring in the most traffic and how they convert according to your goals set;
All the essential stats – bounce rate, page views per visit, new visitors – for each landing page.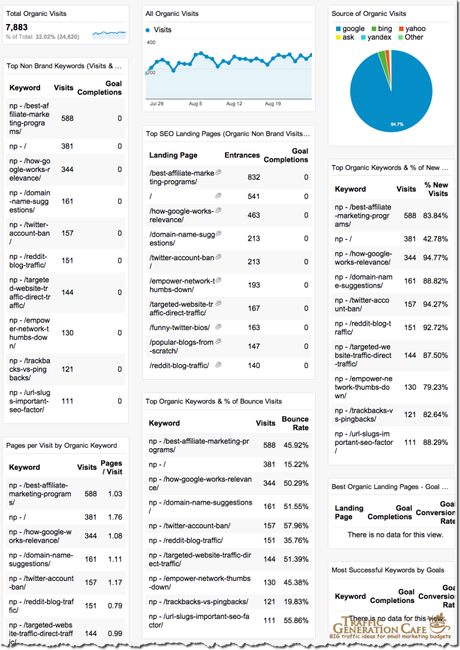 This dashboard was found at Koozai.com.
Social Media Dashboard
Who needs this social media dashboard?
Everybody who uses social media to promote their site
People who use social sharing buttons on-site
Everyone who gets traffic from social media
What Actionable Stats Can You Track with It?
Learn which social media network brings you the most traffic (and focus on the top one or two instead of trying to be everywhere);
See which social media activities (likes or +1′s/shares/comments/etc) are preferred by your readers;
Find the best days to be on social media;
Which posts did the best on social media (hint: you might want to write more on those topics).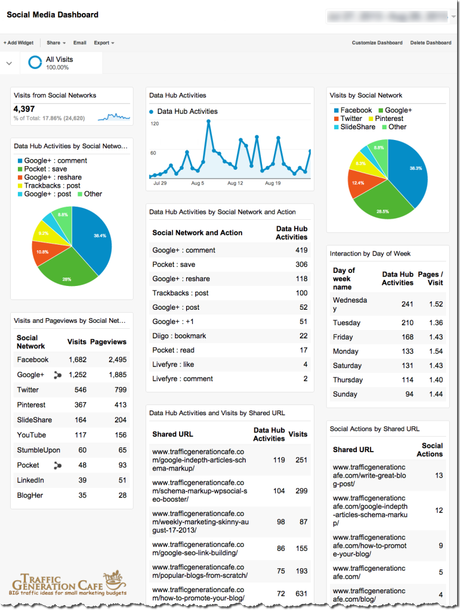 This dashboard was found at DashboardJunkie.com.
Leads Dashboard
Who needs Leads Dashboard?
Anyone who collects leads (email optins, for instance) on their website.
Side note: you'll need to set up goals in your Google Analytics in order to use this dashboard.
Learn more about setting up goals from Google Analytics Help.
Learn about setting up goals to track email conversions specifically, take a look at Kristi Hines' post at GetResponse blog.
What Actionable Stats Can You Track with It?
How many actual leads does your web traffic actually amount to;
Which keywords drive the most sign-ups;
Which referrers send you the best converting traffic;
What is your best performing content.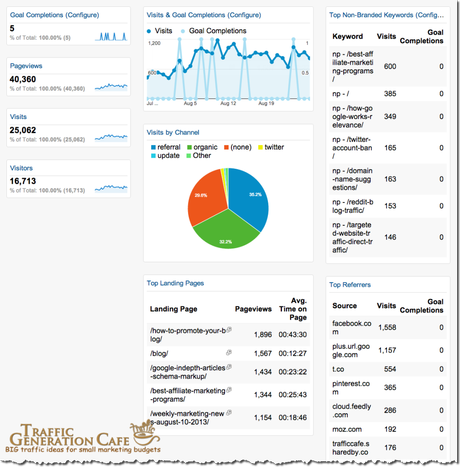 This dashboard was published at Portent.com.

If you prefer to track sales vs leads, download this eCommerce dashboard.
To track mobile eCommerce stats, download this Mobile eCommerce dashboard.
Realtime Overview Dashboard
Who needs wants this dashboard?
Anyone who loves to keep tabs on what's happening at your site right now.
What Actionable Stats Can You Track with It?
Where your traffic is currently coming from;
What content they are viewing.
Caution: this dashboard is addictive and I highly recommend to focus on improving your long-term stats vs watching the realtime numbers go up and down.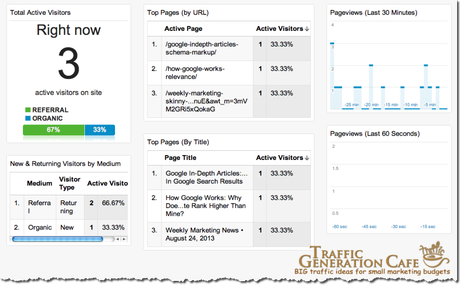 This dashboard was published at Econsultancy.

Other Google Analytics Dashboards
The Google Analytics dashboards mentioned above are the ones I've tested and approved to use for Traffic Generation Café.
Of course, there are many others.
Another one of note is Brand Monitoring dashboard published at Koozai. I've downloaded and tested it as well, but found that the widgets mostly repeat what's already incorporated into other dashboards.
Feel free to download it here.
Love the idea behind it though; wish that someone would make a more actionable one.
Are you a Google Analytics buff? Up for a challenge? Send me the link to your custom Brand Monitoring dashboard and I might add it to this post.
Also, if you'd like to learn everything you'd ever want to know about Google Analytics, take a look at this post:
54 Google Analytics Resources – The 2013 Edition - kissmetrics.com
Google Analytics Dashboards Marketing Takeaway
Five custom Google Analytics dashboards installed in your Google Analytics profile in five minutes or less.
All the actionable stats you need to keep finger on the pulse of your site without getting overwhelmed.
Doesn't get any better than that in my books.
With huge thanks to: Koozai, Econsultancy, and Portent for giving great examples of Google Analytics Dashboards, and to +Ned Poulter at StateOfSearch for giving me the idea and research for this post.
Please share on Google NOW