You know those brushes that you never give a second thought to? You know, the ones that you use all the time to the point that you just grab them out of habit? They're the brushes that get the most love, but the least praise. Well, I literally use these five brushes everyday (that I'm wearing makeup at least!). Since they get so much love from me, I thought I should give them a little attention and share them with you!


I suppose I should go in the order that I use them, which means this Concealer Brush from ELF would be first! I don't always use a brush for foundation, but I've discovered that I really like using a brush with most of my under eye concealers. This one from ELF is relatively new to me…it may be rather new period…but I absolutely adore it! It's a nice fluffy brush so if nicely diffuses the concealer for a soft-focus finish. It also easily spreads product without absorbing it or moving it around too much. Best of all, it is nice and soft, which is a must under your eyes. I had been using another brush that I really liked the performance of before I found the ELF version, but it was really scratchy. The ELF one is the best I've found to date. The only thing I might change about it would be the width. It is a small brush, but it can be a little difficult to get into the inner corner of your eye with it. Not a deal breaker, but a minor tweak I would make.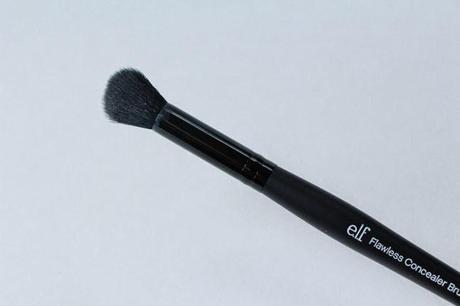 Once I'm done with the concealer, I like to set it with a powder using the Real Techniques Setting Brush. This brush is actually fantastic for a number of things, but I typically find myself using it for setting under my eyes. Again, it's soft and fluffy. It doesn't place too much powder anywhere and it fits under the eye brilliantly. Since it tapers in to a bit of a point, it's not too tricky to get into smaller areas like the inner corner either. I wouldn't go trying to line my eyes with it, but it's just perfect for under the eyes. I also just like the feel of the handle in my hand. Kind of random, but it's a satisfying feeling!

J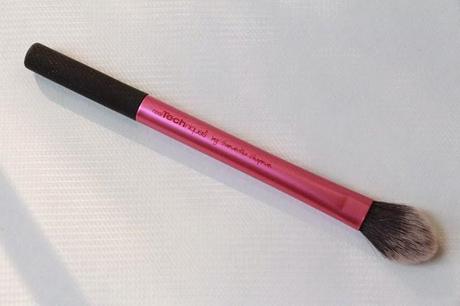 Next I probably tend to go for my blush. I absolutely adore the IT Cosmetics Heavenly Luxe French Boutique Blush Brush. IT Cosmetics just makes fantastic brushes in general, but this one is suburb! It really places blush right on your cheeks and nowhere else. It's so, so soft that it almost doesn't feel like it's touching your skin. The synthetic bristles are not too dense, nor are they too loosely packed, so there is enough give to diffuse the color, but without washing things out so heavily that you need to apply your blush twelve times. It's just absolutely divine and I love it!

J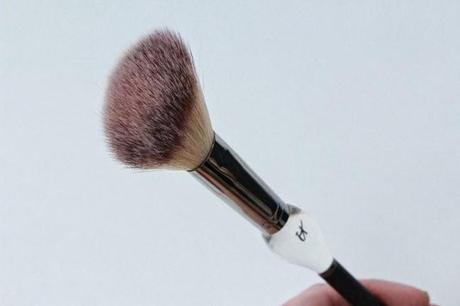 Moving on up to the eyebrows, I have another relatively new brush. I must say that I'm not sure that this specific brush is so fantastic as much as this kind of brush is

 

just a necessity for my brows. The brush I'm currently using is from Anastasia Beverly Hills and it is the #12 Brush. It is quite a thin angled brush that is also quite densely packed. I find it would be perfect for either creating perfectly shaped brows, or, if you're like me, for filling in relatively thin brows. I'm really not a stickler on these brushes, partly because I often use pencils for my brows when I'm in a rush, but the absolutely necessary part of this brush is the spoolie on the other end! I love brow brushes that include a spoolie and find it ridiculous when they don't. This spoolie is on the firm side, which I found a bit jarring at first, but it somehow manages to be firm enough to groom brows as necessary without removing too much product. I'm not gonna lie, there's nothing particularly unusual about this spoolie, but I definitely find a spoolie to be necessary for my brows no matter what I'm doing with them.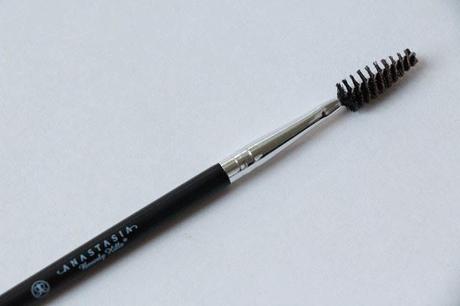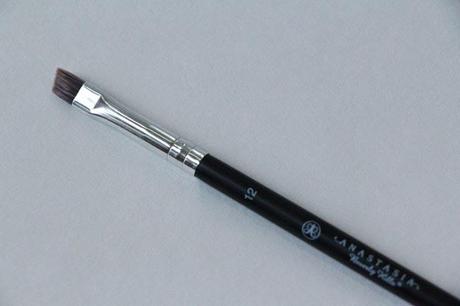 Finally I have a brush I picked up from IMATS a few years ago, but didn't really start using until recently. It's from Royal & Langnickel and I believe it's probably just considered their Synthetic Flat Top Kabuki Brush. There's no name on it, but that describes it perfectly. I use this with a setting powder when I'm completely done with all my makeup. It's a little firmer than a lot of powder brushes that I have, so I feel like I can really press the powder into my skin nicely. It is still loose enough that it doesn't make the powder cake or apply too heavily either. I also kind of like that it just has a stubby little bit of a handle because I feel like I have more control over the pressure I use and where I'm placing things. Definitely glad I picked this little guy up!

J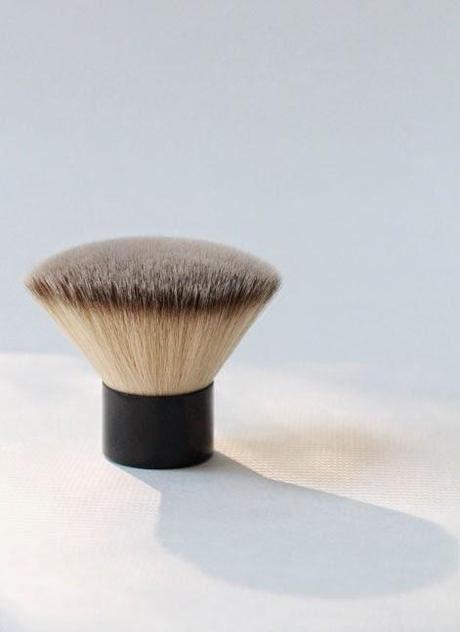 And that gets us to five brushes that are definite must haves for me on days I wear makeup! As far as I know, all of these brushes are made with synthetic fibers and I think, with the exception of Royal & Lagnickel, that all of these companies only make synthetic brushes. I'm not 100% sure about Anastasia Beverly Hills or ELF, though they are both cruelty-free brands. I try to only buy synthetic brushes, but a lot of companies don't state whether a brush is natural or synthetic so it can be difficult to tell. I'm getting on a tangent here. I hope you enjoyed this and found it useful. If you would like to see some more of my favorite brushes, check out this collab post of my 5 Favorite Brushes here. I would love to hear what kinds of application tools you use everyday too! Leave a comment and let me know!

J

Thanks for stopping by!!!

J