DG began running before our wedding, so a little over 10 months ago.He has dropped over 55 pounds and looks terrific.He also gets very antsy and easily annoyed if he doesn't get his workout in.So I may not have a cuddly couch potato to snuggle with, and watch movies, while nibbling on a mountain of nachos anymore.But I have a hot guy, that looks ten years younger and will not only be able to care for me in my old age (instead of the other way around) but will outlive me.I'm good with that.
DG is also 10 years younger than me.This was a milestone year for us both:30 for him, 40 for me.And boy have I seen my body go downhill in 2012. Let's start from the top down.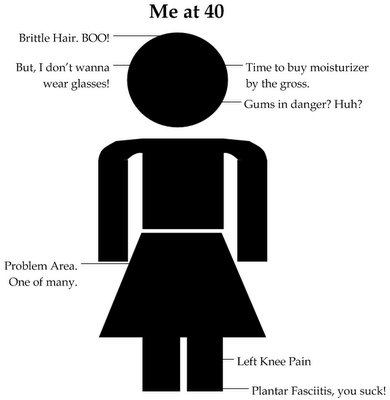 My once super-thick and indestructible hair is drier and delicate… 27years of abuse.Perms and Sun-In spray in the 80s, alternately bleaching or dying jet-black in the 90s, highlights/lowlights in the 00s, and going blonde in the 10s.Yep, it all finally caught up with me.I officially have fragile hair.
My skin is drier and beginning to lose elasticity. Outdoors, am wearing visors and sunglasses religiously, and feel pangs of guilt when I forget sunscreen.
At the end of a long day at work, I find myself moving reading material or my fine-gauge knitting to a comfortable distance. ME!The girl who has had enviable hawk-like vision all her life…I'm actually afraid to get an eye exam, lest I am told to start using reading glasses.

  
My dentist tells me that my teeth LOOK nice and bright and white, but I brush too zealously and am destroying my gums.Now I need to worry about enamel and gum issues.
My body – don't get me started.Bigger than I have ever been and I feel tired all the time.
Knee pain.

   So, a

bout ten years ago, I joined a new gym.My first day there, I saw a cute boy and hopped on the step machine.Too optimistically.I didn't fiddle with the settings, but started showing off and I felt a not-so-funny twinge. Now it comes back from time to time – to remind me to set the machine to MY ability and not be a show-off.Knee soreness is mostly under control and doesn't bother me while running.But I do have to baby it during my non-running days, occupied by another new love: Zumba. But that deserves its own blog post another time.
Heel pain.Plantar Fasciitis. I hate you.It appeared five years.I went to a podiatrist, he made some rigid orthotic inserts – that I never wore because they don't fit in any cute shoes.But he gave me a great piece of advice – ditch the crocs, flipflops, and stop going barefoot.And I did.And the pain went away – for several years.But it came back.And how can I run with PF?Let's just say it hurts.

  B

ut it is getting better.
How?I swallowed a very bitter pill and gave up my sexy strappy heels.It is CLARK's or Aerosoles for the office. Birki's when I am not at work. And no going barefoot.Birks are my house slippers, my weekend shoes, my sandals, my beach flipflops, etc.I always have a pair with me. Luckily, I found cute Disney Birki's to make the ugliness of a big clunky shapeless shoe bearable. These are the three pairs I currently own, and am working on getting a few more.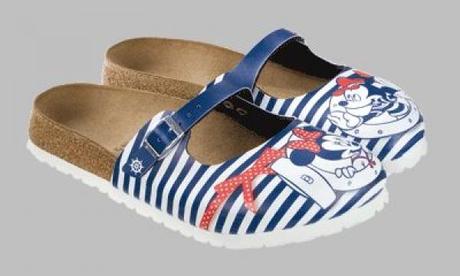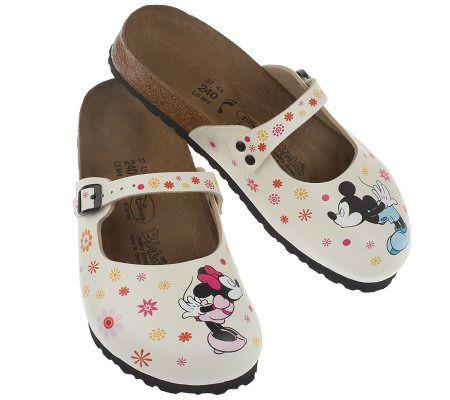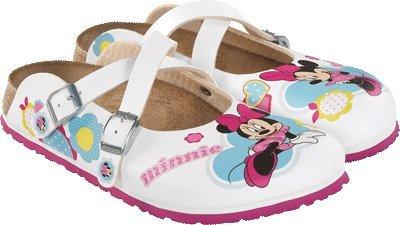 See!Adorable, right?  I would be miserable in boring solid-color Birks.  But these make it bearable.

So there I am. Top to Toe.Falling apart like my beloved Jeep.She is eight years old, needs new tires, and occasional pep talks.But she runs.Not as smooth as she was in 2004. But then again – Jeeps have never been smooth.They ride a bit rough and tumble.Same as me.

But instead of feeling like I have one foot in the grave, I'm going to run.I'm going to become stronger and leaner.I'm going to look good to my suddenly-studly DG. (Well, he was always studly to me, but now everyone else seems to be noticing.)