A website comes in handy for the online presence of your business. However, having a website isn't enough; you have to ensure that its design supports search engine optimization (SEO) and offers excellent customer experience.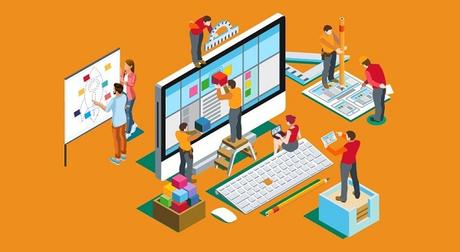 If you doubt your web design expertise, it's advisable that you hire a Check Out: Advantages of Having a Website for Your Business web design agency to ensure that the site has a perfect design. Nevertheless, whether you hire an expert or opt to do the work on your own, you need to have basic knowledge about web design blunders. With the experience, you can easily relate the performance of the website to its design and know what to do to make things better.
Check Out: Free Graphic Design & Photo Editor Software
On that note, it's now time to have a look at the following costly design mistakes that you should avoid when creating a website or address in your existing site for improved performance.

1. Unclear, Uncompelling or Absent Call To Action
A call to action is a phrase linked to a button or button to prompt your website visitors to take the desired effect when they click on it.
What you want your site visitors to do? Sign up? Buy your product? Contact you? Whatever you want them to do, use a compelling phrase that prompts the action. However, you must give the visitors a compelling reason why they need to respond to your call to action by creating content that describes how your business and products or services can satisfy their needs. After knowing how you intend to solve their needs, they can decide to act on the call to action.

So, what if the call to action isn't there?
You'll be losing lots of conversion opportunities if your site doesn't have a call to action. You'll be leaving them asking, " Aaw! Nice! But what do I do next?" Since they don't have all the time to figure out that most of the potential buyers or subscribers will move to your competitors.
Check Out: How Much YouTuber With 1 Million Subscribers Earn Per Year?
So, ensure that your website has a bright, executable, and compelling call to action, which is preceded by engaging and quality content about your business.

2. Mobile-unfriendly Design
Responsive, mobile-friendly design is one of the most crucial aspects of a website. Since your target audience uses different devices like desktops, smartphones, iPads, and PS4s to access the internet, you should ensure that your website has a design that allows it to be accessed through all these devices.
If the design isn't responsive on any or some of these devices, you have reduced chances of reaching their users. Besides, an unresponsive design limits your site's pages from ranking high on search engine result pages because search engines like Google give ranking preference to websites with mobile- friendly and highly responsive designs.

3. Using Outdated Plugins and Themes
Failure to update your website's theme and plugins regularly make the site more vulnerable to cybersecurity risks. Remember that just like plugin and theme developers, malicious tech-savvy people like hackers strive to keep abreast with every new technological advancement.
The developers know this, and that's why they keep on updating their products to seal the loopholes that these mischievous people can use to compromise the integrity of your site. Therefore, it is essential that you use the latest versions of your themes and plugins by updating them regularly.

4. Plugin and Visual Overload
An ideal site should have a loading time that doesn't exceed 2 seconds. However, if your website is overloaded with plugins and visuals, achieving this loading speed will be impossible. Low load time leads to poor customer experience, which then adversely affects the SEO of the website.
Try these 7 Easy Tips to Speed Up Your Website
Therefore, as you install plugins and upload visual content, ensure that your hosting service package has sufficient capacity for uploads and the installations without affecting the loading speed of the website.
Avoid the above mistakes on your website, and you won't regret it.