Whether you are looking for granite countertops in Victoria or Chicago, finding the best installers can be challenging. There are tons of things to take into consideration about the company you choose to contract to install your new countertop. Here are several things that will help you with your search.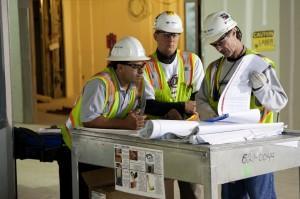 CC:Image Source
1. Make a List of Companies that Install Your Material
There are lots of great cabinet and countertop installers out there. Find out who in your area has a good reputation for installing the type of counter you want by asking around. Hardware stores are great places to find out information on the contractors in your area. Go to the countertop sections at your local stores and start asking for advice.
Don't just settle on the first company you hear about. It is important to review several different companies to compare. That way you are more likely to find someone that stands out.
2. Compare Your Options with Each Other
Once you've compiled a list of five to ten counter installers, it's time to do a little research. There are several things that are indicative of the level of professionalism exhibited by a contractor.
Referrals are valuable assets to any respectable business. A company with a good reputation should have no problem providing you with access to former customers. Get as many referrals as you need to feel like you have a good understanding of each contractor and their practices.
Estimates are educated guesses on how much a project will cost. Stonecrafters says that when getting estimates, it is important to have your measurements in hand. It speeds up the process and can eliminate some material choices.
Most contractors offer free estimates on potential contracts. Ask for estimates from the companies you are considering. Getting multiple estimates helps keep contractors honest by making them compete for your business. It also ensures that you will get the best value for your dollar.
Style is something that is unique to individual countertop designers and builders. There will be differences between the various styles offered by different contractors, and your stylistic preferences should coincide with those of the people you hire. Spend some time going through the contractors' portfolios. Make special note of anything that fits your preferences.
Timeliness is a big factor when choosing a contractor. Some contractors take their time to do things correctly. Others take their time because they aren't worried about your time. Some contractors will cut corners just to get done a little early. Make sure that you investigate this aspect of any countertop builders you are considering.
3. Have Conversations with Your Potential Contractor(s)
Now that you have a good idea of what you are looking for and what it will cost, it is time to sit down with some professionals and get a plan going. As this stage, you should be asking lots of questions. Failure to completely understand your options or the installation agreement can result in unwanted features or a build that takes too long. It is important to know exactly what you are getting into before you dive in.
4. Make Your Decision
You now have more than enough information to make an educated decision on which contractor to hire. You should have zeroed in on a couple of contractors. Don't over-think it too much. You've done enough research to be confident in whomever you choose.
If you are stuck between two or three options, then do your best to pick the best one. Remember that it doesn't matter too much at this point which one you choose, since all of the options left on the table are high quality.
Putting a new countertop in your kitchen or bathroom is a great decision. Just make sure that you are getting the countertop that you want at the best rate possible by investigating all of your options. Don't let yourself make a decision that you will regret later.
Stop searching! Start selecting with BidsByPros.com today. Post your project need and connect with local contractors in Toronto and Ontario.
Author Bio Box:
Michael David is a freelance journalist and blogger living in New York City. Michael loves writing about DIY projects, home improvement, and garden-related topics. His favorite countertops come from Hari Stones Ltd.
Shared by Don Zilleri
BidsByPros.com Moderator

Don Zilleri
Don Zilleri is an author and researcher. He is specialized in business marketing, development and is a small business owner. He learns as he writes by researching and interviewing experts and professionals in many categories and topics. Join him in Facebook and become part of his pro network in LinkedIn All Don Zilleri's article's authored exclusively for BidsByPros.com All rights reserved. If sharing, credit Bids By Pros in article source.