You might remember, back in February, I set myself a challenge as part of my 30 Before 30 to learn how to apply liquid eyeliner, as demonstrated here in my first attempt. To be fair, I haven't been using liquid eyeliner much over the past five months so I haven't had that much opportunity to practice. Let's face it, I really needed the practice!!
However, I've recently been testing out ELF's Liquid Eyeliner in Coffee for a blog post over at
Makeup Mew
, and I wanted to share with you guys how I've been getting on: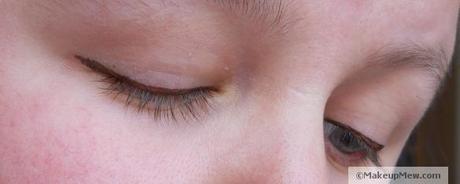 Photography by me, and used on Makeup Mew.com
I feel really proud of myself for how well this eye turned out, because I actually used a method of application that I've never tried before. That was to apply the liquid in small, light strokes gradually working along my eye lid. I'm not sure if it was the small strokes, or the fact that I was doing it lightly (I do have a habit of being quite heavy-handed at times), but it certainly seemed to work wonders.
Of course it's not perfect, and I definitely need to practice a bit more, but it's a lot better than my tragic previous attempts. I might be able to conquer this challenge after all :-D