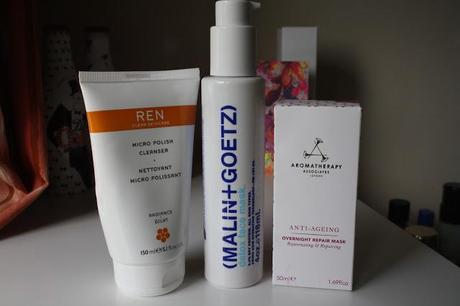 I haven't done one of these posts for a while as I have taken my skincare back down to basics. I am having a nightmare with my skin at the moment, breakouts all over my face and even on my shoulders and arms. (yuck) so I am keeping things simple until my body decided to sort it self out.
These are all fairly new products that I wanted to share with you as I really like them all. I have been using them individually, rather than all three together whilst my skin has been paying up. 
First up is the Ren Micro Polish Cleanser (£20 Ren) which is a two in one product that cleanses the skin and gently exfoliates it too. It contains Glycolic acid which helps to remove dead skin cells and decongest the skin. I am not usually a huge fan of manual exfoliators but the particles in this are very small and don't feel scratchy on the skin. I only rub this in slightly then leave it on for a minute or two to let the acids do its work.
After I remove it with a flannel my skin feels very soft and smooth. Great for giving your skin the boost it needs.
Next up I have the Malin + Goetz Detox Face Mask.(£29 Space NK) This is such an unusual mask that deeply cleans the skin while still being very gentle. It is a gel mask but once applied turns into a foam which lifts dirt and purifies the skin.
This feels really strange on the skin as it foams up, it kind of tickles. It is a great mask to use when you are limited for time as you only leave it on for 5 minutes. It leaves your skin feeling really clean afterwards and helps to get rid of all the grime.
Lastly is the Aromatherapy Associates Overnight Repair Mask (£51 Aromatherapy Associates) which is a moisture mask that you apply before you go bed to help your skin restore moisture and aid cell renewal. This contains rose and frankincense which you can really smell in it. The scent is relaxing and I think does help with sleep. When waking up after using this, my skin feels so plump and smooth, it just generally looks healthier. This is an expensive product but so worth it like all the other Aromatherapy Associates products.
Three great but slightly on the expensive side products for you. I do think they are all worth splashing the cash on though.
Have you tried any of these?