… and comes with a surprise: The first animated cover in the history of digital fashion magazines!
No kidding, it features Tania Onishchenko dressed just with a Guy Fawkes mask, we-ell… dressed…

, and a pair of scissors. See it with your own eyes!:
http://2bemag.com/issue/18/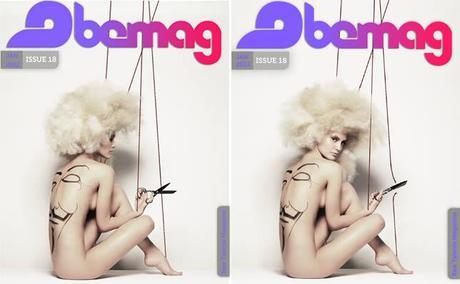 And, as a cover as revolutionary as this requires, we've produced also the correspondent making-of for your information and pleasure (divided in two chapters):
Chapter 1, the prelude, portraits the preparation process, the people involved and the ambience at DeeBee.
Chapter 2 it's the core, the juicy part, with the photoshoot itself and the resulting cover.
The menu of fashion contributors and their works for this issue is:
Marcos Domingo: INDIGNARTE [Production: DeeBee]
Sven Cichowicz: ON AN ISLAND
Paolo Prisco: TARTAN & COATS
Cinzia Mele: FETISH SCHIK
Sèbastien Roy: AMAZONE & STRAIGHT TO HELL
And the menu of everything trendy is:
Travel & Arts: Bomarzo
Video-art: Six Easy Pieces by Reynold Reynolds
Discovering Raw Talent: Bruno Pieters
A Day in the Life by Max Adam
Enjoy! ♥