After a long break from blogging let's see how long I can keep this going this year. 😉

August 2019 Garden Journal - Weeks 1 and 2

2019 Greenhouse sowing is underway.
Thursday 1st
Min 0.0C Max 11.5C Rain 0mm
Removed all nettles from Bed 11 (new carrot bed) placed them on another bed for digging in.
Put Potatoes Solanum tuberosum - Kennebec to chit in egg carton inside in a cool room.
Friday 2nd Moon Planting - Green seed sowing time
Min -2.8C Max 14.5C Rain 0mm
Cleared out Greenhouse and prepared heated tray propagator in caravan.
Soaked coir bricks. One lot with Seasol and Charlie Carp (fish emulsion) added to soaking water (rainwater). Others soaked with rainwater only.
Seeds sown into punnets using a mix of coir (without additives) and sieved potting mix and kept in Green House.
Bunching Onions Allium fistulosum - Red Beard
Bunching Onions Allium fistulosum - Evergreen Bunching
Chicory Cichorium intybus - Catalogna (large cell tray)
Coriander Coriandrum sativum- Lemon
Coriander Coriandrum sativum- Slow Bolt
Florence Fennel Foeniculum vulgare dulce (large cell tray)
Lettuce Lactuca sativa - Cos Verdi
Lettuce Lactuca sativa - Mignonette Brown
Mitsuba Cryptotaenia japonica
Parsley Petroselinum sativum - Triple Curled
Plantain Plantago major - Broadleaf
Silverbeet Beta vulgaris- Golden Sunrise
Silverbeet Beta vulgaris- Ruby Red
2 x Trugs of grass weeds given to chooks
Saturday 3rd
Min 3.5C Max 13.2C Rain 0mm
Seeds sown in punnets using coir with no additives and vermiculite mixture and placed on heated propagation tray (kept in old caravan)
Amaranth Amaranthus tricolor - Green Leaf
Basil Ocimum basilicum collection:
Dark Opal, Genovese, Lettuce Leaf, Mrs Burns Lemon
Clary Sage Salvia sclarea
Cumin Cuminin cyminum
Malabar Spinach Basella rubra - Red
Dug up Chives Allium schoenoprasum from old carrot bed potted them up and put in Green House
Dug up Egyptian Onions Allium × proliferum from same bed for replanting in ground.
Cleared beds 17, 18, 19 and 14.
Sunday 4th
Min -1C Max 14.3C Rain 0mm
Chooks out helping with weeding. 😨 Nettles to beds 14,15, Cleared bed 13
Seeds sown in punnets using coir and vermiculite mixture and kept in Green House:
Choi San Brassica chinensis
Golden Purslane Portulaca oleracea
Hon Tsai Tai Brassica chinensis
Tatsoi Brassica rapa rosularis
Potted up some cuttings from a volunteer Warrigal Greens Tetragonia tetragonoides plant (New Zealand Spinach) that the ever helpful chooks had dug up. Also potted up a small piece of Lemon Balm that they had also dug up. 😍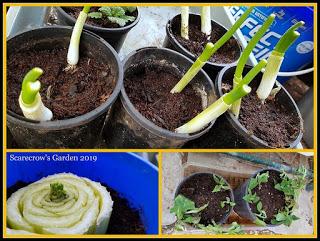 Monday 5th
Min -2.4C Max 17C Rain 0mm
Cleared ground by tangelo, pear, apricot and nectarine. Pruned out any dead branches and those at eye level. Returned most of the weeds (nettles) to the ground around the trees as mulch.
Potted up shop bought Spring Onion ends and Celery stump to re-grow.
Tuesday 6th
Min 0.3C Max 18.5C Rain 0mm
Weeding - nettles to beds for digging in or mulch and grass weeds to chooks.
Wednesday 7th
Min 1.5C Max 19C Rain 0mm Polar blast of cold, windy and wet weather forecast for rest of week...
Cleared beds behind the deck shade removed the shade covering to alow any rain that might fall to get to the soil. Nettles to plants as mulch and any grass to chooks. Surviving plants in this section: comfrey, lucerne, thyme, white yarrow, hollyhock and ivy pelargonium.
Thursday 8th
Min 5C Max 12C Rain 3mm Polar blast hit today with strong wind warnings in place
Too windy to be outside today
Noticed Lettuce Cos Verdi and Chicory Catalogna seedlings emerging in the Green House.
Friday 9th Moon Planting - Fruit seed sowing time
Min 5C Max 10C Rain 4mm Polar blast today continued cold, windy and rainy
Seeds sown, into loo rolls filled with a coir and sifted potting mix, seeds of Peas Pisum sativum - Dwarf Snow Oregon Sugar Pod, Peas Dwarf Sugar Snap and kept in Green House.
Sown into punnets in a mixture of coir and vermiculite on heated propagation tray:
Tomatoes Solanum lycopersicum - San Marzano, Hungarian Heart (both Indeterminate/Climbing), Roma (Determinate/Bush), Sugar Lump (Cherry, Climbing), and Ida Gold (Cherry, Bush).
Capsicum Capsicum annuum - Californian Wonder and Italian Fryers Mixed
Eggplant Solanum melongena - Black Beauty
Saturday 10th
Min 0.8C Max 10.2C Rain 2.2mm Although snow was forecast as " possible snow flurries before sunrise" I don't think we actually had any! ( it was too cold to go see)
Noticed more seedlings emerging in the greenhouse and collected another trug of weeds for the chooks.
Potted up a tray of Tagasate Cytisus proliferus seedlings that had popped up in one of the garden pathways. These can be planted out later to harvest the leaves for mulch...the current drought in Australia means no hay/straw is available for garden use.
Sunday 11th
Min 4.7C Max 10.5C Rain 3.8mm
Monday 12th
Min -1.5C Max 10.8C Rain 0.4mm
Chooks out helping with weeding.
Tuesday 13th
Min 1C Max C Rain 0mm
Seeds in punnets on the heated propagation tray were emerging so these were moved to the greenhouse - Cumin, Clary Sage and Amaranth.
Wednesday 14th Full Moon
Min -1C Max 15.6C Rain 0mm
Weeding
Thursday 15th
Min 2.2C Max 19C Rain 0mm
Weeding and re-shaping pathways. Pruning trees out of way of new pathways. Moved punnets of emerging seedlings from heated propagation tray to Greenhouse - Ida Gold Tomatoes and Dark Opal Basil.
Prepared beds 11 and 13 for direct sowing of Carrots and Parsnips this weekend.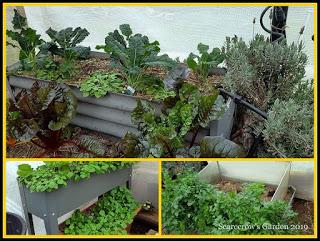 Meanwhile in the Shade Tunnel...seedlings that were planted in May are slowly growing away. With last year's Parsley plants and volunteer Miner's Lettuce Claytonia perfoliata so there are greens to eat.