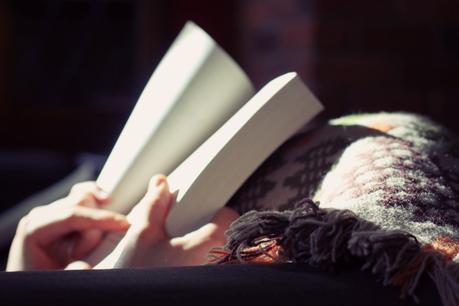 It has been too long since I've nerded out and analyzed my reading habits. I know a lot of people, namely book bloggers who also like numbers, do this all at the end of the year, but I can barely remember what I ate for breakfast. If I wait until December I won't have a true reflection of what book was my favorite, nor will I push myself to make any changes in my current habits. 
Prepare yourself for lots of charts as I analyze my reading habits thus far and make goals to shape my habits for the rest of the year.
Number of books read: 42
My end of the year goal is to read 100 books, I'm clearly about 8 behind.
Source Breakdown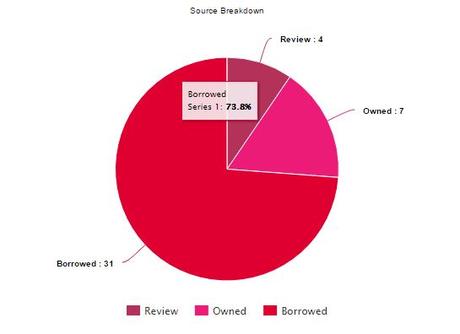 What I've Learned:
I sincerely believed that I had made a larger dent into the books that I already own, but this tells a very different story. 
What to Change: 
I'm okay with borrowing a majority of my books as a lot of them end up being audiobooks, but I need to make more of an effort each month to dig into those books that I already own.
Format Breakdown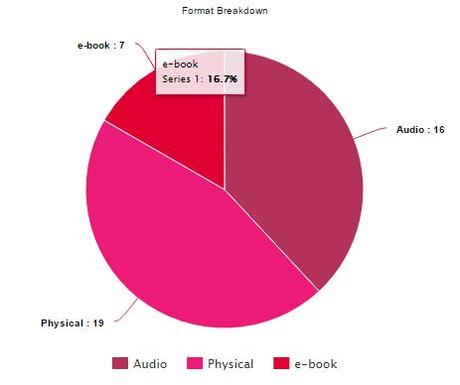 What I've Learned:
I have successfully made a change in my habits! I've gone from listening to next to no audiobooks to making that format approximately 38.1% of my overall reading.
What to Change
: Audiobooks definitely help me read more overall, so I want to continue to make it a habit to listen to them, but I want to up my game and listen to at least one a week. I also want to increase the amount of e-books I read, because that too should increase my overall number of books read.
Fiction vs. Nonfiction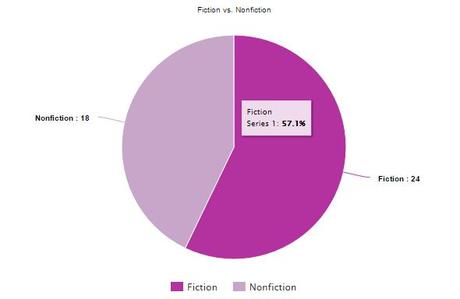 What I've Learned:
This is HUGE for me! I spent a lot of time avoiding nonfiction, but am realizing that for me nonfiction is the easiest for me to pay attention to in an audio format. Learning this about myself has helped me increase the amount of nonfiction I am reading.
What to Change:
Keep trying to balance the scales!
Genre
In
nonfiction
 I tend to gravitate towards books that most reflect the memoir style. In
fiction
, I really love contemporary, women's fiction. With that said I hope to continue to read what I love, but to also take the time to get outside of my comfort zone.
Rating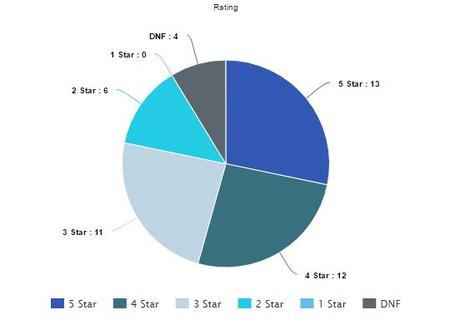 What I've Learned:
This is my first time tracking this, but I've been doing a really decent job at picking up books that I will like. 
What to Change:
I hope to continue to read books I will enjoy, but to not necessary shy away from those books that don't initially seem to be my cup of tea. 
Best in Books
Best in Fiction:
Happiness for Beginners by Katherine Center
Best in Nonfiction:
Dad is Fat by Jim Gaffigan
Best series started:
Outlander by Diana Gabaldon
Favorite New-to-me Author:
Kristin Hannah
Most Memorable Character:
Jamie Fraser from
Outlander
Most Thought-Provoking Book:
Think like a Freak by Steven Levitt & Stephen Dubner
Please. recommend a book or a series that you think I should make a priority to read before 2016 is over!