It's that time of year again! Awards season! I'm a little late getting my favorites (and least favorites...coming soon!) up on ze blog, but I was entertaining people Sunday night and then I crashed and went to bed. Sue me. 
Fashion this year was ...interesting. We all kept commenting that a lot of the dresses and hairstyles looked like something we wore to prom. In 2004. But there were quite a few standouts!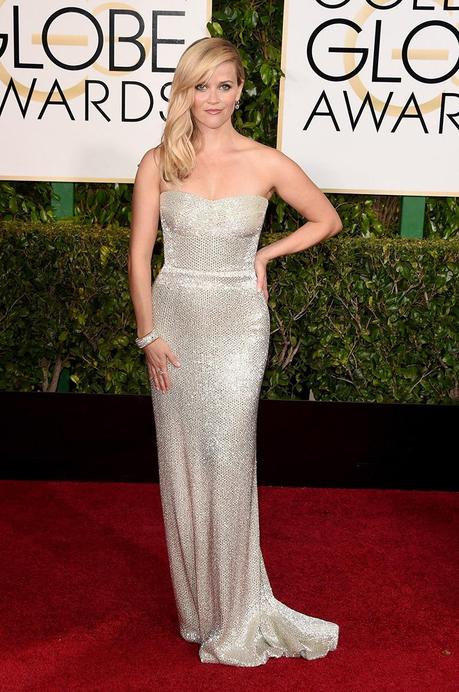 There was a lot of silver on the red carpet this year, which was a nice change from previous years' white trend. It worked on some, like Reese here - who looked like a gorgeous, blond disco ball, but not on others.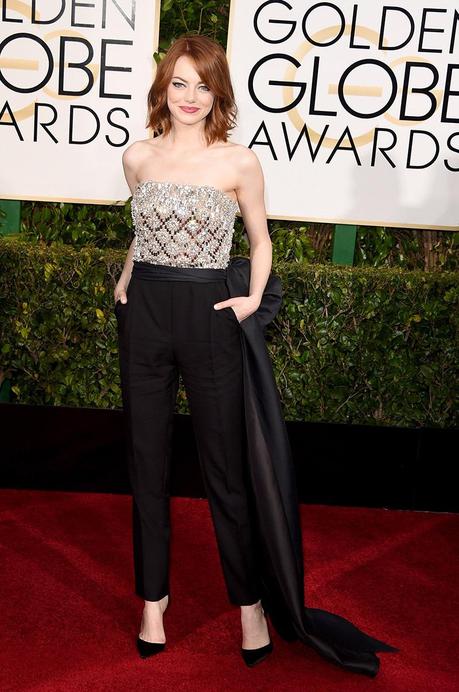 In my head, if we were ever to meet, Emma Stone and I would be great friends. We'd hang out all the time and I'd miraculously lose 80 pounds so that we could share clothes. Like this gorgeous jumpsuit. I love everything about it. Except that weird bow. That has to go,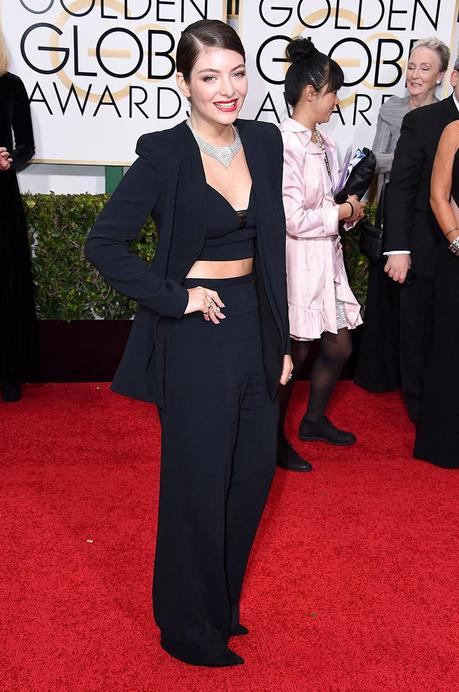 More pants! Seriously, I am all for the ladies rocking beautiful pantsuits on the red carpet. Keep it coming, Hollywood!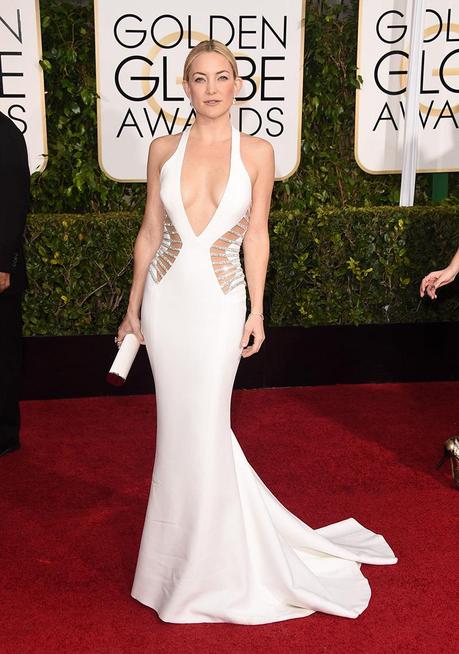 Kate Hudson looked gorgeous in this dress. I am so jealous. It was the perfect combination of classy and sexy. And that amount of train is just superb.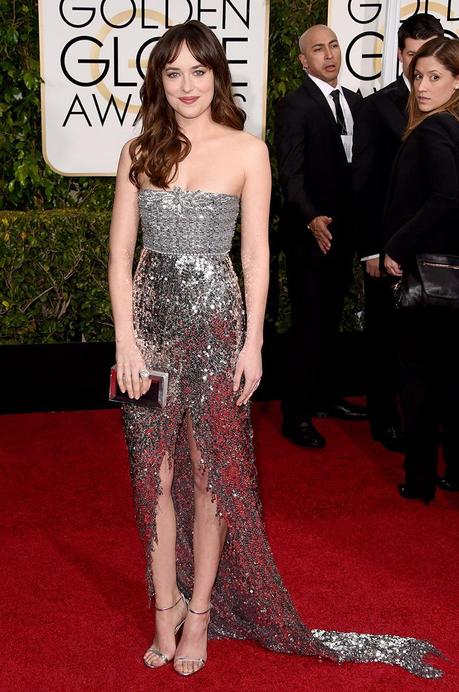 Dakota Johnson just really does nothing for me. However, this dress. Another glorious disco ball. I want it. I would wear it everywhere.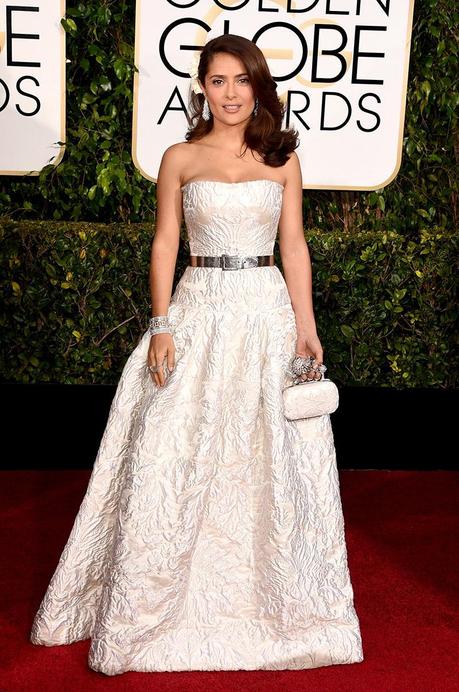 This almost strays too close to wedding dress territory. But, I would totes wear that if I were getting married. It's so flattering and timeless! And I love the mirrored belt!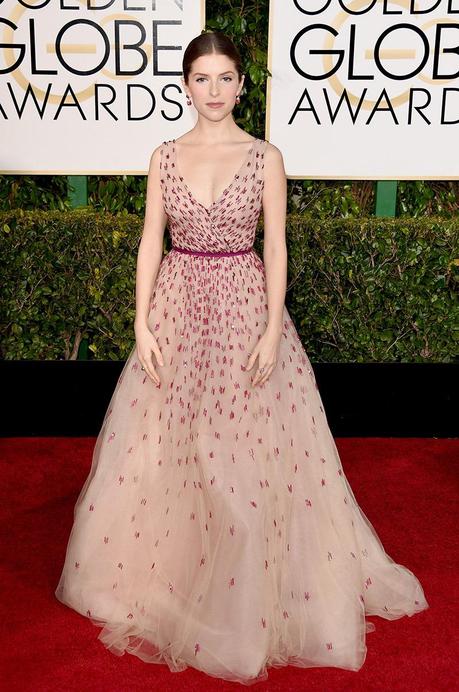 Anna, my old friend! I love this dress. It looks so wonderful on her, and I love the detailing and neckline. I just wish she had done something a little more exciting with her hair/makeup...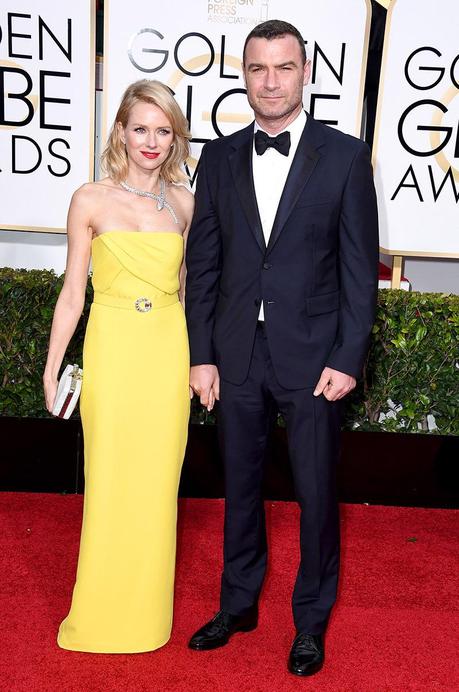 Yellow was another big color on the carpet. I love how bright and cheery it is, and it works on Naomi Watts in a way that it never would on me (also, bonus Liev Schriber). She looks absolutely gorgeous and I loved her snake necklace!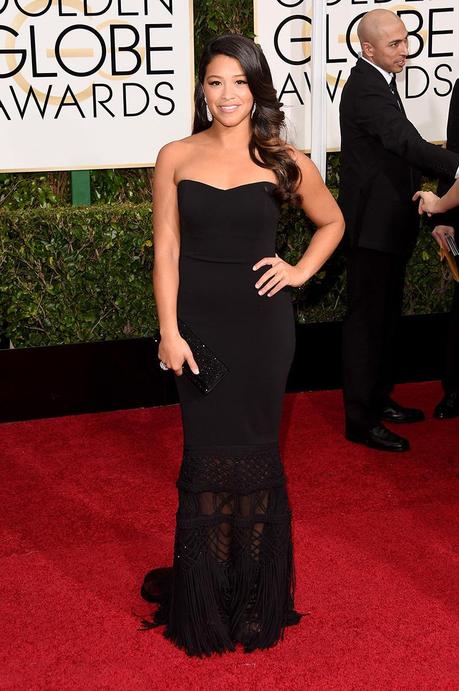 Gina Rodriguez is my new fave (and clearly I need to watch Jane the Virgin stat). Her speech was beautiful, and her gorgeous, simple black dress was absolutely perfect.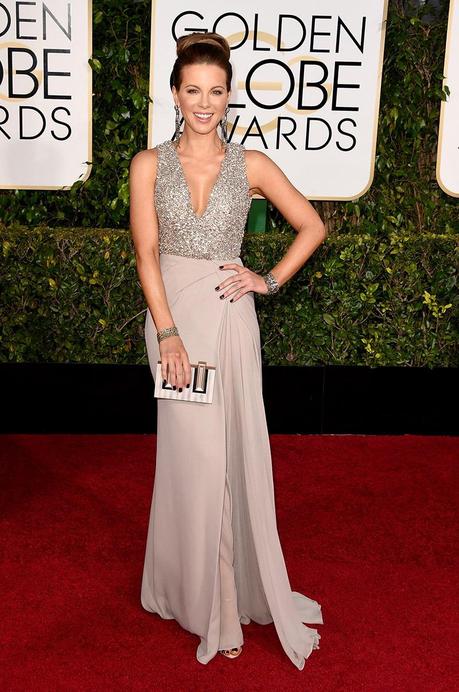 Another disco ball! Kate Beckinsale has been gorgeous for the last 20+ years, so it's no surprise that she looked beautiful at the Globes. Again, I would wear this dress in a heartbeat. If I had somewhere to wear it, that is...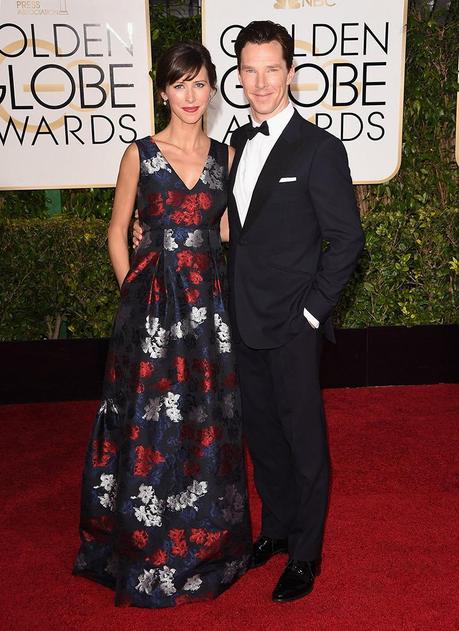 HI CUMBERBABY! I adore this dress. I want it. In full-length. In knee-length. However. I loved the print, the cut, everything. And Sophie Hunter paired her hair and makeup so well. Love.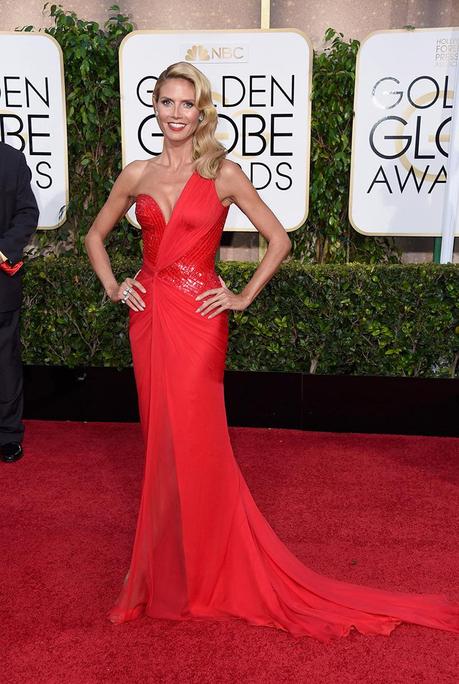 Let's all just admit that we want to be Heidi Klum. The end.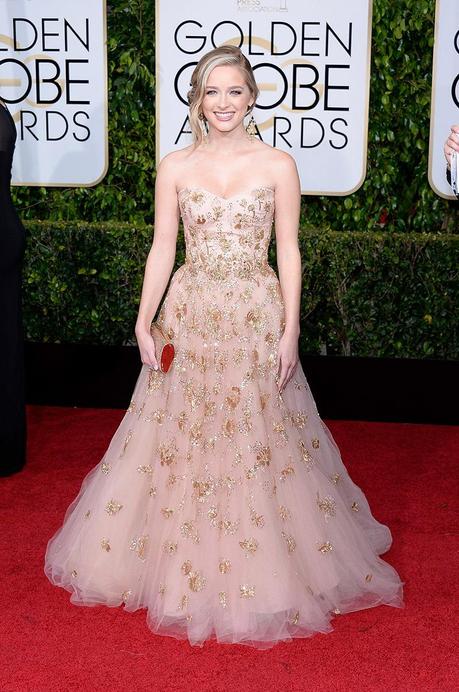 Miss Golden Globes! Who knew Kelsey Grammar could make someone so pretty? I loved this youthful dress. It made me so happy every time she awkwardly directed someone offstage.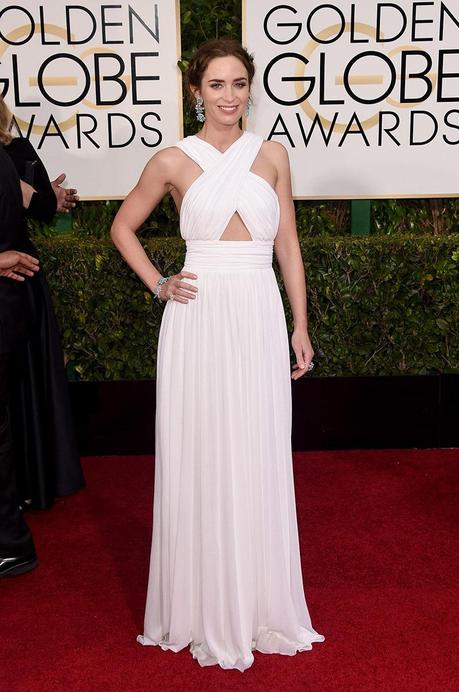 Bow to the queen. Emily Blunt is awesome, and this simple grecian dress was absolutely perfect on her. If I could somehow get my skintone to work with white, this would be exactly what I'd choose for my dream beach destination wedding!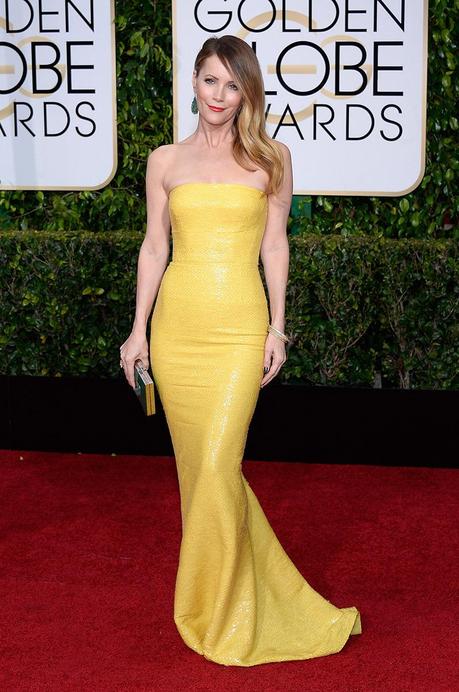 Another yellow dress! Leslie Mann kept it simple and by god did it work. This form-fitting number was just gorgeous.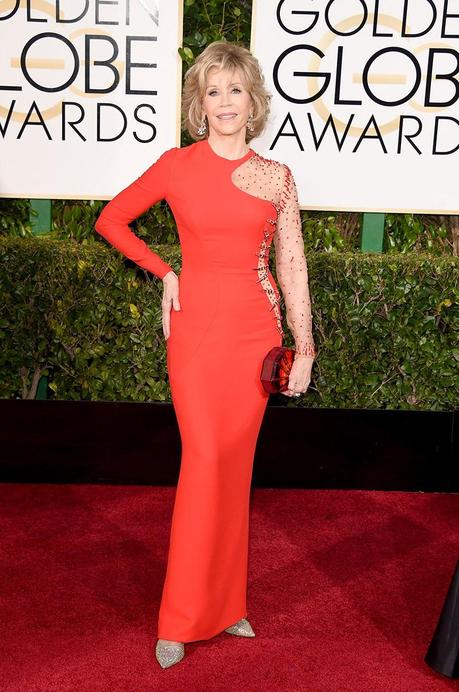 Werk, Jane Fonda. I want to be that hot when I'm old. Or now...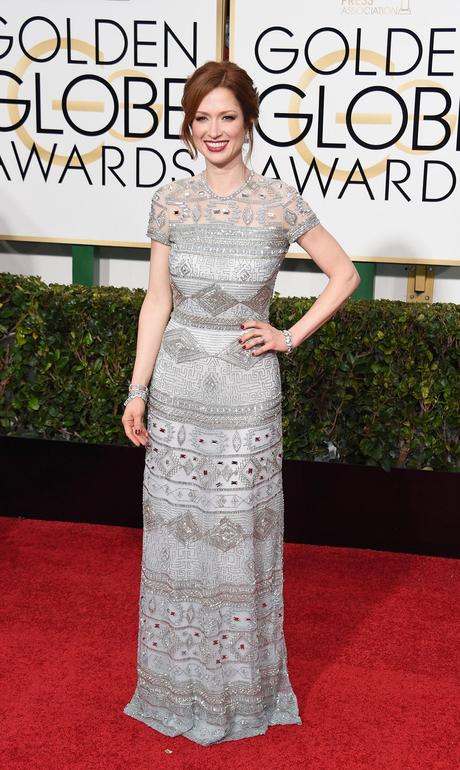 I WANT THIS DRESS SO BAD OH EM GEE. Ellie Kemper usually chooses dresses I don't particularly like. Nor do I normally like gray dresses. But this one. GIMME.
That rounds up my favorites. Stay tuned for the worst of the worst and those I just couldn't decide about!