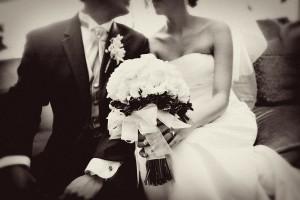 Planning for weddings requires time, patience, and resource. To secure the dream location, the best caterer, and the other essential like the favorite band, planning must  start at least a year before the big day. Lets study some of wedding trends of 2014.
Jaw-Dropping

in 2014 wedding trends is about dramatic and over the top weddings. This themes are created by having extravaganza venues and dresses. Exciting wedding venues is very sought after in 2014, so if you want to impress your wedding guests, get looking early on. In dramatic weddings, guests will be surprised and awed in every level such as stage, over-sized decorations, and magnificent royal service.
Romantic



Unfortunately this wedding theme has not been in trend and the top fashion. But romance and love themes are back in 2014 big time. Not only romance theme is making the top chart of wedding trends, but also it is turning into dramatic and jaw-dropping theme.
The basic of romance theme is lots of flower and flowery decorations surrounded by candles. Designers definitely reflect the romance theme in brides dress in 2014.
Traditional
Traditional wedding has always been in the heart of every girl dreaming for her wedding day. Well the good news is 2014 is big on traditional and vintage wedding trend.
– Bring out the vintage by ordering a traditional bride dress.
– Decoration on every table, curtain, doorway, and ever limousine must reflect on this beautiful theme.
– Adding family history of bride and groom picture album in the entrance.
– Pay extra attention to jewelry fashion to keep it traditional and vintage.
Fun and Crazy

2014 is adding a new wedding trend to its list of themes, fun and crazy festival trend is about having a great time and not just a dry official ceremony.
– Live band and live music is the most important key to this theme.
– List of fun food and easy service from the caterer next door.
– Games and entertainment is the core of this fun wedding trend.
– Reflect this crazy and fun wedding theme in every decoration, bridal dress, and venue choice.
Symbolic
2014 is Chinese year of horse and introduction to symbolism wedding trend.
– Wedding rings selection is the start to symbolize this wedding trend.
– Music and band should reflect the symbol and theme of choice.
– Create certain ceremonies that is a long lasting memory to all the guests, for example give every guest a small symbolic gift of the couple's favorite vacation where they share more love.
– A symbolic wedding theme must reflect in every corner, decor, and even food.
Every couple must choose a theme and trend suited to their life style and desire within the budget assigned. Pick a trend and wedding theme that a couple feels naturally connected and can take it's memories deep in their souls.
To find event planners and inspiration for the wedding theme, post your project in www.bidsbypros.com 

Axel Ziba
Axelan Ziba is an author and researcher. He is specialized in business marketing, development and is a small business owner. He learns as he writes by researching and interviewing experts and professionals in many categories and topics. Join him in Facebook and become part of his pro network in LinkedIn All Axelan Ziba article's authored exclusively for BidsByPros.com All rights reserved. If sharing, credit Bids By Pros in article source.