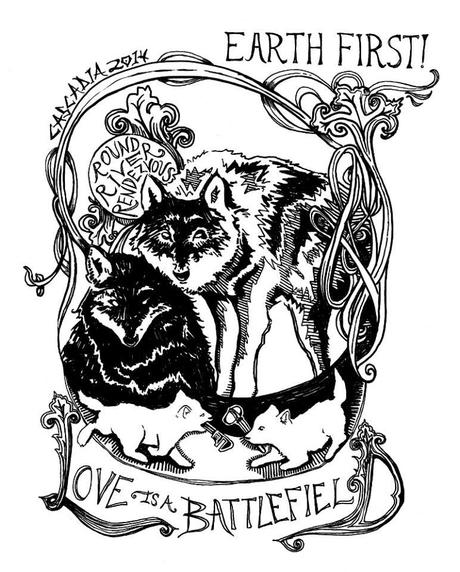 OR-7 and family, the Klamath Knot wolf pack.
from 2014 Earth First! Rendezvous
As you may have heard, the 2014 Earth First! Round River Rendezvous is just a week away, from July 1st-7th. This year the summer Rondy will be in the Klamath-Siskiyou region of Southern Cascadia, roughly surrounding the border of so-called Oregon and California. The directions are posted here.
If you haven't been yet: the Round River Rendezvous is the annual summer gathering of Earth First!, usually held on or around the first week of July. Each Summer, this week-long camp-out attracts several hundred Earth First!ers from around the world. The gathering is coordinated by a volunteer committee and includes workshops, skill-shares,  campaign discussions, story telling,  campfire music and a rally with performers and speakers. This is a by-donation, rowdy, all-inclusive, backwoods event. You should come!
The website has been updated to include information about workshops and what to bring. If you are driving to the Rondy with empty seats, or if you are still looking for a ride, please post on our rideshare board now.
There are a couple very important updates from our organizing committees:
From the kitchen
The kitchen will again be organized by our friends at Seeds of Peace– with some changes. Seeds will cook hearty delicious meals for breakfast and dinner, but not lunch. All people coming to the rendezvous will be responsible for their own lunch and snacks. Folks should also know to bring a coffee cup and their own utensils. This will leave our head chefs free to participate in the goings on throughout the day. For the unfortunate people who are not alerted by the website or their friends that they need to bring some food, Seeds will pack some tupperware containers so that they can grab extra food the night before to save for lunch. With their extra free time, Seeds of Peace will be hosting a small series of workshops on camp logistics and cooking for multitudes. We hope to still be welcoming, fill people's bellies, and also create more space to think about food, self sufficiency, and what it means to live in wild places.
From childcare
There will be a free, drop-in childcare area from Thursday, July 3rd, through Sunday, July 6th for 6 hours between lunch and dinner (roughly noon-6 pm, workshop schedule dependent). We have a coordinator who will set up volunteers in three shifts per day. Drop-in childcare is available for people ages 4-12. Younger people are welcome in the childcare area with a parent or guardian. Though as of now we don't have formal childcare set up on Tuesday and Wednesday, families are certainly welcome all week!
Please contact us with your thoughts and questions!
2014 Earth First! Rendezvous Outreach Committee
[email protected]
2014rrr.org