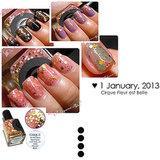 Hi there lovelies!
I made it to the end of 2013! Lacking in posts, but I remain optimistic for 2014. I'd like to look back at 2013, at the few posts I've managed to squeeze out of my crazy schedule, filled with hope to improve and share more nail polish posts with you.
My year in nails (clicking on the photos links to the blog post):


Thank you for being with me on this journey. More nail polish exploration awaits in 2014. Cheers to everyone for a better 2014!
♥ ♥ ♥ ♥ ♥
To Leave a Comment
I've noted that OnSugar's Comment feature has caused a few readers frustration by not accepting their input. While OnSugar works on rectifying it, I did a trial and error and found that comments don't get red-taped if you enter your information in the "Name" field without any space, ie. "ALacqueredAffair" instead of "A Lacquered Affair". I hope this works. As much as I want to, OnSugar doesn't allow the disabling of Captcha.