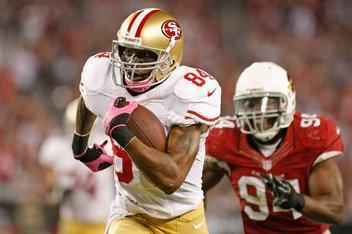 Photo: Getty Images
- Adam Parker
Week 8 of the 2012 NFL season is history and as is always the case in the NFL, it was full of big hits, big plays and close finishes throughout.
The Tampa Bay Buccaneers, on the back of rookie running back Doug Martin out of Boise State, embarrassed the Minnesota Vikings and opened the door for the Chicago Bears to increase their lead in the NFC North.
The New England Patriots obliterated the St. Louis Rams across the pond in the annual NFL game in London while the Miami Dolphins and Atlanta Falcons handled the New York Jets and Philadelphia Eagles respectively.
The San Francisco 49ers followed suit with a 24-3 shellacking of the Arizona Cardinals in a duel for top dog in the NFC West.
The Chicago Bears and Detroit Lions both came from behind to win and the Dallas Cowboys fell just short to the division rival New York Giants after battling back from an early 23-0 deficit.
Oh, and the Cleveland Browns — yes, 
those
Browns — knocked off the San Diego Chargers, 7-6. Apparently, the Chargers are allergic to bad weather.
Week 8 proved to be full of surprises, but I still managed to finish with a mark of (11-3).
My Pick 'Em Record: (Either 55-43)
Now, let's push forward to Week 9.
Kansas City Chiefs (1-6) at San Diego Chargers (3-4) on Thursday Night Football
Both teams are coming off a loss, but the difference between them is that the Chiefs are a complete mess right now. The Chargers will win this one with ease because the Chiefs are basically already waving the white flag at this point.
Prediction - Chargers win, 28-14
Denver Broncos (4-3) at Cincinnati Bengals (3-4)
Andy Dalton and A.J. Green are having another good year together and the young defense is probably one of the more underrated groups in the league. That being said, Peyton Manning plays for Denver and they'll be looking to beat a very beatable Bengals team to hang onto their slim division lead in the AFC West.
Prediction - Broncos win, 27-17
Baltimore Ravens (5-2) at Cleveland Browns (2-6)
Baltimore enters this game against the division rival Browns after having a bye week to move past their utter destruction at the hands of the Houston Texans. Cleveland may be coming off a win, but Baltimore is just the better overall squad and will also come in with a massive chip on their shoulder.
Prediction - Ravens win, 27-10
Arizona Cardinals (4-4) at Green Bay Packers (5-3)
The Packers are starting to hit their stride after getting off to a rough start to begin the season. Meanwhile, the Cardinals are coming off a Monday night game where they were absolutely manhandled by the division rival San Francisco 49ers. The Packers are hot right now and have too many weapons on offense. That, and Clay Matthews and company will wreak havoc on a one-dimensional Arizona offense behind a bad offensive line.
Prediction - Packers win, 31-13
Chicago Bears (6-1) at Tennessee Titans (3-5)
The Titans plain and simple won't be able to win this one. While Chicago may have trouble keeping Jay Cutler upright at times which has become the norm every week, they should still be able to make enough plays to win, especially with their ridiculously opportunistic defense. Can anyone else say Charles Tillman for Defensive Player of the Year? We can.
Prediction - Bears win, 23-13
Miami Dolphins (4-3) at Indianapolis Colts (4-3)
The Colts have surprised some people this season (not me) but I think they're going to have a tough go of it against an improving Dolphins' team. I'd like to believe that the Dolphins will grind their way to a win on the ground, but who knows? Maybe the Colts will surprise us again. After all, Andrew Luck did look pretty good last week...
Prediction - Colts win, 23-20
Carolina Panthers (1-6) at Washington Redskins (3-5)
Cam Newton and the Panthers can't
buy
 a win right now. Even when it looked like they were in position to knock off a heavily-favored Chicago Bears squad, Cam-Cam and company still found a way to choke it all away.
Could things change this week against a struggling Redskins' team? I suppose, considering that the Panthers — outside of their blowout loss to the Giants — were within one score of every other game they've lost so far this season. In other words, they're essentially beating themselves. Look for Newton to lead his team to it's second win against the worst pass defense in the league.
Prediction - Panthers win, 27-17
Detroit Lions (3-4) at Jacksonville Jaguars (1-6)
This one will be a one-sided affair. The Jaguars' offense has looked horrendous so far this season, and with Maurice Jones-Drew still sporting crutches and a walking boot, you better believe that's going to continue. Time to start looking forward to April for the draft, Jags' fans.
Prediction - Lions win, 31-13
Buffalo Bills (3-4) at Houston Texans (6-1)
Another one-sides contest in this one between two teams headed in very different directions. Do I expect the Bills to get shut out? Probably not, but the fact that I'd even mention it has to tell you that the Texans are going to win this one big.
Prediction - Texans win, 27-10
Minnesota Vikings (5-3) at Seattle Seahawks (4-4)
The Seahawks are a different animal when they're playing in front of their raucous home crowd. Then you add in that the Vikings are coming off a home loss against the mediocre Buccaneers and you understand why it's a fairly easy choice to go with Seattle here. After all, the Seahawks beat Tom Brady and the Patriots at Qwest Field, so why would the Vikings be any trouble even if they do boast the league's leading rusher in Adrian Peterson?
Prediction - Seahawks win, 17-13
Tampa Bay Buccaneers (3-4) at Oakland Raiders (3-4)
At first glance, this one looks like it could be a toss-up. But after thinking about it some more, I think it's fairly likely that the Raiders will come out on top in this one. Carson Palmer and the vertical passing game in Oakland should have a field day against the Bucs' 31st-ranked pass defense.
Prediction - Raiders win, 23-17
Pittsburgh Steelers (4-3) at New York Giants (6-2)
As much as I'd like to see my Steelers knock off the defending champs, for the sake of my Pick 'Em record this week, I have to go with the smart money. After all, there's a reason the Giants won the Super Bowl last year and are off to a solid (6-2) start this year — they're damn good. Also, I foresee some potential issues with the Steelers' makeshift offensive line holding up against the Giants' tenacious pass rush. I'm hoping I'm wrong and that Ben Roethlisberger has some magic stashed away for this game, but we'll have to wait and see.
Prediction - Giants win, 24-21
Dallas Cowboys (3-4) at Atlanta Falcons (7-0) on Sunday Night Football
Another match-up that looks even on paper but then you remember how the Cowboys don't always show up the way you expect them and that Atlanta is a tough out when they're at home in the Georgia Dome. Those factors and more will lead to Atlanta's eighth victory of the season. At this rate, they'll have that NFC South division wrapped up in the next week or two.
Prediction - Falcons win, 27-20
Philadelphia Eagles (3-4) at New Orleans Saints (2-5) on Monday Night Football
Two teams struggling mightily lately meet on Monday night. Based purely on statistics, the Eagles should win this game fairly easily considering that they rank in the middle of the pack for all stats while, despite Drew Brees leading the Saints' to the best passing offense, they also have the 32nd-ranked run offense and are arguably the worst overall defense in football.
It's tough to bet against the Saints in their own building where so many magical moments have occurred in the past, but something tells me that this just isn't the year for them. The Eagles will figure out a way to get this W.
Prediction - Eagles win, 31-23
Be sure to follow Beard And Stache on Twitter 
@BeardAndStache
, and also Adam 
@Adam_Parker43
, Like our Facebook page 
HERE
!