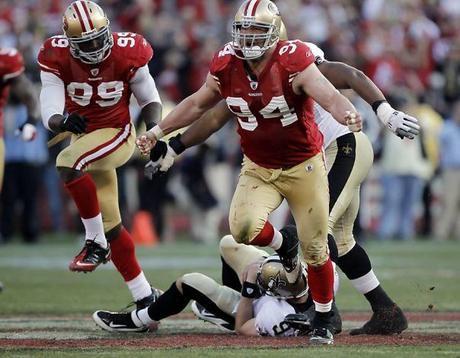 Photo: Michael Macor/The San Francisco Chronicle
- Adam Parker
Week 7 of the 2012 NFL season is done and what a wild week of last second finishes it was. The Seattle Seahawks fell a little short against the San Francisco 49ers in a game that featured two of the league's top defenses.
The Baltimore Ravens were completely obliterated by the Houston Texans despite the triumphant return of Terrell Suggs and they could be in for a rough go of it going forward if their defense (and offense for that matter) don't start playing with more consistency.
The highlights of the week were three wild finishes in the Giants/Redskins game that saw some great late-game heroics from Robert Griffin III only to be out-shined by Eli Manning and Victor Cruz. The Titans/Bills game was a back-and-forth shootout throughout, with the Titans coming out on top thanks to a last second touchdown hook-up between Matt Hasselbeck and Nate Washington.
The Saints/Bucs' game had the most controversial finish where, on the last play of the game, Mike Williams was pushed out of bounds by a Saints' defender in the endzone by re-established himself in-bounds before making what appeared to be the game-winning touchdown reception as time expired. It was later ruled "illegal touching", thus voiding the touchdown.
No doubt we're in for more crazy finishes heading into Week 8.
I had my best week of the season in terms of Pick 'Em, going (12-1)
My Pick 'Em Record: (54-50)
Now, onto Week 8!
Tampa Bay Buccaneers (2-4) at Minnesota Vikings (5-2) on Thursday Night Football
The Bucs' may be hungry for wins, but something tells me that they'll be leaving Hubert H. Humphrey Metrodome still starving with how well the surprising Vikings have been playing thus far. They may not have the full-on Purple People Eaters anymore on defense, but they're showing that they can dominate from week to week. My guess? The Buccaneers will be Minnesota's latest victim.
Prediction - Vikings win, 27-17
Washington Redskins (3-4) at Pittsburgh Steelers (3-3)
This will be a tough match-up for both squads looking to keep pace in their respective divisions by getting another win. Will the magical rookie season of RGIII continue or will we see Pittsburgh continue to take strides towards returning to contention? I really liked the way my Steelers looked against the Bengals on Sunday night, so I'll have to go with them here too.
Prediction - Steelers win, 30-24
Carolina Panthers (1-5) at Chicago Bears (5-1)
Cam Newton is downright disgusted with his team's record thus far, but unfortunately, I don't see him getting any happier going up against the strong Chicago Bears' squad. Cam-Cam and company will keep it close, but in the end, Chicago just has too many studs on both sides of the ball.
Prediction - Bears win, 23-17
San Diego Chargers (3-3) at Cleveland Browns (1-6)
The Browns were potentially within a dropped Josh Gordon touchdown of beating the Colts last week, but the Chargers are a much better team than Indy (and Cleveland for that matter). Norv Turner has also had an extra week of preparation leading into this one, so you have to like the Bolts' chances in this one.
Prediction - Chargers win, 27-17
Seattle Seahawks (4-3) at Detroit Lions (2-4)
If any team looks like it's built to slow down Detroit's aerial assualt, it's Seattle with that ridiculously young and talented secondary they field every week. Detroit doesn't really have much of a running game, but they have Calvin Johnson Jr., who makes for that and then some. Seattle is a different team when they're at home in that they're virtually unbeatable. Unfortunately, this game is a road trip for Pete Carroll's squad.
Prediction - Lions win, 28-21
Jacksonville Jaguars (1-5) at Green Bay Packers (4-3)
The Jags' are sinking fast and the Packers are surging after back-to-back wins. Not only that, the Jaguars also just lost quarterback Blaine Gabbert and stud running back Maurice Jones-Drew to injuries last week. Something tells me this game won't be that close.
Prediction - Packers win, 35-13
New England Patriots (4-3) at St. Louis Rams (3-4)
Even though the Patriots barely managed to eke out a win against the rival New York Jets, don't think they'll let the Rams hang around for long. Is the Rams' secondary greatly improved? Absolutely. Nevertheless, I don't think St. Louis' defense will be good enough to limit Tom Brady and company to the low point total necessary to win this one.
Prediction - Patriots win, 27-17
Miami Dolphins (3-3) at New York Jets (3-4)
This is the second match-up between these two clubs this season, with the last one ending in a 26-23 overtime victory for Jets. I could be wrong, but I really like the Dolphins' chances in this one. You never know which Jets' squad is going to show up from week to week, and I really think the Dolphins have something special with Ryan Tannehill. That, and Brian Hartline is a beast!
Prediction - Dolphins win, 21-17
Atlanta Falcons (6-0) at Philadelphia Eagles (3-3)
The Eagles are in complete disarray at this point while the Falcons keep grinding out win after win. In Asante Samuel's return to Philadelphia, his new team — the
Dirty Birds
— will leave with the win. Matt Ryan, Roddy White, Julio Jones and the rest of Atlanta's passing attack should have a field day against Philly's overrated and overpaid secondary.
Prediction - Falcons win, 31-23
Indianapolis Colts (3-3) at Tennessee Titans (3-4)
Chris Johnson exploded against the Bills for almost 200 yards on the ground and was a key catalyst in the Titans' 35-34 victory last week. I know we ask this question following every time Johnson has a good game these days, but has he finally figured it out? I expect another 100-plus yard performance against the Colts' 26th ranked rush defense and a win for Tennessee at home either way.
Prediction - Titans win, 24-20
Oakland Raiders (2-4) at Kansas City Chiefs (1-5)
This one will feature a match-up of the two irrelevant teams in the AFC West, and outside of fans of the two sorry squads, I doubt many people will be tuning in regardless of the outcome. Brady Quinn will get the start for Kansas City, so I'll take the Raiders.
Prediction - Raiders win, 17-13
New York Giants (5-2) at Dallas Cowboys (3-3)
The Cowboys managed to hang on for a 19-14 victory over the Carolina Panthers last week, but against the defending Super Bowl champs you can bet that they'll have a much tougher road. Tony Romo will probably be running for his life in this one while Eli Manning will dissect the Cowboys' secondary with a surgeon's precision.
Prediction - Giants win, 28-20
New Orleans Saints (2-4) at Denver Broncos (3-3) on Sunday Night Football
Joe Vitt returns to be the Saints' interim coach after the conclusion of his six-week suspension and the elder Manning brother renews his rivalry with Drew Brees. I like the Broncos to take this one for multiple reasons — one, it took a controversial call in the waning moments last week for the Saints to beat the lowly Buccaneers and their defense is clearly still struggling. Oh, and former Saints' cornerback and playoff hero Tracy Porter now plays for Denver and I expect for him to be a factor in Denver's win too.
Prediction - Broncos win, 27-23
San Francisco 49ers (5-2) at Arizona Cardinals (4-3) on Monday Night Football
The Monday night game will have big implications on the NFC West standings with these two clubs set to duke it out. San Francisco comes in boasting arguably the best defense in football as well as one of the better rushing attacks spearheaded by Frank Gore.
Look for a one-sided victory for the Niners in this one as the Cardinals' horrendous offensive line will mean John Skelton is in for another long night every time he drops back to pass. The desert birds have also shown that they're susceptible to giving up big yards on the ground evidenced by the 153 yards Adrian Peterson racked up against them last week.
Prediction - 49ers win, 23-10
Be sure to follow Beard And Stache on Twitter 
@BeardAndStache
, and also Adam 
@Adam_Parker43
, Like our Facebook page 
HERE
!