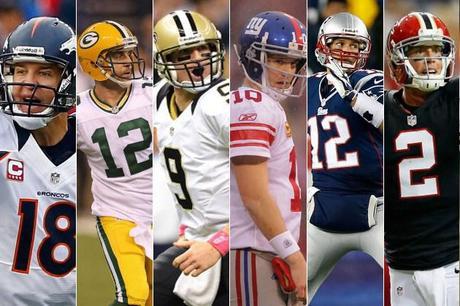 Photos: Getty Images
- Adam Parker
We're now about a third of the way through the 2012 NFL season, and as such, some of the mystery surrounding which teams are contending and which teams are simply pretending is beginning to come into focus.
We still don't have all of the pieces of the playoff puzzle yet (considering every team still has over ten games left to play), but this week will undoubtedly provide us with more clues.
But before we jump into my picks for Week 6, let's touch on some of the big moments from last week's action.
The Saints, playing at home against the San Diego Chargers (insert endless back stories on Drew Brees' time with the Chargers; the Philip Rivers/Eli Manning 2003 NFL Draft dilemma here; and while you're at it, sprinkle in a little Darren Sproles talk too) managed to earn their first win of the season with suspended head coach Sean Payton in attendance. Oh, and Brees passed
some guy
named Johnny Unitas in the record books for most consecutive games with a touchdown pass...
What about the Indianapolis Colts? Knocking off the Green Bay Packers in spectacular last-second fashion after losing their head coach, Chuck Pagano, likely for the remainder of this season due to him being diagnosed with leukemia (a treatable and beatable form, but nevertheless, it's still leukemia)...
Talk about some inspirational stuff. Oh, and Reggie Wayne is a boss. That is all.
I had an average Week 5, finishing (9-6) thanks to a few upsets.
My Pick 'Em Record: (37-40)
Without further ado, let's dive into the games for Week 6!
Pittsburgh Steelers (2-2) at Tennessee Titans (0-4) on Thursday Night Football
Ben Roethlisberger has been nothing short of amazing so far for the Steelers this season. He continues to get it done week in and week out, despite having an inconsistent offensive line and the occasional dropped pass from his wide receivers. The Steelers' defense still has some things to figure out, but considering that Tennessee has yet to win a game this year and is most recently coming off a blowout loss to the surprising Minnesota Vikings, I don't expect Pittsburgh to have much of a problem winning this one and keeping pace with Cincinnati and Baltimore in the AFC North.
Prediction - Steelers win, 24-13
Oakland Raiders (1-3) at Atlanta Falcons (5-0)
There's a reason the Falcons have yet to lose a game — they're just downright dominant. The offense is running on all cylinders and the defense has taken huge strides from where they were last year. If that's not enough, Matt Ryan has proven to be virtually unbeatable in the Georgia Dome. Translation: the Raiders don't stand a chance.
Prediction - Falcons win, 27-13
Cincinnati Bengals (3-2) at Cleveland Browns (0-5)
Did anyone not see this coming? Of course, I'm referring to the Browns' lack of success in pretty much anything they do on the football field. To their credit, they fought valiantly against Eli Manning and the defending Super Bowl Champion New York Giants, but in the end, Victor Cruz's play proved too spicy to handle. Call me crazy, but I feel like A.J. Green could explode and have a big game against Cleveland too, especially with stud Browns' cornerback Joe Haden still serving his suspension.
Prediction - Bengals win, 24-14
St. Louis Rams (3-2) at Miami Dolphins (2-3)
At first glance, this one looks like a toss-up. But after taking a closer look, I remember that Jeff Fisher loves to run the ball. Not only that, but the Rams
need
to run the football effectively to take some pressure off quarterback Sam Bradford behind that mediocre at best offensive line. The only problem with that plan? The Dolphins' defense is the best in the league against the run. From the looks of it, the smart money would probably take Miami. That's why I'm taking St. Louis. I've quickly become a huge fan of their defense, and I think they can rattle rookie quarterback Ryan Tannehill into making a few mistakes.
Prediction - Rams win, 20-14
Indianapolis Colts (2-2) at New York Jets (2-3)
This is a very interesting match-up to me. On one hand, you have the Colts, who are coming off a come-from-behind win over the heavily favored Green Bay Packers after dedicating the game to their head coach Chuck Pagano while he battles leukemia.
On the other, you have the Jekyll-and-Hyde Jets who can't seem to figure much of anything out. Do the Jets want to win or don't they? It seems like the answer to that question varies from week to week. I think I have to go with the Colts in this game. They're playing inspired football right now, and the Jets, well, they were already hard to figure out before they were hit with the barrage of bad luck with long-term injuries to key players like Darrelle Revis and Santonio Holmes, so give me Indy.
Maybe after this loss, Rex Ryan will
finally
call Tim Tebow's number? Nah, that's wishful thinking...
Prediction - Colts win, 23-17
Detroit Lions (1-3) at Philadelphia Eagles (3-2)
The Eagles are having major issues with their offensive line play, especially on the interior. Detroit needs this game badly if they want to stay in contention for the division. Expect a big night from Ndamukong Suh and the rest of the Lions' defense as well as a few spectacular plays via the Matthew Stafford to Calvin Johnson connection against what I believe is an overrated Philadelphia secondary (I'm looking at you, Nnamdi [Asomugha]).
Prediction - Lions win, 27-20
Dallas Cowboys (2-2) at Baltimore Ravens (4-1)
I wonder how many interceptions Tony Romo will throw this week? I mean, he can't do worse than when he threw an astounding five picks against Chicago two weeks ago, can he? Then again, this is the vaunted Ravens' defense and if I recall, there is some dude who goes by the name of Ed Reed lurking in that secondary, anxiously awaiting Romo's next inevitable mistake to fall right into his lap. On paper, it looks like it could be a good game, but the Cowboys, at least in recent memory, have always been deceptive that way. Could we be in for a Baltimore blowout?
Prediction - Ravens win, 31-20
Kansas City Chiefs (1-4) at Tampa Bay Buccaneers (1-3)
This one is a tough pick for me, only from the standpoint that neither team has really done enough to convince me that they're competent. But hey,
someone
has to win, right? I'm going to go with Tampa Bay in this game. Even though their 32nd-ranked pass defense hasn't done them any favors, their three losses have all been by a mere single possession whereas the Chiefs... well, you get the idea.
Prediction - Buccaneers win, 23-17
New England Patriots (3-2) at Seattle Seahawks (3-2)
Another interesting match-up. The Pats' record may currently sit at (3-2), but the way their offense has been rolling as of late, we don't expect their record to remain mediocre for long.
As for Seattle, they're in the middle of a tightly-contested NFC West and could certainly use the win and while I normally wouldn't give them much of a chance against Tom Brady and co., they are at home and will have that raucous crowd (arguably the best in the NFL) to bolster an already stout defense. That being said, Brady is still Brady, and unless Seattle's running game explodes, I just don't see them pulling off the upset.
Prediction - Patriots win, 34-24
Buffalo Bills (2-3) at Arizona Cardinals (4-1)
I don't really expect this one to be close. The Bills haven't looked great on offense, but then again, the Cardinals' offensive line, most notably, rookie right tackle Bobby Massie — was exposed last week against St. Louis. Needless to say, things aren't going to be any easier against Mario Williams, Marcell Dareus, Kyle Williams and Mark Anderson.
However, despite all of the big names on defense, the Bills haven't been in sync on that side of the ball and honestly, the offense has been the same way. Buffalo is coming off blowout losses the past two weeks against the Patriots and 49ers, and you can bet that Arizona will be out for blood after a tough loss to the Rams. Head coach Ken Whisenhunt, whose had tend days to prep his team, will have his Cardinals ready to play and get the win at home.
Prediction - Cardinals win, 23-13
New York Giants (3-2) at San Francisco 49ers (4-1)
A repeat of last year's NFC Championship game will likely have a similar feeling to it as both clubs look to remain atop their respective divisions. Eli Manning and the Giants have looked good thus far, but the 49ers have looked great. Even though teams like the Texans and Falcons are undefeated, many people still believe that the 49ers are the best team in football. Expect a big game from 49ers' tight end Vernon Davis in this one.
Prediction - 49ers win, 23-21
Minnesota Vikings (4-1) at Washington Redskins (2-3)
The Redskins have played okay to this point in the season, but the Vikings have looked fantastic. The key factor in this one will be how Robert Griffin III looks after suffering a mild concussion last week in his team's 24-21 loss to Atlanta. If RGIII is able to go, which seems fairly likely at this point, he'll have to keep his head on a swivel and be wary of Jared Allen coming after him hard on every down. But to be honest, do I really see the Redskins pulling this one off? Not with how impressive the Vikings have looked thus far, no.
Prediction - Vikings win, 27-20
Green Bay Packers (2-3) at Houston Texans (5-0) on Sunday Night Football
The Packers just don't look like the same team that we're accustomed to seeing. The offensive line has looked suspect at best, and because of their struggles to protect Aaron Rodgers, the entire offense has suffered. The Texans are a safe bet here. J.J. Watt has been a beast of late and that should continue against a below average Packers' offensive line while Matt Schaub, Arian Foster and Andre Johnson continue to keep things rolling for Houston's offense.
Prediction - Texans win, 27-17
Denver Broncos (2-3) at San Diego Chargers (3-2) on Monday Night Football
The Chargers may currently be sitting atop the AFC West right now, but realistically, they haven't beaten any quality opponents yet. They were blown out by Atlanta and are coming off a 7-point defeat at the hands of Drew Brees and the previously winless New Orleans Saints.
Meanwhile, Denver's schedule has been a little tougher with teams like Pittsburgh, Atlanta, Houston and New England already in the rear view mirror. Denver got a quality win against Pittsburgh on opening weekend, and all three of their losses have been within one score not counting the 10-point loss to New England yesterday which likely could have gone either way if not for the unfortunate mishaps by Willis McGahee.
I could end up regretting this, but I'm taking Denver on the road in this one.
Prediction - Broncos win, 27-21
Be sure to follow Beard And Stache on Twitter 

@BeardAndStache

, 

and also Adam 

@Adam_Parker43

, Like our Facebook page 

HERE

!